Why is Organizing Paperwork So Hard? Part 1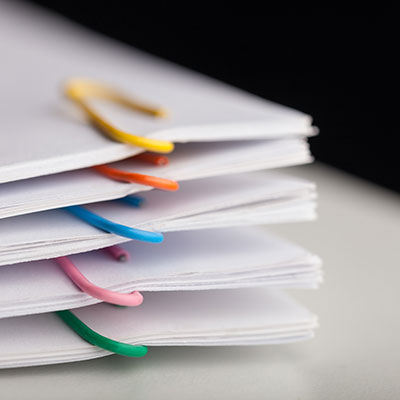 In preparation for my next group class, Paperwork Organizing, I'd like to discuss why paperwork causes so much clutter. Are you interested in getting a handle on your paperwork? Please join me for my 4 week course starting in March. Sign up here.
Are you someone who has an overabundance of paperwork? Maybe you have stacks of paper all around you- on your desk, in the living room, by the front door. Or maybe you've boxed it up neatly so you can go through it at a more opportune time. Let me assure you, you are not alone! There are very good reasons why organizing paperwork can be so hard. In this post, I'll talk about some of the subconscious reasons why it's so hard to deal with your paperwork, and give you some tips on what to do about it.
Organizing paperwork is very tedious. It's up there with organizing small craft supplies like beads, but it's even more mentally challenging. Unlike beads, which can be sorted much more visually (by color, shape, size), paperwork usually has to be read- or at least skimmed. Once you've quickly processed the information that's on the sheet of paper, you've got to make a decision about whether or not it's relevant enough to actually keep anymore. If it is, you've got to make another decision about exactly where to file it so that you can quickly retrieve it in the future. The amount of mental processing that can needs to be done for one piece of paper can be quite taxing for many people, especially with those who have trouble focusing or with reading comprehension. If you've been disorganized for a long time, that could be a result of atrophied executive functioning skills, or you may have never had these skills in the first place. It takes time to learn or re-build these skills. Many people with ADHD can be very hard on themselves because they don't naturally have the skills to be organized, so please go easy on yourself.
Tip: Plan to organize in short bursts. Don't try and do it all at once. Time yourself and see how long you can go with focusing on organizing. Shoot for 3-5 minutes of uninterrupted bursts. Take a break. Stretch, get a glass of water, listen to a song, and then get back at it. Work yourself up so that you can organize for 20 minutes at once. By doing this, you'll be creating new neural pathways in your brain so that it's easier to stay focused while you're organizing. Don't just try charge ahead and beat yourself up for getting distracted. Consciously separate your breaks from your focused organizing bursts.
Is your paperwork like a time capsule? Paperwork can be a hub for emotionally charged memories, some of which you may not want to revisit on a daily basis. If you find yourself avoiding your paperwork (or certain areas of your house), get curious to see if it's because there's an issue that you want to avoid or keep buried. It's quite common to not be ready to face an issue, and that's fine. When you can admit to yourself that you're not wanting to organize your paperwork because then you'll have to finally accept that you're never going to go back to your old job or that you're not still in high school, it will loosen the emotional charge and you'll get one step closer to being able to organize it.
Tip: Get really present with yourself. You may even want to take a selfie or look in the mirror to see yourself as the beautiful, mature, grown-up that you are. Feel your feet on the ground. Take a few deep breaths to activate your para-sympathetic nervous system. Notice the weather. Feel your energy expand throughout your neighborhood, your city, your state, your country, and then the whole world. By getting centered and in touch with your feelings and who you are now, you'll feel more secure and ready to let go of the past. Being stuck in the past is a recipe for depression. Tuning in to the present and getting excited for the great things that are coming your way is an excellent way to get yourself motivated to work through your paperwork.
Do you need to disentangle from others? Divorce and death are big reasons that generate a lot of emotionally charged paper. Accepting that a relationship has run its course or that someone has crossed the rainbow bridge can be incredibly difficult times. These things can take years or even lifetimes to process, which will inevitably show up as piles of paper.
Tip: Grief is hard, and it can't be rushed. Follow your intuition, and do things at your own pace. Work with a grief counselor, therapist or energy worker who can help you process these events in a compassionate space. I've got someone who's truly excellent with this type of work who has helped me and many of my friends and clients process some major events. If you'd like her info, please send me a message.
There's still a lot more to say about why organizing paperwork is so hard, so stay tuned for next week's article where I'll post Part 2.
When it comes to organizing paper, why is it so hard for you? Please share in the comments.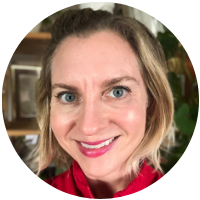 By Jean Prominski, Certified Professional Organizer
Don't forget to sign up for my organizing classes here
Download my free 5 week journal The Seattle Sparkle Method to Get Organized and Stay Organized
Sign up for my free 4 Day Color to Declutter Challenge.
Become part of a like-minded community by joining my Facebook Group, Declutter and Organize with Seattle Sparkle.
Ready to book a consultation? Complete this form.
For artwork to energize your home, order through jeanprominski.com or on Etsy.