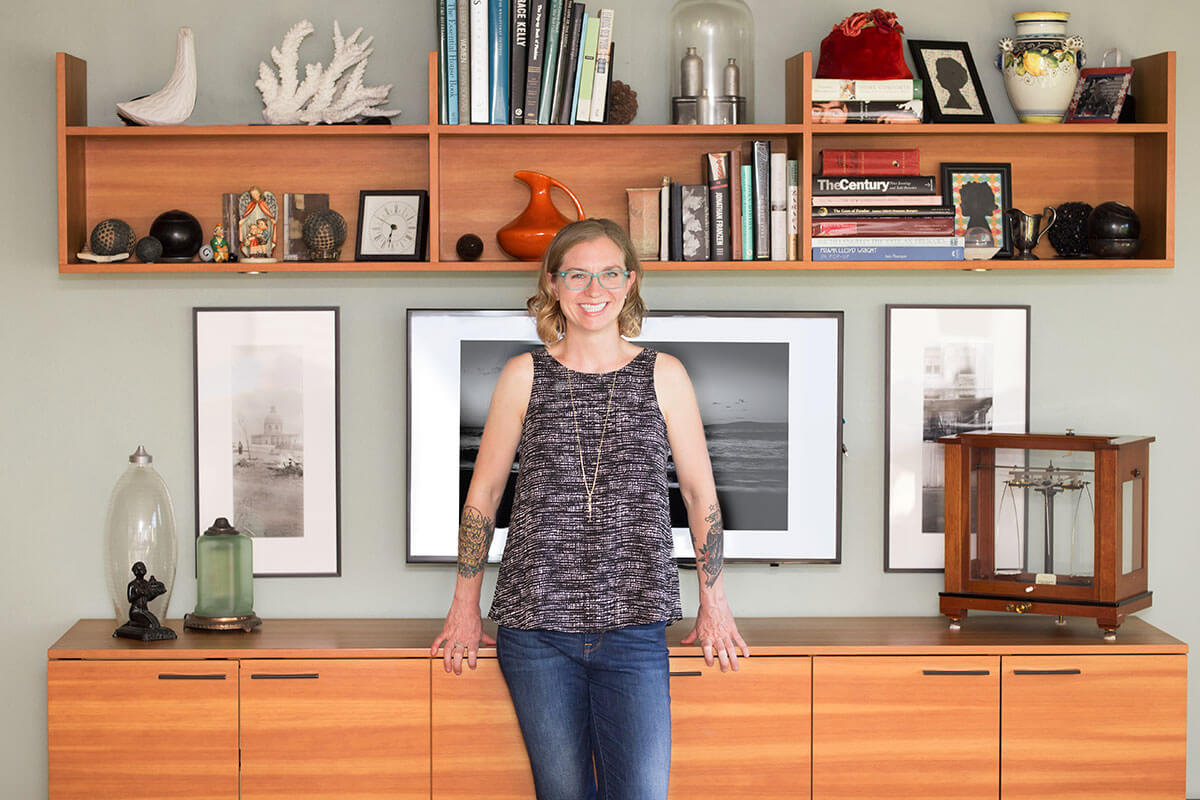 Why Choose Seattle Sparkle?
Jean Prominski, Certified Professional Organizer
and Productivity Coach
For many, home organization is one of those necessary, reoccurring things to get through – like a dental checkup or trip to the DMV. But for me, it is a bountiful source of joy and satisfaction – not only in my home and life, but also in the homes and lives of my clients.
And now, I'll let you in on a secret. I wasn't always this way. I have a Masters of Fine Art in Glass from Rhode Island School of Design, and used to be a professional glass blower for the world-famous Dale Chihuly. It was a wonderful experience, but keeping my workspace maintained was crucial. I would have to keep my tools – shears, punty rods, marvers, paddles, pads, tweezers, blocks, pipes, etc. – within easy reach, but also out of striking distance from all of the completed pieces. One false move and a week's worth of work could become a pile of glittering shards. My home, like my workspace, could go from "like new" to "landfill" in a matter of moments.
Little did I know, but organization was a complex skill – one they didn't teach in high school or design school. But, like glassblowing itself, it was something I could learn and eventually, something I could teach. I joined the National Association of Productivity & Organizing Professionals (NAPO) and became a Certified Professional Organizer. I also took classes at the Institute for Challenging Disorganization am trained as an Integrative Nutrition Coach through the Institute of Integrative Nutrition. I've applied these skills to my own life, and before too long, friends and family were asking for tips, advice, and hands-on help. Suddenly a light went on – this could be a career!
My goal is to help clients from all walks of life to find peace, joy, inspiration, and confidence. Depending on your needs, we might focus our time together on productivity, organization, time management, personal health, or any combination of the above. It all starts with hearing your story and discussing the path you want to go for the chapters that have yet to be written.
My approach combines teaching, physically sorting stuff by your side, coaching, and compassionate counseling about home organization. While some clients choose to also work with a professional therapist, many say they simply enjoy having someone trusted to talk to. I am here to lend an ear, share what I've learned, and teach you applicable skills from the front lines of the home organization industry. As we move forward, we'll find organic ways to infuse each step of the journey with joy and laughter. And don't worry, tears are OK too – every thing you own has some memory or emotion attached to it – as we let it go, all types of emotions might flow too – it's all part of the process of moving forward with your life.
To see my artwork, please visit my other site,
jeanprominski.com
or my Etsy site,
SeattleSparkleHome
.
Click here for my credentials.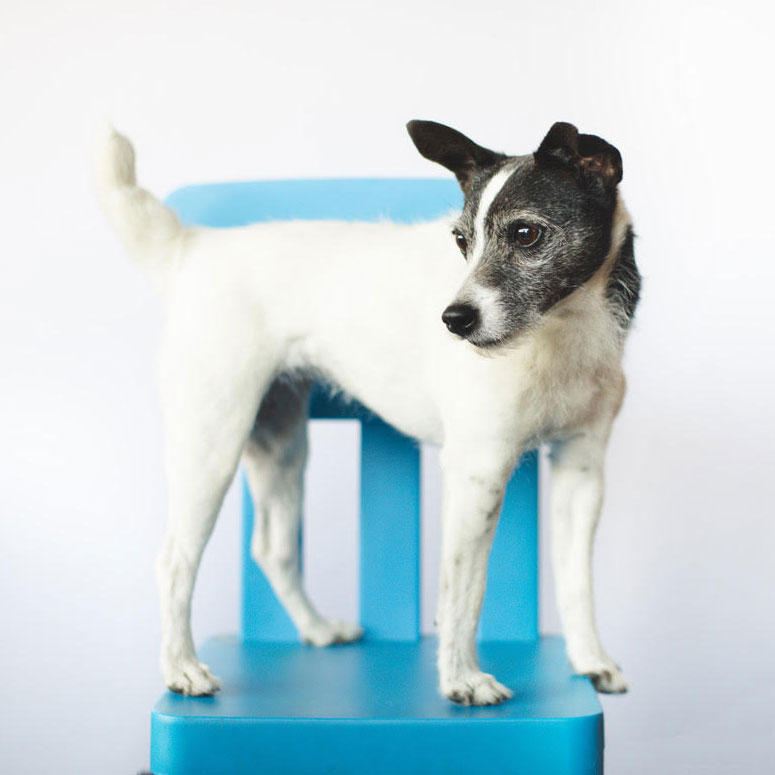 Maisy
Amazing Sparkle Prominski
Maisy is a Parsons "Jack" Russell Terrier that Jean adopted from the Seattle Humane Society in 2016. Maisy's duties include sending loving vibes to our clients, helping Jean get her exercise, hunting rodents and being cute! She loves her job and is a great communicator. Maisy also keeps Jean on her organizational game by giving her "assignments", she calls them, to avoid potential challenges of the "Jack Russell Kerfuffle".
Glow, grow, and let it go!
-- That's the Seattle Sparkle Way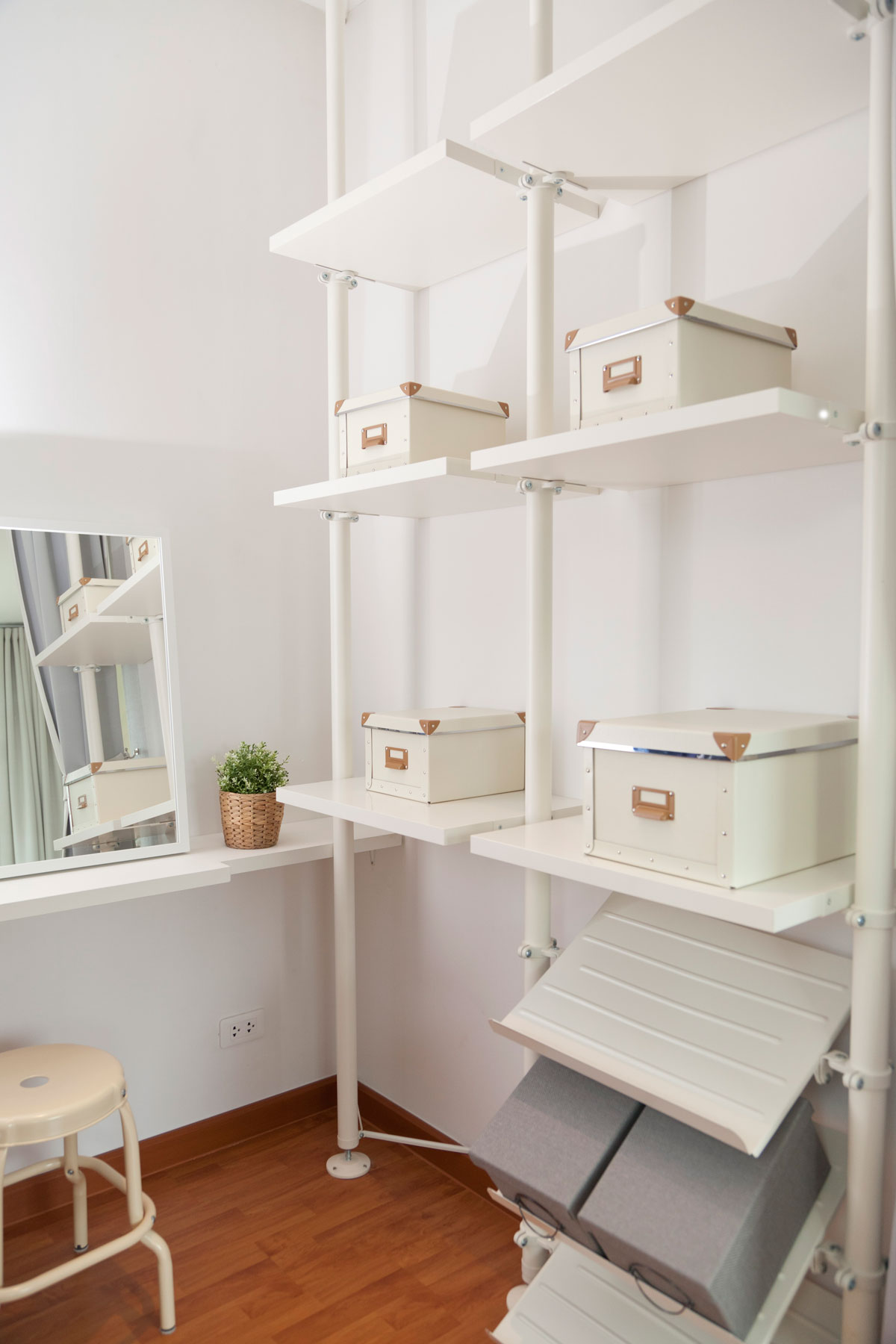 ---
Working With A Professional Home Organizer
Ding Dong
"Hey, I was in the neighborhood and thought I'd drop by to say hi!"
For most of us, a surprise visit from a friend would be a delightful experience – unless you're caught off guard and the house is a mess – not just a little clutter, but a full blown, "call out the search dogs" disaster. Piles of stuff cover tables and furniture like creeping moss, your gorgeous hardwood floors lay buried underneath a sea of shoes, magazines, tote bags, junk that should be in the garage, and wait, since when do we have a cat!?!
OK, not every client's house has been this bad, and yet quite a few have been even worse. At Seattle Sparkle, we don't judge; we meet you where you are and help you get to where you need to be.
A clean and organized home is easy on the eyes and easy on the soul. When you know where everything is, and aren't stepping over piles of things to get to where you need to go. When everything has a place to go – and an expiration date when its time to leave – you can keep welcoming new things into your life without burying yourself in clutter.
Jean has helped me tremendously through her organizing and decluttering expertise! I had a garage that was packed full of so much "stuff", it was just overwhelming for me to know where to start. After several (failed) attempts to tackle it on my own, I found Seattle Sparkle and Jean came to my home to help me get "unstuck". She is so patient and thoughtful, and understands how to tactfully and respectfully help you decide what to keep and what can go, while still getting the job done efficiently. Her suggestions on organizing what's left come from much experience in helping others. She worked right along with me putting things in the "donate", "keep" or "toss" categories until I could finally see my way clear! Jean also helped me clean out and organize clothes in two large closets in my house, so I feel super organized. Working with Jean is the best investment I've made in my home in a long time. I've enlisted her help a couple of times, and plan more time with her for other areas in my home. Plus she is a really kind person! I highly recommend Jean to anyone needing to declutter/organize one space or their whole home – she is amazing. Allison M., Sammamish

Jean brings her knowledge in many areas to your job, from running marathons to aromatherapy to energy flow. She listens to what is important to you and brings her considerable energy and creativity to help you create a space where you can realize your own creative self.

I found Jean on the internet while searching "organizers". I'm glad I chose her to help with my paperwork. She is knowledgeable and easy to work with. I now have paperwork that is filed and easy to add to and find when I want to. I will hire her when I am ready for other organizing. Thanks Jean!

My husband and I hired Jean to help us get a hold of our home decluttering and organization. She initially asked us about our lifestyle and needs for improvement and then we got to work tackling our first problem area before moving into two other areas. Jean is a great listener and never pushed us to make any decisions about what to keep or get rid of. She had novel ideas of how to organize things that I'd never thought of before. After our first session I felt 100% better about our house. She even offered to take all of our bags to donation! Jean has a relaxed and gentle personality and I looked forward to our next session together. We highly recommend her!!!

I want Seattle to know my experience with Jean, and Seattle Sparkle. I had a horrible night knowing full well that my clutter, oversized furniture was actually causing my decline in health. I found Jean online and was doubly blessed that she had an opening and could see me that day. In two days I have transformed my living space! It truly is amazing what this knowledgeable, kind, fun lady can do. I am forever grateful for Jean and Seattle Sparkle. I highly recommend Jean if you want to get "unstuck" and move along in life.

I am a professional woman who got a new job out-of-state and needed to pack up my small home. I hired Jean at Seattle Sparkle to come over two different times. The first time, she talked with me about my goals, assessed the packing I had already done and helped me figure out how to get the rest done before the movers arrived. She and I went through the house and identified things I could easily pack on my own, and things that I was having a hard time with. For example, I knew that I could pack clothing myself, but had boxes of papers, books, and miscellaneous things left over from a previous move -- things that I was getting bogged down with. Jean and I decided to tackle the harder items and when I got stuck on something, she helped me prioritize what to keep and what to give away. I ended up working a lot faster with her help than I anticipated, and Jean even took a load of things away to donate to charity. When she left, I had a clear plan for the next couple of days of packing on my own before she returned. On her second trip to my house, we continued going through things, packing boxes, and preparing for the move. Since I was on my own for this move, it was really important for me to have Jean's help and perspective. The move was completed successfully with her assistance. Thank you!

Jean restored me to sanity with my cluttered garage. We examined my various collections of items saved from 3 family members, and what the use of these would be in the future. Jean asked the right questions. I am a person who attaches sentimental value to many things, and I needed an objective viewpoint. The result was reduction of boxes and crates, considerably greater organization, and a section of the garage for everything. This is my first clean-out without it being required due to a pending move, and it has given me a good reminder of what I actually own. I was thrilled to find Jean!

It has been a year since Jean organized every room in our home. What a difference this has made in our daily lives. We feel unburdened by clutter, and feel like we have more "stuff" because we can find what we want without difficulty. We have not missed a single item that left the house! Maintaining her work has been easy and we spend a few minutes every few weeks restoring a place that has become out of control with very little effort. We highly recommend Jean as she is fun to work with and the results are awesome.

Having Jean from Seattle Sparkle help me get started organizing my home was a huge blessing, I was in such a state of confusion from remodeling my downstairs in my home and going through several life changes. Jean made the process so simple, calm and easy that it helped me continue to know what to do after she left and I am forever grateful! Thank You Jean!

Jean is wonderful! With her guidance and help, we were able to organize three areas of my house: a guest room/playroom/office and an office/library/storage room (that I am embarrassed to say you couldn't even walk through due to all of the "stuff" that was packed into them) and my kitchen cupboards. She made it easy to stay motivated and dig in. She is pleasant to work with, calm, non-judgemental, focused and hard-working. She has the intuition to know what is important and sentimental and what can be donated or thrown out. Her approach taught me how I can apply her strategies to other organizing tasks, but I will definitely work with her on future, overwhelming organizing projects (like my garage!). Thank you, Jean.