Color to Declutter Challenge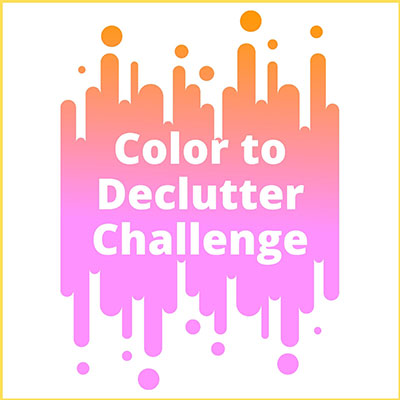 Are you inspired to get organized? 
This challenge is for you if:
You have read books, blogs and magazines about organizing, but nothing seems to work.  You know you want to get organized, but don't know where to start.
You may be "right brain dominant", meaning you have a tendency for divergent thinking.  You're very good at brainstorming, but with all of these options, it can be hard to prioritize.  Your thoughts are usually not linear, and you are good at linking seemingly unrelated thoughts together.
You like doing creative things!  Even though it can sometimes be hard to sit still, you always feel better when you've had a chance to do something crafty.
What this challenge is:
Over the next 3 days, you will receive an email with a short video and instructions to help you get organized and stay organized.  You will also receive a free coloring page from my coloring book,
Color to Declutter
. For participating in this challenge, you are eligible to order the book at 30% off.
The benefits that you'll receive are:
Get clear on your goals & define your priorities.
Reset your energy levels.
Organize 3 areas of your home.
Learn about how coloring can help you declutter and get organized!