Organizing Holiday Decorations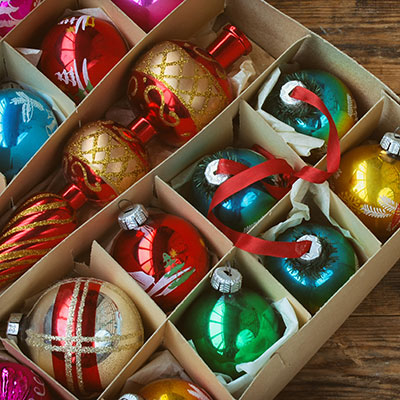 Organizing holiday decorations can really be a tangled mess if you don't know what you're doing! I was just having a chat with my friend Brett Farrington, owner of Holiday Spirit Lighting.  His company does professional holiday lighting decorations for approximately 300 homes and businesses in the Seattle area. They do a great job of making sure the lighting stays organized and maintained carefully so that the lights last for many years to come. Over the years, I have helped many of my clients organize their holiday decorations.  I've even helped some of my clients decorate their Christmas trees! For this post, I wanted to share some of the holiday decoration storage tips I've picked up over the years.
Boost your mood. You're most likely going to have more energy organizing your holiday decorations when you're putting them up, rather than when you're putting them away. So instead of pushing this task off until you take everything down, start to get geared up now. Get in the holiday mood by raising your vibration up with things that bring you joy. I happen to really love Christmas music, so I'll sometimes even listen to it during the summer if I want to charge up my joy quotient.  If Christmas music isn't your thing, don't force it. Turn on whatever tunes really light you up! Super charge your senses with some essential oils, or a scented candle. Please remember that some pets are very sensitive to scented products, so always make sure your pet has a place to go breathe fresh air. If you notice your furry friend itching, sneezing, or showing other signs of discomfort, discontinue use right away.
What lights you up? The holidays are a time for people to come together and experience the joy from their positive relationships. Which relationships still light you up, and which ones have burned out? Only surround yourself with people that you feel loved, adored, and cherished around. While you're contemplating what it feels like to have lots of fulfilling positive relationships in your life, test your lightbulbs. Untangle, wrap around cardboard tubes or cards with notches cut out of the sides or coffee cans and label where they go (around the door, on the tree, on the mantle etc.) or buy a commercially designed light reel for storage.
Evaluate what you have, and purge what's no longer necessary. Your ornaments should elicit feelings of joy, celebration, and excitement. Do you have too many ornaments that you just feel "bleh" about? Or even worse, do you have ornaments that illuminate rifts, barriers, or other unhealthy family issues? Discard ornaments that don't put a smile on your face anymore and are no longer cherished.
Repair anything broken. Do you have ornaments that year after year you say you'll repair, but you don't? Get honest with yourself. Are you going to fix it, or are you going to let it go? For broken ornaments that you're ready to let go of, if you're not going to throw them in the trash (where they probably belong), you could post them on your local "Buy Nothing" group to see if a neighbor wants to use them for an art project.  If you don't have any takers within 7 days, do yourself a favor by thanking the ornament for its service and throwing it in the trash. As sad as this moment may be, it's much better to throw it out and make space for more joy to come into your life.
Store ornaments properly. As a glassblower, I've made my fair share of handblown glass ornaments! To keep your ornaments in good shape, purchase good storage boxes to protect ornaments. You can get tiered ornament boxes, clear plastic boxes with dividers, or a multitude of other sturdy boxes intended for ornaments. You can also DIY your ornament storage using coffee filters, muffin cups, egg cartons or plastic cups to keep ornaments separate in larger clear plastic boxes. Strands of beads can be wrapped around cardboard tubes or cardboard cards with notches cut out of the side. You can also use plastic lidded jars, or clear ziplock bags to store like items. Check out the Container Store's selection of ornament storage.
Do you have lots of wreaths? Put them in clear plastic bags and bend a wire hanger so that you can hang them on a portable clothes rack or on hooks on the wall. Alternatively, you can use commercially designed wreath bags or containers.
Label bins. Do you like to put decorations all over the house? Put all the front door decorations together, the mantle together, and the tree together. I recommend using large clear bins that are clearly labeled with their contents. I'm a huge fan of utilizing wire shelving from Uline to store your plastic bins. They have an excellent selection of sizes, and their customer service is outstanding!
Take photos. Once you've decorated your mantle or front door area the way you like it, snap some photos so you can remember how you did it. Print the photos out and store them with the decorations. You may also want to snap some photos of how you've stored the decorations so you can put things back where they belong year after year.
Conserve your energy. Remember the importance of boundaries. Take time for self-care during this holiday season. Are you an over-giver? Make sure you're not doing things with an unhealthy desire to people please, and in turn neglecting your own personal needs and wants. Practice voicing your preferences and feeling your feelings. If you've been conditioned to worry more about others feelings, you've probably become pretty detached from your own. If you don't know how you feel, you can't set boundaries.  Take some time out to really feel what it's like to be you.
What's your favorite way to store your holiday decorations? Please share your tips in the comments.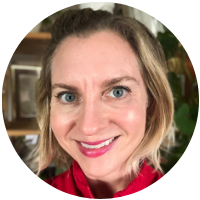 By Jean Prominski, Certified Professional Organizer
Don't forget to sign up for my organizing classes here
Download my free 5 week journal The Seattle Sparkle Method to Get Organized and Stay Organized
Sign up for my free 4 Day Color to Declutter Challenge.
Become part of a like-minded community by joining my Facebook Group, Declutter and Organize with Seattle Sparkle.
Ready to book a consultation? Complete this form.
For artwork to energize your home, order through jeanprominski.com or on Etsy.