Organizing for Artists Part 1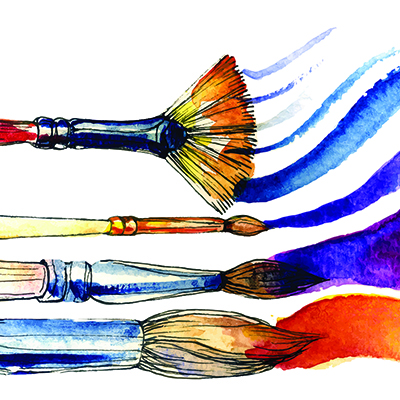 I'm a Professional Organizer with both a Bachelor's and Master's degree in art (specifically crafts and glass). As for organizing my own stuff, some things came naturally, and some I had to get help with. Artists have a lot of logistical issues to overcome- there's a ton to think about! To top it off, artists are usually not the most linear thinkers. Ideas (and stuff) can proliferate exponentially in a web-like pattern. Many artists have ADHD, which helps them think of great ideas, but execution and follow through can be an issue. In this post, I'll give you my number one tip to get organized as an artist.
Some of the challenges artists have to deal with are:
Artwork in progress
What to do with finished artwork
How to document artwork and clearly label files
How to organize art supplies and tools
Keeping track of new ideas and inspiration
Accounting: receipts, taxes, pricing, keeping track of time spent on projects
Responding to emails and other forms of communication consistently
Applying for shows/grants
Studio maintenance- when to clean up?
Basic needs like feeding yourself and keeping a roof over your head
Staying fit and healthy enough to continue making more work
Time management
The list goes on! Being an artist is rewarding, but it takes an immense amount of discipline and focus to be productive. How does an artist stay so motivated and committed to what they're doing? It can be very easy to burn out or get overwhelmed with projects.
During undergrad, I had many teachers who I deeply respected. There were two female teachers who I was particularly inspired by- Jes Julius and Judith Schaechter.  I was very fortunate to have had the opportunity to assist both of them with their own personal artwork.  Jes was doing a lot of hot glass and flameworked glass at the time.  Judith Schaechter is a world renowned illustrator and stained glass artist.  I noticed that both of these fabulous ladies had something in common.  They both went to the gym! Historically, being an artist has always been a counter-culture sort of thing to do.  Especially in Philadelphia, where I was in college, being an artist was definitely a cool thing to do. Going to the gym seemed so strange to me… it seemed like such a mainstream "jock" thing to do.  What were cool artists like them doing at the gym?? I asked them both about it.  They both said that going to the gym helped give them structure to their day, it helped them stay fit so that they could work on physically demanding projects, and it helped them clear their mind so that they could feel centered. They also spent a lot of the time at the gym on exercise equipment thinking about their projects.  Ideas would come to them while they were working out. Being the 20 year old impressionable student that I was, I signed up for a gym membership as well. Of course my art school didn't have a gym of its own, but we did get a student discount at a fairly posh Center City Philadelphia gym. Working out has now been a part of my practice since 2001.
I added meditation to my practice in 2008, which added another layer of focus to my day. In 2015, I decided to commit to doing a "miracle morning" ritual, which I still do *almost* every morning.  The ritual often changes, but always involves some sort of centering and vibration raising first thing in the morning. This sets the tone for my day and sets me up for success.  I will often spend some time doing Reiki, meditating, visualizing, reading, and have a few other practices that I like to weave in and out of my morning routine. Drinking water is ALWAYS part of the routine, as is eating a healthy breakfast, and taking my dog for a walk. Since my morning routine is usually pretty elaborate, I'll save working out for later on in the day.
How do you get started?
If you're someone that likes to jump into things, and think you can commit to an hour long ritual first thing in the morning, pick a few things that you'd like to do. You may want to choose meditation, reading, and exercise.  Use a timer and spend 20 minutes on each activity, and see how you feel.  Adjust your activities and time according to what feels right to you.  If you want to start off slowly, try a short 5 minute meditation, or even doing a quick sketch of something you'd like to bring into your life (harmony, joy, abundance, bliss… what do these things look like to you?). Drawing is an excellent way to manifest your visualizations.
Starting your day off with a centering practice like this will help you organize your thoughts and calibrate your energy. When your thoughts and energy are organized, your outside world (studio supplies, digital files, level of productivity) will follow suit. Devoting time to yourself will help you get to know yourself and get in touch with your intuition. Most importantly, dedicating time to yourself will help you value yourself. When you value yourself, other people will value you two. When you start to listen to yourself, other people will listen to you. Your projects will come together with much less effort.  Your studio will naturally stay organized. You will feel like you are living your purpose!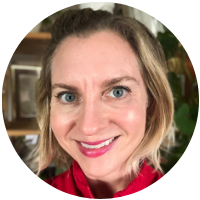 By Jean Prominski, Certified Professional Organizer
Download my free 5 week journal The Seattle Sparkle Method to Get Organized and Stay Organized
Sign up for my free 4 Day Color to Declutter Challenge.
Become part of a like-minded community by joining my Facebook Group, Declutter and Organize with Seattle Sparkle.
Ready to book a consultation? Complete this form.
For artwork to energize your home, order through jeanprominski.com or on Etsy.