Autumn Equinox, The Metal Element
Feng Shui is one of the 8 rays of Traditional Chinese Medicine (TCM). These rays are:
Acupuncture & Moxibustion
Herbal Medicine
Wushu (Chinese Martial Arts)
Qigong (Breathing Exercises)
Food Energetics
Meditation
Astrology
Feng Shui
One of the foundational concepts amongst all of these modalities is a knowledge of the 5 elements:  Water, Wood, Fire, Earth, and Metal, and the changing seasons.  You can see this cycle in the image below.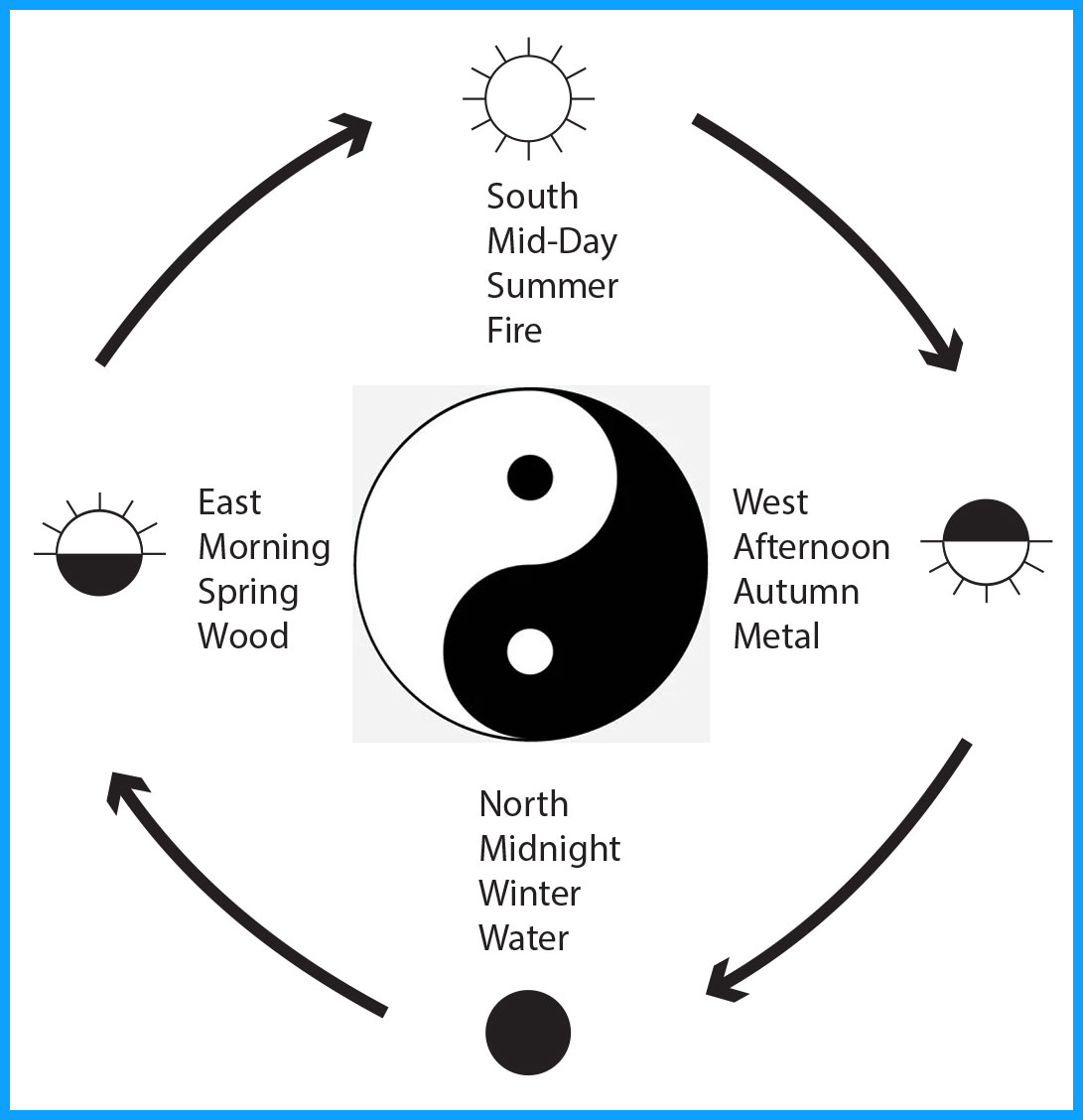 Earth is the center, the yin yang.  In Feng Shui, when we draw the yin yang, we put South at the top, to show the movement of the sun, the time of day, and the time of year. Black represents the "yin", and white represents the "yang".  When the sun is at it's lowest, that's also the time of winter, and an energy that goes inward.  In the morning, when the sun pops up in the east, that's associated with the springtime, and an upward energy.  At noon, when the sun is at the highest point in the sky, it exhibits a radiating energy, which is associated with summer.  Then in the afternoon, the energy has a downward movement as the sun is setting, and is associated with autumn.  The elements associated with each of these seasons or times also has a cyclical nature.  The water feeds the wood (trees), wood feeds the fire, fire feeds the metal, and metal feeds the water.  Going backwards, water depletes metal, metal depletes fire, fire depletes wood, and wood depletes water.  More on this in another post!
Autumn is governed by the element "Metal".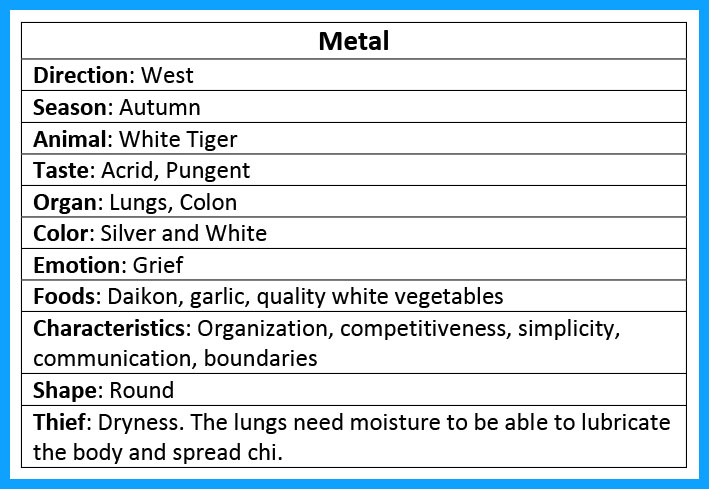 How To Support Yourself At This Time Of Year
Complete A Project: This is the time of year to turn inward, to be more introverted, and to pinpoint some focused energy on a project that you want to complete.  In Chinese Medicine, the new year is on February 4th or 5th, but I also like to consider the Winter Solstice as the energetic new year.  So you're now in the last quarter of the year to complete your intentions from last Winter Solstice.  What were those again?? Review your intentions and do the work you need to do to complete what you've already set into motion.
Plan Your Calendar: Even if you're not a kid going back to school (or you don't have kids), the "back to school" energy is universal.  Look at your calendar for the upcoming "school year" and plan some things you'd like to accomplish.  This prepaves the energy for the Winter Solstice when the energies will be very supportive for intention setting.
Support Your Immune System: Eat foods that support the liver chi that will help your body stay lubricated.  Pungent foods like daikon radish, garlic, and other quality white vegetables are all great to eat this time of year.
Get Nostalgic: Do you have boxes of nostalgia that you haven't seen for a while?  Spend some time looking through an old photo album, or finally putting together a display of all of the memorabilia you've been collecting.
Let Go: Like the falling leaves, letting go is a continual process. If you find yourself stressed out or ruminating, ask yourself if you can finally let it go.  Maybe you don't actually have to do everything and be everywhere all the time.
Boundaries:  Do you feel guilty for saying no?  When we are energetically plugged in to others, or others are plugged into us, you may constantly feel a sense of obligation, guilt, or stress.  When you're plugged into others or they're plugged into you, accessing your intuitive knowing is virtually impossible.  You will spin in circles, not being able to hear yourself think about what's true for you.  I recently learned a very cool and easy unplugging technique.  Send me a message if you want to hear more about it. 
Improve the Health of Your Environment:  Central heating, air conditioning, smoking, and electromagnetic waves all create a sense of dryness in the air.  To mitigate this, instead of having the heat cranked up (which I've been known to love!!) you may choose to layer up or use extra blankets.  Make an effort to put all your electronic devices in one area of your home, or at least turn off the ones you're not using.  If you have a habit of sleeping next to your phone charging (like I do!), you may want to try to spend a night with your phone plugged in right outside your room.  If that's still too hard, turn your phone on "airplane mode" to reduce the electromagnetic stress while you sleep.
Want to take it a step farther?
Sign up for my free 4 Day Color to Declutter Challenge.
Become part of a like-minded community by joining my Facebook Group, Declutter and Organize with Seattle Sparkle.
Ready to book a consultation? Complete this form.
For artwork to energize your home, order through jeanprominski.com or on Etsy.