Winter Solstice Intention Setting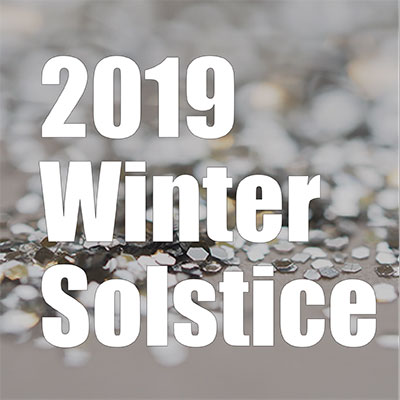 The Winter Solstice is on Saturday, December 21st.  This is when I like to reflect on the current year and set my intentions for the upcoming year. I like to write my intentions up and then check in with them throughout the year to make sure I am staying on track and remembering what I'm working on. You can pick as many intentions as you want. Some people I know like to just focus on one word, and others have a whole list of things they want to allow in.
My newest favorite book is Atomic Habits by James Clear. I listened to it, and then read it, and then started listening to it again, because it was that good! This book talks about habit formation based on biology, philosophy, neuroscience, study of human behavior, psychology and the author's own experience of trial and error. He gives practical strategies to form good habits and break bad ones.  He is an advocate for focusing on the system rather than the end goal. The intention of the book is to help the reader make time for new habits, overcome a lack of motivation, optimize their environment to make success inevitable, and talks about how to get back on track. He chose the word "atomic" to describe how very small shifts have an exponential power over the trajectory of success or failure.  The book is about the accumulation of small but consistent habits. As a Professional Organizer, I particularly liked how he talked about priming your environment so you could focus your energy where you wanted to rather than constantly battling temptations, distractions, and negative influences. He also talked about athletes, and how the differentiating factor from top performers versus their competition is boredom.  Here is an excerpt from the book. You can read more here.  
The Myth of Passion and Motivation
On this particular day in the gym, there was a coach visiting who had worked with thousands of athletes over his long career, including some nationally-ranked athletes and Olympians.
I introduced myself and we began talking about the process of improvement.
"What's the difference between the best athletes and everyone else?" I asked. "What do the really successful people do that most don't?"
He mentioned the factors you might expect: genetics, luck, talent. But then he said something I wasn't expecting: "At some point it comes down to who can handle the boredom of training every day, doing the same lifts over and over and over."
-excerpt from Atomic Habits by James Clear
He also says that habits build on FREQUENCY, not TIME. So it's much better to do two minutes of something every day than do an hour once a week (depending on the type of habit you are building). The frequency of repetition is what causes the positive compounding of the habit, not the amount of time spent doing it.  
Goals are good for setting a direction, but Clear is an advocate for focusing on the systems of processes that will lead you to that result rather than the outcome you want to achieve. Check in with your goals periodically to see if you need to alter your systems to stay on track, but pay more attention to the process rather than the end result. 
For example, if you want to lose 15 pounds, that is your goal. But if you keep focusing on losing the 15 pounds, your identity will be that of someone who "wants" to lose 15 pounds. Your system might look something like this: Exercise for 20 minutes a day, get 10,000 steps in, eat 3 servings of vegetables per day, sleep 8 hours a night. These processes are measurable, actionable, and within your control (for the most part). 
Think about your "Wheel of Life" (pictured below). Life can be broken up into 5 major categories: Health, Career (or Mission), Finances, Relationships and Spirituality (or Connection to Something Greater, which could mean being part of a community or group). This is a document that I created that I give all my clients. The more you can bring your wheel into balance (according to your own level of satisfaction), the more you will find yourself in the right place at the right time, and feel like you are living in alignment with your values.
Once you've completed your Wheel of Life, write down what you'd like each of these areas to be like.  What feelings or images are you working towards? Are you content in each area?
Next, write down your goals for each of the areas you'd like to focus on. What will you have, see, feel, or otherwise sense to let you know you've reached your goal?
Now focus on your system. What tasks or processes will you implement with the intention of reaching your goals?
Create a habit tracker.  You may want to create a spreadsheet on the computer or simply write out a chart on a piece of paper so that you can make sure you are staying on track.
Then create a ritual to send these intentions into the universe.  Here are some ideas:
-Say your intentions out loud and light a candle
-Write your intentions on a piece of paper and place it under a clear quartz crystal
-Take a video of yourself saying your intentions
-Take a photo of yourself holding a paper with your intentions visible
-Go to the beach, lake or river and throw stones into the water to send your intentions into motion
-Get an accountability partner or schedule regular accountability calls with me!
Download a copy of the Wheel of Life here: Seattle Sparkle Wheel of Life
Download a copy of the planner here: Seattle Sparkle Winter Solstice
What are your intentions and how are you telling the universe?  Post in the Sparkle Tribe and let us know!
Want to take it a step farther?
Sign up for my free 4 Day Color to Declutter Challenge.
Become part of a like-minded community by joining my Facebook Group, Declutter and Organize with Seattle Sparkle.
Ready to book a consultation? Complete this form.
For artwork to energize your home, order through jeanprominski.com or on Etsy.