The Number One Habit to Break To Get Organized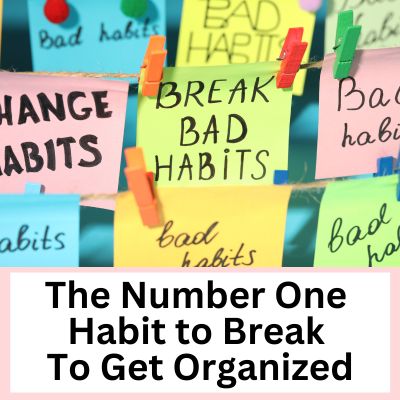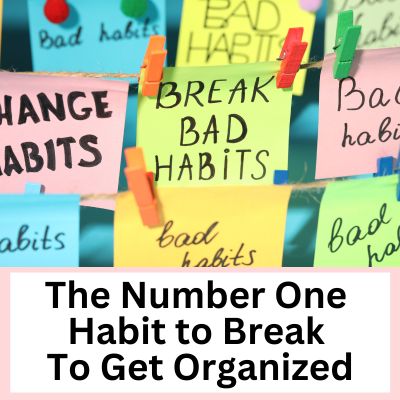 Are you trying to get your house organized? Or maybe you've gotten it organized, but you are struggling to maintain the level of organization? When setting any kind of goals, home organization related or not, the most important thing to clean up is your integrity. Most people who have tried to set goals and have not followed through are having trouble following through because they repeatedly say things that they're going to do, and they don't do it. If you're someone who has repeatedly said to yourself or to others that you're going to do "X", and you don't do it, this article is for you!
Saying that you're going to do something and then not doing it is a big deal, no matter if you're telling someone else that you're going to do something, or you're silently telling yourself you are going to do something. This is the number one habit to break if you're wanting to up-level the organization of your home, or accomplish other goals you've set for yourself. It doesn't matter how small or large these promises are. Think about this: have you ever had a friend who is chronically late and has repeatedly said they will be on time this time? Most likely, you want to believe them, but deep down, you have your reservations about whether or not they will follow through. This kind of negative thinking subconsciously does not help the person be on time. Sure, the person may feel motivated to "prove everyone wrong", but the brain (really the EGO) does not like change. So it will do everything it can to make that person late time and time again. When you make promises to yourself after repeated failed attempts, based on your terrible track record, your brain won't have your back.
The Ego Versus Your Higher Self
Picture the mind as two separate entities. There is the "higher self" mind that wants you to grow, learn, reach your goals, expand, and live a joyful life. Then there is the "ego" mind that wants to keep things the same. The ego is driven by fear, and fears change because that's how it's kept you safe all this time. Even though your life might not be joyful, you've survived, and that's all it cares about. The higher self mind is very much in a creative mode. The ego is very much in survival mode. Both minds certainly have an important role to play. The ego can be a great motivator in telling you that you need to work harder. Yet when you do try to work harder etc, your ego will mess with you, because deep down it doesn't want you to feel happy and accomplished. You'll feel like you have an inner power struggle going on all the time. If you've got a boss, family member, frenemy, or teacher who constantly makes you feel like you're not doing enough, this is a really good indicator that your ego is in charge. People in your life are just mirrors for what is going on in your mind. Yet if you've grown up in a tough environment with people of authority who are impossible to please, your neural networks in your brain will continue to create scenarios with other people in your life where you feel like you're not good enough, and it can be extra hard to shift these patterns.
When your ego is in charge, it makes it VERY hard to follow through on tasks. No matter if you're trying to set health goals, financial goals, career goals, relationship goals, or home organization goals for yourself, if your ego is in charge, you will fail! The goal of your ego is to keep the homeostasis. It wants things to stay the same. So, the goal of the ego is to entice you to work harder, yet make you fail every time.
How to Reverse the Habit of Not Following Through
If you're someone who has trouble following through with what you say you'll do, you need to STOP saying that you'll do anything unless you're 100% sure you are going to do it. And if you DON'T do what you say you'll do, it's really important to clean up your word. If you've told someone else you are going to do something (whether it be something for yourself, for them, or for someone else), and you don't do it, admit it. Acknowledge that you said you would do X, and you didn't do it. Don't give an excuse. Just acknowledge that you didn't follow through. Dial your commitments way back. You are going to need time to build up trust, consistency, and rapport with yourself (and possibly other people in your life). Be honest with yourself about what you are actually going to do. Then pick teeny-tiny commitments that you know you'll follow through with. Once your brain has seen a good track record of you doing what you say you will do, you will have the inner support and resources to reach for higher goals.
Here Are Some Examples
Laundry: If you are someone who struggles with laundry, you may be tempted to say something like "tomorrow I will sort, wash, dry, fold, and put away ALL of the laundry". You may have said this on multiple other occasions. Instead of picking such a lofty goal, build up credibility with yourself by just committing to wash and dry the laundry. Cut out the sorting, folding, and putting away steps. Once you build up consistency with having the majority of the clothes clean most of the time, then you might want to add "putting away". Once you consistently wash, dry, and put away your clothes on a regular basis, you might want to add "fold" before you put them away. Or not. And that's ok too!
Mail: Going from having a huge pile (or piles) of mail for months or longer to becoming the person who processes their mail every day is a huge leap. Instead of making promises to yourself that you can't keep about dealing with ALL the mail in a single day, chunk it out. Make small bundles of mail and process one each week, or whatever is realistically achievable for you. Once you build up credibility with yourself about processing the old mail, you will have the inner inspiration to continue keeping up with the new mail on a regular basis.
Fix-It Projects: Do you feel like you have so many projects to do that you can't complete anything? Are you totally overwhelmed by the amount of projects that you need to fix, mend, find a missing part to, or return to the company? Get real with yourself about what you're actually ever going to do. Estimate how much time each project will take (and probably double that, since everything often takes longer than expected). Then look at your calendar. Where will this fit in to your daily routine? As we all know, saying "yes" to one thing means saying "no" to another. Will the repair time steal time from your workouts? Your meals? Your time with family? Your date night? Your sleep? Scrolling on your phone? Is it really worth fixing these things? If not, get rid of them. Throw them out, give them away, or get them out of your life in some other way. Then pick a fix-it project that is really important to you, and do it!
An Important Note
Some people are extremely rebellious, and even if they WANT to do something, the mere act of saying out-loud that they will do something will sabotage them. If you are one of these people, be super careful (and dare I say "guarded") with your words. Similarly, some people surround themselves with people who don't support them. They tell them their goals only to get discouraged. If the people who you tell your goals to respond with anything that attempts to take your power away, don't share things with them, and probably take a break from spending time with them.
The point is…
Just remember to only say you'll do what you KNOW you will do. Dial it way back. Keep your promises to yourself and to others super small until you build up credibility with yourself and others. If you can't/don't follow through with what you said you'll do, clean it up. If you've told yourself or someone else that you were going to do something that you didn't do, acknowledge that to yourself/the other person. If you've told yourself or someone else that you were NOT going to do something that you ended up DOING, acknowledge that to yourself/the other person as well. Once you build up your track record with yourself and others, you will have the inner and outer support to take on bigger goals. I know all of this because I went through this myself. When I was starting my business, I would often say I would do an unrealistic amount of stuff in a day. And guess what? I would get sidetracked, distracted, and not do it. Thank you ADHD! I have worked with several bad-ass coaches who seriously leveled up my productivity and goal setting skills.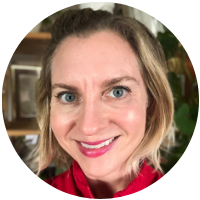 Posted By Jean Prominski, Certified Professional Organizer
Check out my media exposure: Seattle Sparkle in the Media
Download my free 5 week journal The Seattle Sparkle Method to Get Organized and Stay Organized
Sign up for my free 4 Day Color to Declutter Challenge.
Become part of a like-minded community by joining my Facebook Group, Declutter and Organize with Seattle Sparkle.
Ready to book a consultation? Complete this form.
For artwork to energize your home, order through jeanprominski.com.