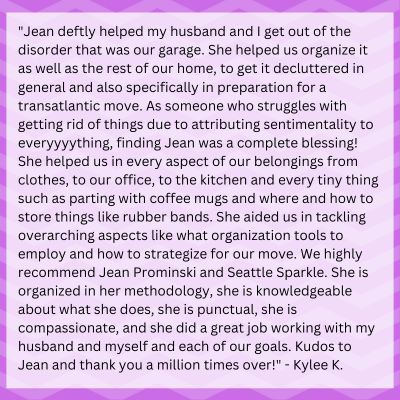 I just received a new testimonial from a client! Thank you so much Kylee!!
"Jean deftly helped my husband and I get out of the disorder that was our garage. She helped us organize it as well as the rest of our home, to get it decluttered in general and also specifically in preparation for a transatlantic move. As someone who struggles with getting rid of things due to attributing sentimentality to everyyyything, finding Jean was a complete blessing! She helped us in every aspect of our belongings from clothes, to our office, to the kitchen and every tiny thing such as parting with coffee mugs and where and how to store things like rubber bands. She aided us in tackling overarching aspects like what organization tools to employ and how to strategize for our move. We highly recommend Jean Prominski and Seattle Sparkle. She is organized in her methodology, she is knowledgeable about what she does, she is punctual, she is compassionate, and she did a great job working with my husband and myself and each of our goals. Kudos to Jean and thank you a million times over!" – Kylee K.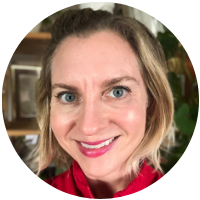 Posted By Jean Prominski, Certified Professional Organizer
Check out my media exposure: Seattle Sparkle in the Media
Download my free 5 week journal The Seattle Sparkle Method to Get Organized and Stay Organized
Sign up for my free 4 Day Color to Declutter Challenge.
Become part of a like-minded community by joining my Facebook Group, Declutter and Organize with Seattle Sparkle.
Ready to book a consultation? Complete this form.
For artwork to energize your home, order through jeanprominski.com.