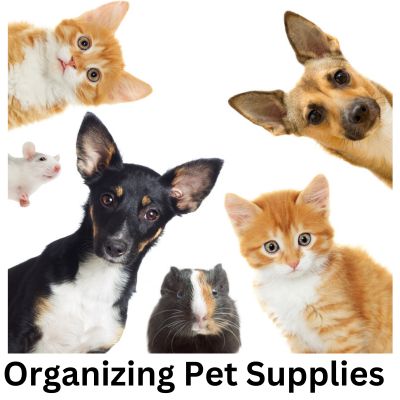 This post is part of a series that I will be sharing with you over the next couple months, based on the 5 week journal that I've created. If you don't want to wait for each post to come out, you can download the journal here: The Seattle Sparkle Method to Get Organized and Stay Organized
Anyone who knows me knows how much I love animals! I grew up riding horses and I have two terriers. I love helping people create homes for their pets, organize their pet supplies, or prep their home so that they can have a pet. I've helped clients with their horse, goat, sugar-glider, dog, cat, rabbit, guinea pig, hamster, fish, reptile, and bird supplies, (and even consulted with another client on the best placement for their boa tank!). Pets are wonderful, but if you don't keep their supplies organized, they can get out of control quickly. In this post, I'll give instructions for decluttering, organizing, and maintaining your pet areas and supplies.
These steps can be applied to all types of animals (in homes, in tanks, in cages, and in barns). If you have more specific questions about how to organize something in particular, send me a message. I would be happy to help you!
Step 1: How organized are your pet supplies to begin with? Are you someone who keeps all your pet related things in one place, (or in multiple spaces logically), or do you have things scattered around the house with no real system in place? Sort your supplies by type, and group like items together. For example, put all the treats together, the medications together, toys together, grooming supplies together, and the apparel (leashes, jackets, collars etc) together. You may decide to not keep everything together when you're done (like keeping a jar of treats by the door, or the medications that are frequently used more accessible than the rest of the medication). This step should help you inventory your goods. You might find some things you forgot you had!
Step 2: Purge anything that's expired, that your pet (or you) didn't like, or that doesn't fit them. Make a shopping list if there are things you notice you need to replenish.
Step 3: Decide where you want to keep everything. Do you have an empty drawer(s), shelf/shelves, or another space in mind? If not, you may need to clear something else out to make room for your pet supplies. Or you may need to buy a cabinet, shelves, specialty racks, or set of drawers to keep your supplies. Remember to store your supplies in a place where your pet can't get to their food, treats, or medication. I used to have to be extremely crafty to figure out how to keep my Jack Russell's treats out of her paws when I lived in a small apartment and wasn't home. She is very tenacious! When you're deciding where to put things, be sure to take into consideration the frequency of use of the items, and the location they will be used. If you have a dog, you may want to create a station with hooks and small drawers or bins with all the supplies you'll need for walks.
Step 4: Now that you've picked out where you're going to store your supplies, you may want to use containers or drawer dividers to keep things organized. You can always just use temporary boxes and bags until you can purchase the exact size and quantity you need. Once you have your items containerized, label the containers, and put them where they belong. You may want to add labels to the drawers or shelves as well.
Step 5: Create a maintenance plan that will work for you. You may want to put a reminder on your calendar to help you remember to tidy up your pet supplies until it becomes an automatic habit. Make sure to include time for cleaning up after your pets, maintaining their bedding/habitat, food/water supply, grooming, exercising, and spending quality time together.
A few more tips:
Keeping harmony amongst pets is very important. If you have multiple pets and some don't get along, you may need to keep them separated and/or call in a behavioralist or trainer.
Two books I recommend about creating harmony with your animals are Communication with All Life and Energy Healing With Animals, both by Joan Ranquet.
In addition to having a regular primary care vet, I recommend working with a holistic vet as well. It's a nice way to get a well-rounded expert opinion so that you can make the best choices for your animals. I like Ancient Arts Holistic Vet in Seattle. They treat dogs, cats, rabbits, reptiles, and birds.
You can use crystals such as amethyst and smokey quartz to help mellow the vibe of a space. Perelandra sells flower essences that can be used on animals under stress. Bach, another brand of flower essences, also makes Rescue Remedy for pets. Adaptil provides calming pheromones for dogs. It comes in a spray, diffuser, and a collar. (Another company makes a cat version, but I don't have experience with it).
When safety proofing for a new animal coming into the home, do some research about what common hazards are for that animal. One of my dogs is very sensitive to scents (including many essential oils), so I either can't use them in the home, or need to use them in a place that is well ventilated (and a place she can avoid). Check your houseplants to make sure they are safe around animals. Keep the trash and recycling out of reach. Don't store any human or pet food in a place that is within reach. Make sure all doors and windows are secure and/or have screens, so no one can escape without being allowed outside. Secure all hazards including chemicals, small toys, wires, etc. Here's a thorough list of to-do's when pet-proofing your home: American Humane.
Acknowledge that pets are usually a lot of work. Many people find the rewards of pet ownership to greatly outweigh the effort, but not everyone. Some pets are easier keepers than others. If you find yourself in over your head with your animals, you may want to consider asking for help, or looking for alternative solutions.
Home Assignment
Declutter and organize your pet areas, if you have any. (If you don't have any pet areas, do something else off your to-do list).
Life Assignment
Your pet may be highlight of your life. Have you always wanted a pet, but don't have one? Maybe today is the day! Give some extra love to your pets today. Or you may not have a pet, and you're totally cool with it. Give some extra love to your loved ones, or to yourself today!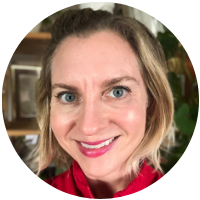 Posted By Jean Prominski, Certified Professional Organizer