Organizing Emergency Supplies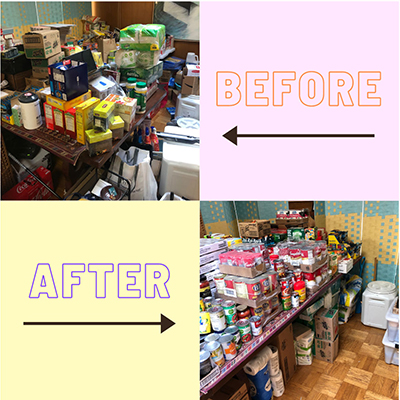 One of the really neat things I've noticed during this Pandemic is through all the stress and underlying anxiety everyone has been experiencing, the things people really care about shine through in a really amplified way.  With the permission of my client, I am sharing some work we have recently done together.  My client is one of the most dear, considerate, conscientious, loving, and thoughtful people I know. She cares deeply for her family and pets in a way that I deeply respect and admire.  Much like newly pregnant women get the urge to "nest" to create a happy and healthy home for their new arrival, months before the Pandemic actually started, my client's intuition let her know that something big was about to happen.  Out of great love for her family, she began collecting supplies. The level of forethought that went into this preparation is genius.  Out of respect to my client, I'm leaving out the details of the supplies that were collected, but trust me, she thought of everything! I pride myself in "being prepared", and this client definitely surpassed me by leaps and bounds.  We have worked together for years, and so when she asked for my help on this project, I was honored.  I've started doing some in-home organizing again (depending on the circumstance, and on a very limited basis), and after she told me the sacrifices she has been making to keep her family healthy, I gladly agreed to come over. My brain and body love sorting things, so this has truly been one of my favorite projects I've been able to work on.  The mental and physical challenges required to organize and properly store month's worth of emergency supplies has been so much fun.  I learn so much from my clients, and have been invigorated to see this level of preparation.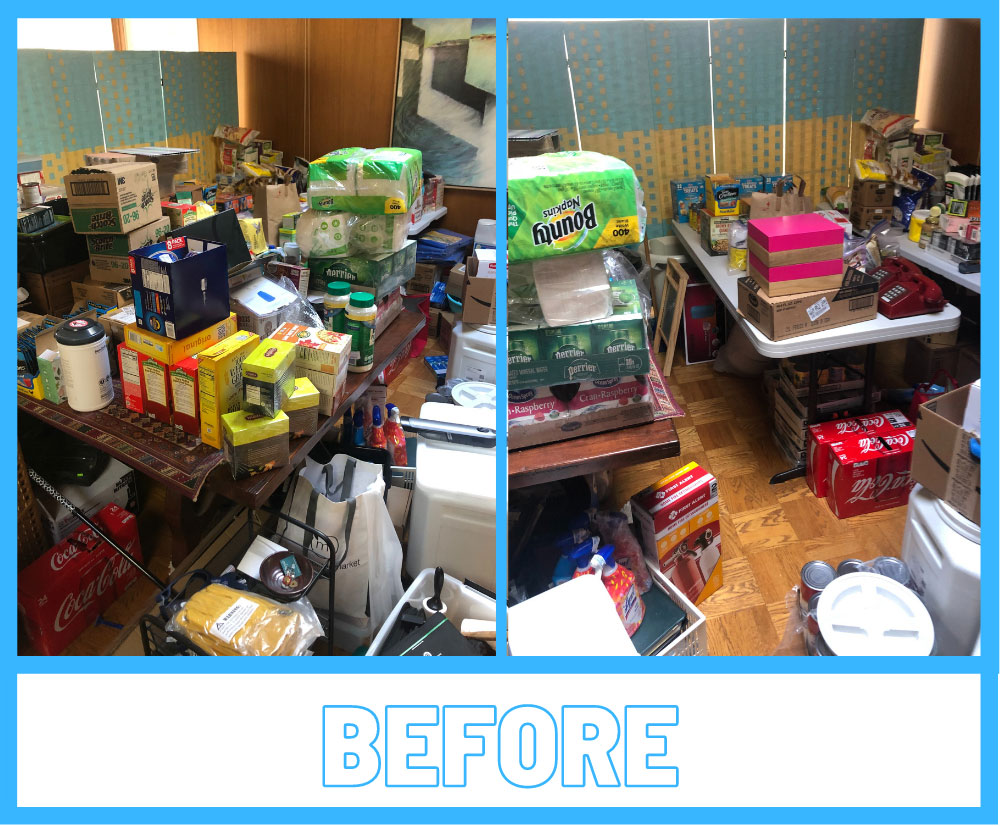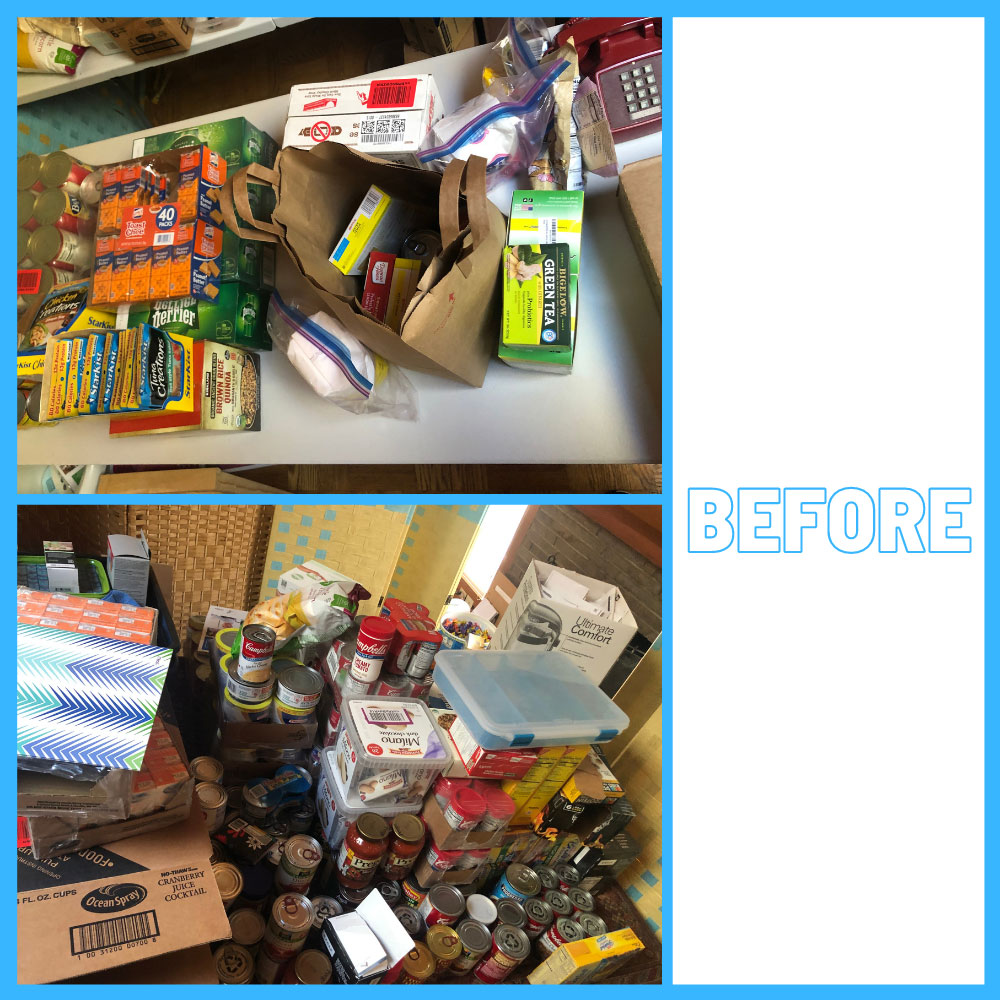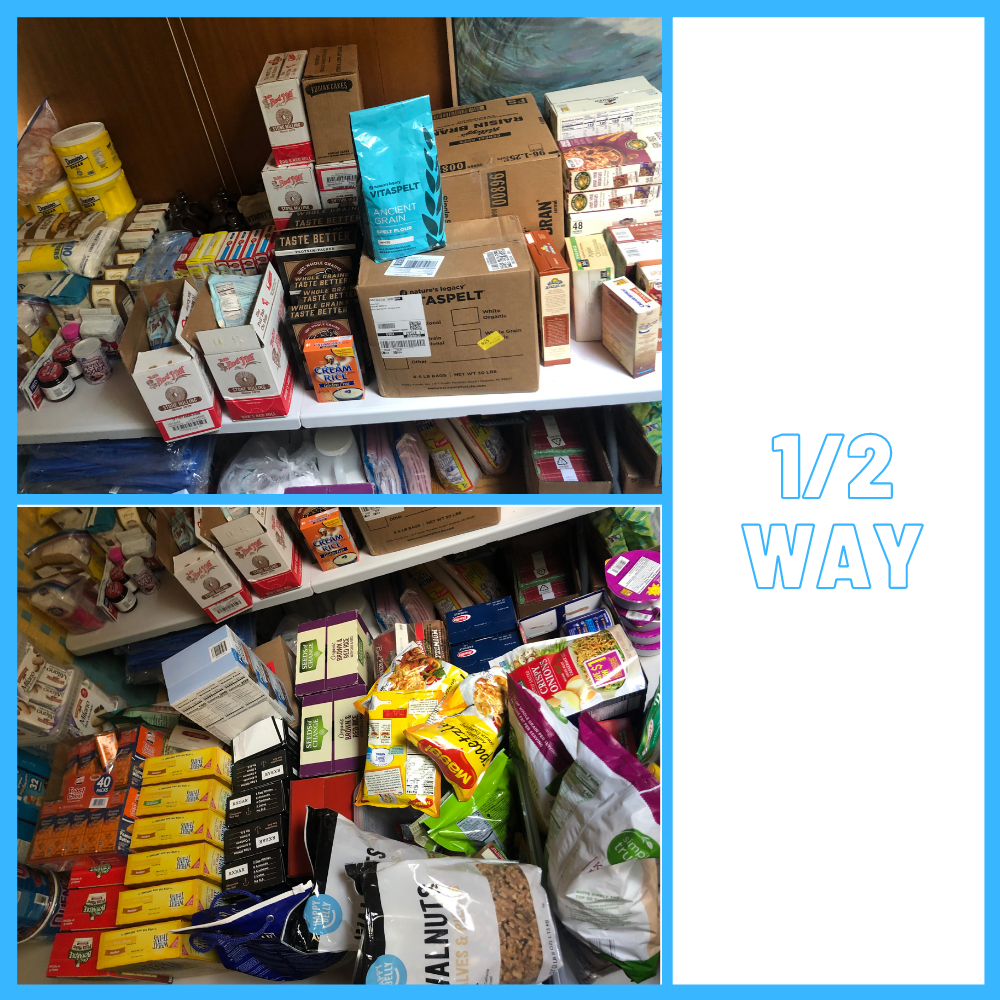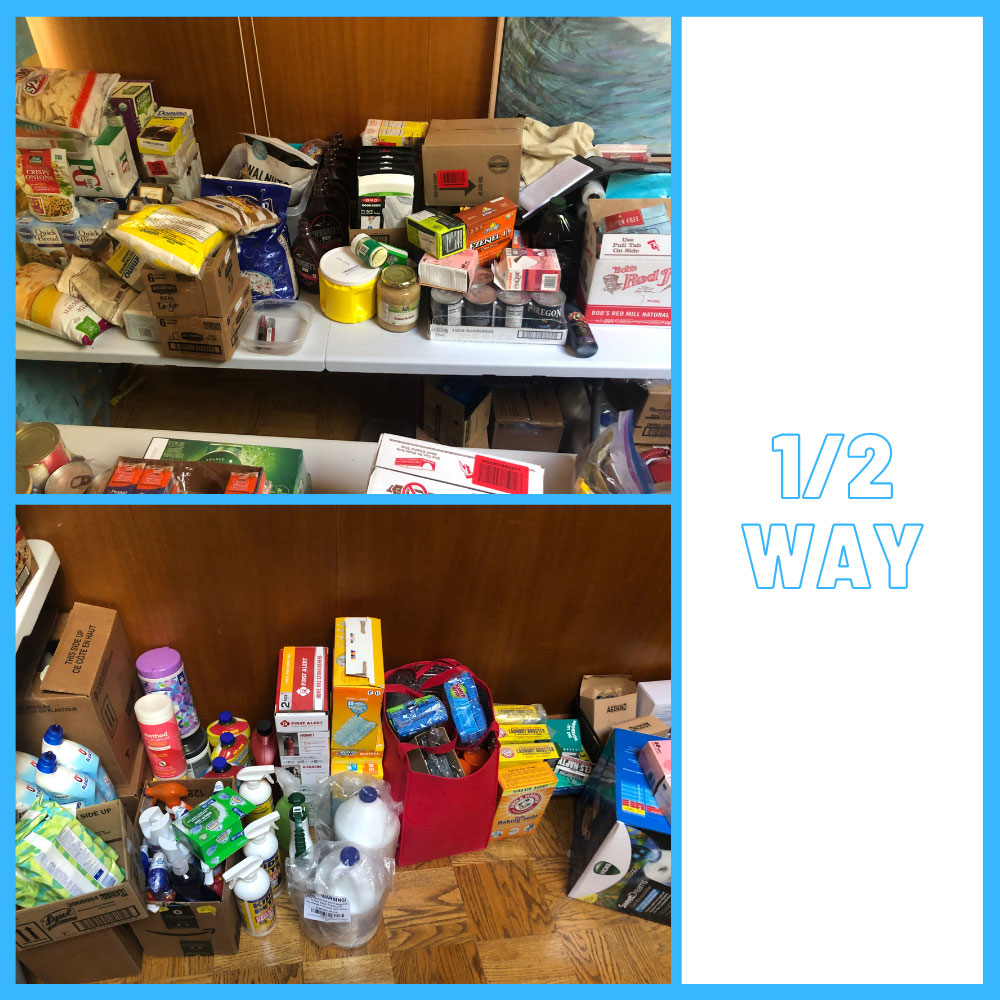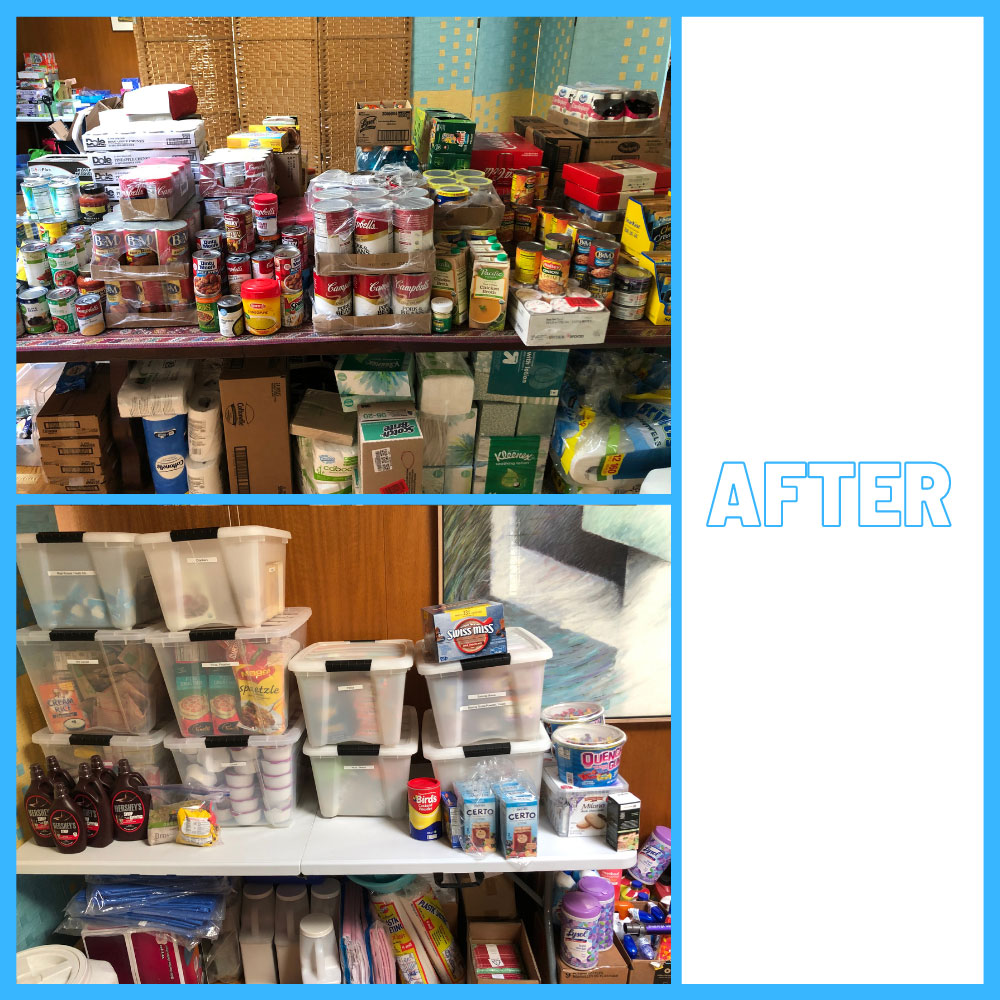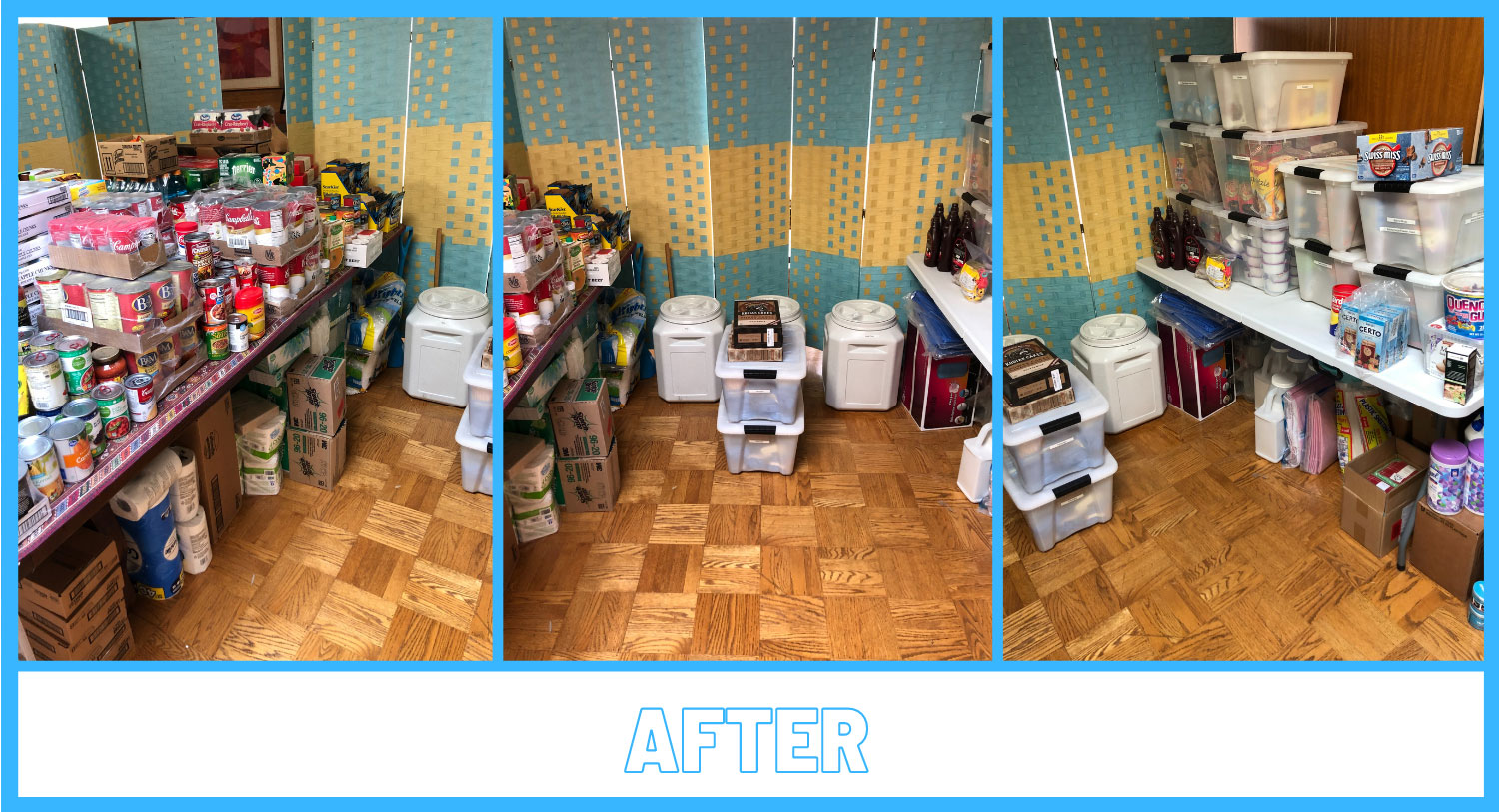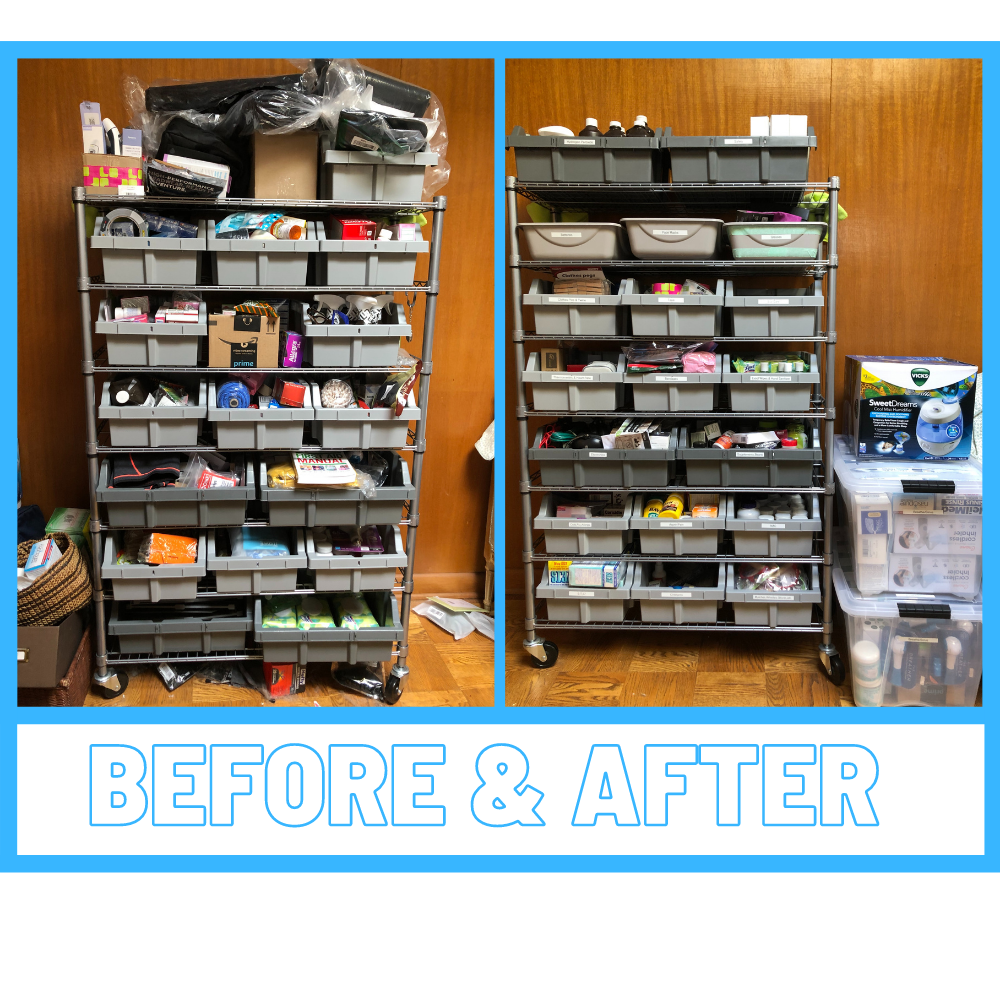 Challenge #1:
Sorting like with like (canned goods, dry goods, drinks, cleaning supplies, etc…).  I created zones for the various types of foods and supplies and collected them from around the room so that they could be retrieved easily.
Challenge #2:
Storing items efficiently (dry items in containers to protect from moisture or any potential critters). If you've ever experienced these issues, you'll know to do this too!
Challenge #3:
Vitamins, medications, first aid supplies- sorted and clearly labeled. Here is a partial emergency supply list from the Red Cross: At a minimum, you should have the basic supplies listed below:
Water: one gallon per person, per day (3-day supply for evacuation, 2-week supply for home)
Food: non-perishable, easy-to-prepare items (3-day supply for evacuation, 2-week supply for home)
Flashlight
Battery-powered or hand-crank radio (NOAA Weather Radio, if possible)
Extra batteries
Deluxe family first aid kit
Medications (7-day supply) and medical items
Multi-purpose tool
Sanitation and personal hygiene items
Copies of personal documents (medication list and pertinent medical information, proof of address, deed/lease to home, passports, birth certificates, insurance policies)
Cell phone with chargers
Family and emergency contact information
Extra cash
Emergency blanket
Map(s) of the area
For a full list of recommended emergency supplies from the Red Cross,
click here.
What do you have in your emergency supply kit?
Send me a message
and let me know!
Want to take it a step farther?
Sign up for my free 4 Day
Color to Declutter Challenge
. Become part of a like-minded community by joining my Facebook Group,
Declutter and Organize with Seattle Sparkle
. Ready to book a consultation? Complete
this form
. For artwork to energize your home, order through
jeanprominski.com
or on
Etsy
.