Multisensory Vision Board for an Organized Home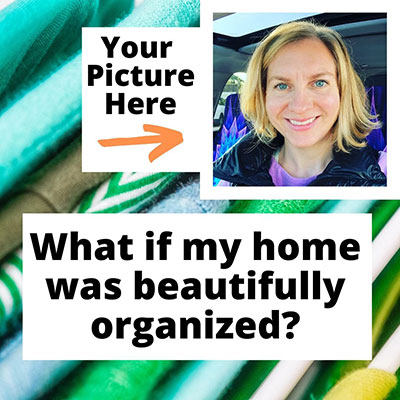 I help people get their homes organized.  One of the biggest hurdles for my clients to get over is BELIEVING that they can have an organized home.  If you have been disorganized all your life, you probably have some pretty limiting beliefs about whether or not you'll EVER be able to have an organized home. In addition to physically sorting, decluttering, containerizing, and finding homes for things, it's imperative to work on the mental and emotional aspects as well. I have tons of different therapeutic techniques to help my clients work through some of the subconscious blocks they have around having an organized home. Some of the techniques are more overt, and some are more subtle.  One of my favorite techniques to share with my clients is the Multisensory Vision Board.
What it is
A multisensory vision board incorporates your 5 senses into how you interact with it. It's best done on a digital device like a smartphone, tablet, or computer.
Step 1: Brainstorm
On a piece of paper, make a list of what an organized home means to you. What adjectives, nouns, and verbs make up your organized home? How will you feel when you're in your organized home? What does it look like? Are there any spaces you've been in that you're particularly inspired by?
Step 2: Sight
Collect 20-50 (or more!) images on your smartphone or other device.  You can take photos, use screenshots, or download images from the computer. You can use a free program like Canva to create photo collages. It's a great idea to sprinkle some photos of yourself into your vision board. Use positive "what if?" questions that help spark your curiosity about what it would be like if you could have an organized home. Here are some examples: "What if I could easily host friends?" "What if I felt great in my home?" "What if I allowed my home to be organized?" "What if everything in my home sparked joy?". Pick questions that get you excited and happy, not ones that trigger disbelief or fear. Keep them simple.
Step 3: Sight
Organize all the photos into an album on your device. Make sure the album can be set to an automatic slideshow. (I know this can easily be done with the Apple photo app on the iPhone).
Step 4: Hearing
Choose a song to set the slideshow to.  Use a song that you love, that's upbeat, and positive.  Use a song that makes your heart sing, that you resonate with deeply. You can always change it up later if you want to add some variety.
Step 5: Taste
Pick a delicious flavor to taste.  This could be as simple as brushing your teeth prior to looking at the vision board, or sipping tea or another one of your favorite flavored beverages.
Step 6: Smell
Pick a scent… you could light a candle, diffuse some essential oils, or spray some botanical hydrosol nearby. Make sure it's a scent that you like!
Step 7: Feel
My favorite thing to do here is to use the microwavable rice filled neck pillow that I got from my naturopath's office.  I like to feel warm things, but if you're someone who prefers cooler temperatures, you could put the neck pillow in the freezer prior to using, or use another type of cold pack. Gathering some stones to have nearby is another option.
Step 8: Feel
Practice EFT (Emotional Freedom Technique) tapping. Click here for a link to Gabby Bernstein's blog post on tapping. This is a surefire way to crush any of your subconscious blocks. You'll know it's working if you find yourself yawning, your eyes watering, or any other physiological sensation that seems out of the ordinary. This is a sign your body is moving energy.
Step 9: Putting it all together
-Get comfortable. Sit or lay in a place that is quiet, where you won't be disturbed. Make sure to have everything you'll need nearby.  Get your rice pillow warm, have a flavored beverage (or brush your teeth), something scented, and possibly some stones or other things you like to hold. Make sure to have your phone (or other device) with the slideshow set to music.  You may like to listen to it with headphones, so the sound is more focused.
-Press play! As you're watching your slideshow, listening to the song, feeling the heat of the pillow (either on your neck or another part of your body), smelling whatever delightful scent you've picked out, and have the taste of something delicious in your mouth, use the tapping technique to help your body process what your eyes are seeing.
Why it works
To manifest your goals, you need to get to a place of feeling joy. Activating a sense of joy with each of your senses will help anchor your desires.  It will also help ground you.  Manifesting happens in the present.  If your mind is stuck in the past or future, worrying, analyzing, or fixated on fears, it won't work.  You need to get into the present.  The way to do this is by activating your senses in a very joyful way.
This may seem like a lot to do, but once you try it, you'll see how simple it really is.  Even just spending 5 minutes a day watching your slideshow will have a profound effect on your home!
What song would you use for your vision board slideshow?  Please let me know in the comments!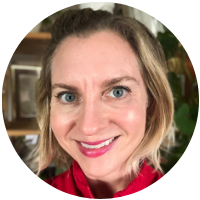 By Jean Prominski, Certified Professional Organizer
Download my free 5 week journal The Seattle Sparkle Method to Get Organized and Stay Organized
Sign up for my free 4 Day Color to Declutter Challenge.
Become part of a like-minded community by joining my Facebook Group, Declutter and Organize with Seattle Sparkle.
Ready to book a consultation? Complete this form.
For artwork to energize your home, order through jeanprominski.com or on Etsy.