This is probably the biggest thing to help you get more productive and get your home organized, but it does involve breaking a BIG habit. STOP the negative spirals! When you notice a negative thought come in, deal with it, and get back to joy ASAP!! But before I get too far into this post, I want to make it very clear that I am not advocating to just squash, avoid, or suppress your negative emotions. The more you try to do that, the more they will persist and get worse. Bottling up negative emotions can make someone more aggressive, feel more isolated, or may increase risk of early death*. Repressed emotions don't go away. They get stored for later. Get in touch with your inner emotional world. Take some time out to engage with your feelings. Learn to understand them and give yourself the space to truly feel what you feel in the moment. Work through your negative emotions so that you can overcome being ruled by them.
The reason it is extremely important to learn to manage your mind is because anytime your brain goes down some negative tangent, it's showing that your ego is in charge. While your ego is great for helping you pick up heavier weights at the gym, giving you the inspiration to reach bigger goals with your business, and is the one telling you to organize your house, the ego is also DRENCHED in fear. You CANNOT let it be fully in control. It's a great "middle manager". It's not just a minion… no, it has great ideas and it's ideas need to be taken into consideration. However, it's NOT the boss. You are! If you let your ego be in charge, you'll fall into despair quickly. It's like why you don't give a child a credit card. Sure, you want to hear what your kid wants from Santa, but if you gave your kid a credit card to buy all their own Christmas presents, they wouldn't know when to stop. Remember, you've probably spent decades letting your brain go down negative spirals. Be patient with your process.
Here's THE formula for transforming negative thinking. Only spend a max of 5-10 minutes thinking about this at a given time.
One- Identify the problem (the negative emotion and the cause). For example: "My house is disorganized." What does this feel like? Where do you feel it in your body?
Two- State the facts. For example: There are 10 boxes that need to be sorted, decluttered, and put away. There are 2 closets that need to be sorted, decluttered, and organized.
Three- Is it within your control? (Anything that involves another person or animal is NOT within your control).
Four A- If it is within your control: how do you solve it? (make time to process boxes and closets, hire a home organizer, ask for help from a friend, etc).
Four B- If it is not within your control: what can you do? If the boxes and closets are not your stuff, this is not within your control (unless you've been given permission to deal with the stuff). If you don't have permission, you could ask the person (nicely!) if they could deal with the stuff. Or if you've done that repeatedly, and nothing is changing, you could either work to let go of trying to control what other people do, or you could move out. Side note: so much suffering comes from a need to control. This is often an [unhealthy] strategy people use to avoid dealing with feelings of discomfort.
Five- Get back to joy. Identify what you are grateful for in this scenario (a nice place to live, an abundance of things that are offering comfort, people who you love, etc). Then figure out what lesson you learned through all of this. Finally, do something to shift your mood. Listen to some good music, look at cute pictures of puppies, give someone a hug, or go for a walk (or whatever else you like to do!).
Many negatively charged emotions are "mind made emotions". They aren't real emotions. Real emotions may feel happy, sad, excited, angry, (or however they want to feel) but they always have a feeling of calm to them. Mind made emotions come with a sense of obligation about how you think you "should" feel, or they come from a need to control other people or outcomes of situations. Remember that it's ok to honor yourself, to set clear limits, and to trust your decisions.
When you are learning this process, remember, it takes practice. Be compassionate with yourself and remember that if you catch yourself feeling bad, it doesn't mean that you're not doing the work properly (or enough). Just noticing that you feel bad and recognizing which emotion you are feeling is huge progress for most people! If you are noticing that it's really hard to stop the negative spirals, this may be due to your brain chemistry. Some people are just wired that way. If you notice that your brain easily goes down a negative path and you aren't able to steer it back towards authentic joy, it may be time to make an appointment with a doctor, naturopath, or psychiatrist who can help you come up with additional solutions.
Source: *https://time.com/6240219/things-that-wont-make-you-happy/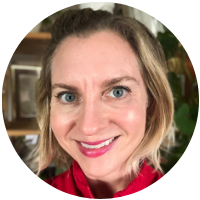 By Jean Prominski, Certified Professional Organizer
Check out my media exposure: Seattle Sparkle in the Media
Download my free 5 week journal The Seattle Sparkle Method to Get Organized and Stay Organized
Sign up for my free 4 Day Color to Declutter Challenge.
Become part of a like-minded community by joining my Facebook Group, Declutter and Organize with Seattle Sparkle.
Ready to book a consultation? Complete this form.
For artwork to energize your home, order through jeanprominski.com.