How I Became An Organizer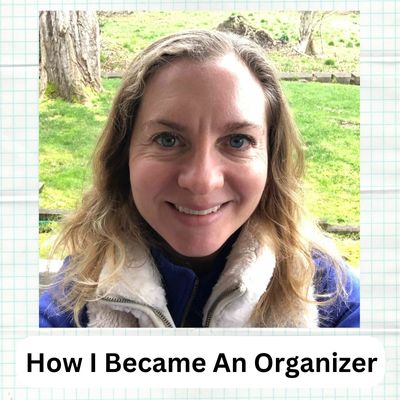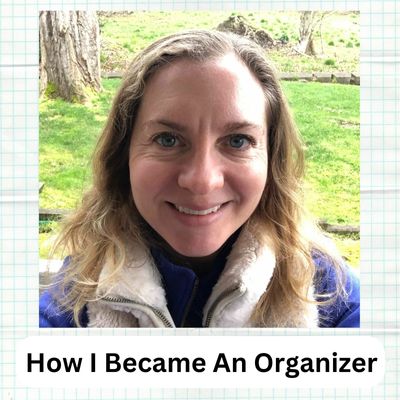 I have been working as a Professional Organizer since 2015, and often get asked about how I got into the business. In this post, I'll talk about how I became an organizer, along with some of my challenges that make organizing hard for me, and some of my blessings that allow me to be an organized and helpful human. If you're interested in learning more about me, keep reading!
How I Became An Organizer, The Tipping Point
In 2015, I was living in beautiful Sonoma, CA, working as the Executive Director of an art school, getting to ride horses whenever I wanted, making lots of artwork, and often taking day trips to San Francisco. Living in the Bay Area had been a dream of mine, and I loved my life. However, I knew there was something more for me. Midway through the year, I started missing Seattle, and was craving starting my own business. I thought the business I wanted to start was going to be making art installations in people's homes, and selling my artwork though galleries. I was working with a life coach, and he advised me to take a trip up to Seattle to visit. I set out on a solo road trip back up to Seattle, camping by myself along the way. It was quite an adventure! When I got to Seattle, my friends were all in their "nesting" stage of life, having babies, and reorganizing their homes to accommodate for their growing family. They were all talking about organizing! It quickly occurred to me that I could be a Professional Organizer! I hightailed it back to Sonoma, interviewed as many organizers as I could, and quickly joined The National Association of Professional Organizers (now called The National Association of Productivity and Organizing Professionals), NAPO. That fall, there was a regional conference in the Bay Area, and so I went. "These are my people!" For the first time in my life, I felt like I had found other people who were like me! I started doing some organizing jobs for friends, and then moved back up to Seattle to start my business.
My Challenges
I have ADHD. My handwriting is messy. I have never thought of myself as "the neat one". I think I'm kind of in the middle of being "type A" and "type B". I am an artist and constantly have too many projects that I want to do. Reading is hard for me due to my ADHD and probably years of PTSD of trouble in school. Somehow I got pretty good grades, but it was all due to ADHD masking and being quiet and following the rules. I also have an autoimmune disorder, Hashimoto's, which causes me to have to work extra hard to manage my energy level and my body temperature. The combination of ADHD and Hashimoto's is the recipe for being a Highly Sensitive Person, which I definitely am. I'm very introverted and need a long time recovering from social interactions. People in my social life know that they might not hear from me for months, but hopefully they know I still love them! My dogs are a handful. Finding balance in my life is something that I am constantly working on. I see all of these challenges as gifts for me. Each one has helped me grow in one way or another, and they have all taught me very valuable lessons. I have a very positive mindset, and I see the universe working for me, not against me.
My Blessings
Although my dad had been a well-respected Washington, DC lawyer, he died of alcoholism at the age of 62. I come from a family of high achievers. One of my grandmother's even had her Master's Degree! However, both sides of my family have had serious issues with substance abuse. Knowing this, I have chosen a life of sobriety myself. This choice has enabled me to have a clear mind and has also helped me calibrate my energy towards organization. Being the oldest Adult Child of an Alcoholic (ACOA), although it has come with some drawbacks, has certainly been a net-positive for me. I have learned to be responsible, vigilant, and to be self-reliant. I have learned to very discerning about who I spend my time with. These skills have allowed me to be the high achieving person I am today. I have held a great glassblowing job working for Chihuly, managed another prominent glass studio, and have earned my MFA from one of the best art schools in the world. During my MFA program, I learned how to learn, how to figure things out, and how to create solutions. I have a "can do" attitude. I'm incredibly (yet quietly!) tenacious. My first major in college was architecture, so I have a natural inclination and curiosity for space planning and home design. I grew up riding horses at a very strict (and old) Virginia riding school, which is where I developed my love of cleaning and organization. Even though I have ADHD, because I have such a strong interest in organizing, I'm able to do it well. As a kid, I read the "Hints From Heloise" column each morning in the Washington Post. Another strange gift is that I was born at Georgetown Hospital in Washington, DC, right near where the Exorcist had been filmed. I like to point this out because I also have a deep love of, and talent for, energetic space clearing. (If you've seen the movie, you'll understand the connection). I was born in 1981, which is the year of the Metal Rooster. Chinese astrology considers the rooster to represent discipline and organization, and the element of metal amplifies these qualities significantly. I'm also an Aquarius, which means that I am highly creative and independent. I'm weirdly good at getting a lot of things to fit in a small space. I love playing the African drum, because of the precision it requires, and the sound it makes.
What are your challenges that make organizing hard for you? And what are your blessings that have made you naturally good at organizing? Even if you don't think you are good at organizing, everyone is good at some aspect of organizing. When you can start to notice what your natural organizing gifts and talents are, they will grow!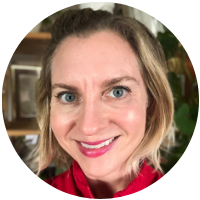 By Jean Prominski, Certified Professional Organizer
Check out my media exposure: Seattle Sparkle in the Media
Download my free 5 week journal The Seattle Sparkle Method to Get Organized and Stay Organized
Sign up for my free 4 Day Color to Declutter Challenge.
Become part of a like-minded community by joining my Facebook Group, Declutter and Organize with Seattle Sparkle.
Ready to book a consultation? Complete this form.
For artwork to energize your home, order through jeanprominski.com.