Health Benefits of an Organized Home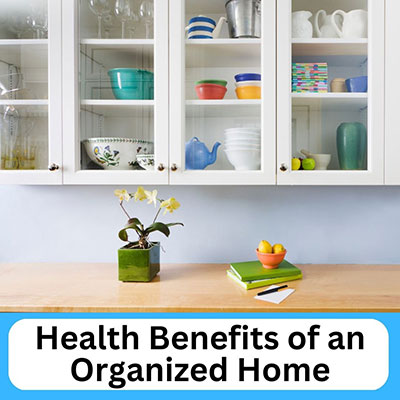 The Springtime is finally here, and for lots of people, that probably means you're in full on purge mode (or you want to be)! Since we finally have longer days, more sunshine, and more activity, many people get naturally inspired to grow and bloom like the plants do. Now that we're all emerging from wintertime hibernation and there is so much fresh food available, springtime is also a time that many people get inspired to pay more attention to their health. I believe that the outer world is a reflection of your inner world. When you can get your outer world decluttered and organized, you will find that your inner world will become more peaceful and calm. For this blog post, I'm going to write about the many other health benefits of organizing your home.
Physical Health
When your home is organized, your nervous system will be more calm. This equates to less stress. When your body isn't in a stress state, all of your organs and regulatory systems can function more optimally. Feelings of stress and overwhelm are terrible for physical health!
Organizing and cleaning can be a great workout!
A decluttered home has less dust and allergens like mold that can really mess up your neurological health, respiratory health, cause you to gain weight, and make it really hard to focus. Mold toxicity is abundant in our society and modern medicine has not caught up to this yet.
Fewer tripping hazards obviously means that you're less likely to trip over anything, but through environmental mirroring, clear passageways in your home allow for better flow inside your body.
When your kitchen is clean and your fridge is decluttered, you will feel more inspired to make better food choices, and you'll have the space to prepare healthy meals! Better nutrition will lead to much healthier mental and emotional health.
When you're eating right and you have less clutter to deal with, you will have better sleep! Good quality sleep is like depositing money into your bank account. You can't take money out of an overdrawn bank account, and your body and mind can't heal in a state of sleep deprivation.
Mental and Emotional Health
When your home is organized, you will feel like you have permission to relax. When your brain can move out of "fight or flight", you will have improved executive functions such as motivation, organization, planning/prioritizing, self-control, emotional regulation, task initiation, and memory.
Your relationships will improve as you let go of baggage from previous relationships. As you physically process through old letters, mementos, and gifts from previous relationships, your emotions about these relationships will start to neutralize past hurts so that you can move on with your life.
Similarly to letting go of the baggage of past relationships, stop dwelling in the past. Let go of the "old you" (or reduce it down to a small area of your home) so that you can let the "you" you are now, take residence in your home. This goes for artifacts from your old career or old hobbies, dated interior design trends, random mementos that aren't meaningful anymore, and especially old clothes!
Many disorganized people waste money because they have to buy multiples of things they already own. Organization leads to better financial health, not only because you will have less lost things, but because your self-esteem will improve. When you have a higher sense of self-worth, this will be reflected in a positive number in your bank account, rather than constantly fighting the feeling of being underwater with debt.
When you let go of unfinished projects (either by finishing them or ditching the idea), you will feel more capacity to undertake projects that are more meaningful to you now. Fewer unfinished projects and haunting to-do's (like unread books) staring you down will open the doors to more creative projects for the future.
You will have more time to do the things you love because you will spend less wasted time looking for things! However, be wary of an addiction to busy-ness. Don't get too obsessed with trying to make your house perfect all the time. Make sure you are balancing your time by letting your home be "good enough".
When your home is free from clutter, you can be more productive at work (whether you're working from home or not) or for home projects. You will have a place of peace so you can re-center yourself, and you will have the space to focus on projects that are meaningful.
Spiritual Health
I define spirituality as a connection to something greater. For many people, this is a universal energy (and has many names such as "God", "Chi", "Source", or most simply "The Universe"). But even for atheists who don't believe in such things as universal energy, a connection to something greater is COMMUNITY. When you get into full on purge and organization mode, you will have to come to terms with the fact that you can't possibly have EVERYTHING you may ever need in your home. You will need to learn to trust that you will be able to acquire exactly what you need when you need it. You may need to borrow things from neighbors or friends, you may need to ask for help from other people, or you may need to borrow things from community resources such as the library or tool library.
As you work on divesting yourself from excess, you will need to choose what to do with your stuff. We are so lucky to have so many thrift stores in our country that work so hard to attract buyers of secondhand things to keep things out of the landfill. Knowing that your things are going towards providing jobs for other people and providing low cost items for people who need them, while at the same time doing your part to preserve the environment, donating things to thrift stores is a popular choice. However, sometimes you may have things that are so precious to you (or that thrift stores don't accept), so it's nice to know that your things are going directly into the hands of another owner. Buy Nothing has groups all over the world to help connect people. Many people use Facebook to access these groups, but you can also just use the Buy Nothing app itself. OfferUp, NextDoor, and Craigslist are other popular ways of making sure your stuff is getting into the hands of someone who actually wants it. Through your generosity with gifting your items, you will start to feel even more of a connection to your community, and in turn, a connection to something greater.
I LOVE coincidences. They always show me that I am on the right path. Years ago, when I was living in California, I was selling something on eBay. I noticed that the buyer, who was living in Colorado at the time, had a familiar name. It turns out, we had gone to high school together in Virginia! What a small world! If you ever sell something online, notice the joy you feel when you connect your item to someone who wants it, even if you didn't previously have any connection to them. Feeling joy is a sign that you are on the right path!
An organized home is much easier to clean and maintain. When you can keep your home organized, you will feel lighter and more inspired to invite people over to socialize. When you invite people over and connect friends who didn't previously know each other, your sense of community will grow as will your feeling of belonging, a core human need.
If you want help organizing your home, please reach out!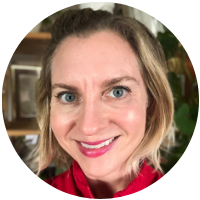 By Jean Prominski, Certified Professional Organizer
Check out my media exposure: Seattle Sparkle in the Media
Download my free 5 week journal The Seattle Sparkle Method to Get Organized and Stay Organized
Sign up for my free 4 Day Color to Declutter Challenge.
Become part of a like-minded community by joining my Facebook Group, Declutter and Organize with Seattle Sparkle.
Ready to book a consultation? Complete this form.
For artwork to energize your home, order through jeanprominski.com.