How nice would it be to come home from a camping trip and easily know where everything belongs? Unpacking can be really daunting when you don't have room for everything. Or how nice would it be to finally figure out what's in those boxes you never unpacked from when you moved in years ago? Having an organized garage has so many rewards! You could unlock a workspace for your creative projects, make your yard tools more accessible, turn your garage into a home gym, create easy to identify storage systems for your stuff, or maybe even start parking your car in the garage! If you want support getting your garage organized this summer, sign up for my Garage Organizing Class which starts August 4th! Keep reading for tips to organize your garage on your own.
Step 1: Take Photos
By taking photos of your garage as-is, you'll gain a new perspective on what's really going on in the garage. It can be hard to be objective about your stuff, and I've found that by taking a photo, you're able to see your garage with new eyes. Plus, you'll can turn this photo into a nifty "before and after" photo to inspire your friends!
Step 2: Look at Organized Garages
Google/Bing/ or search Pinterest for images of organized garages. This will help you get excited about what you're doing, but even more importantly, your subconscious mind will get to work about how to implement some of these beautiful garage organizing systems you're drooling over. This is an important (yet often overlooked) step. Don't underestimate the power of looking at images of what you're trying to accomplish.
Step 3: Sort
Now is the time to roll up your sleeves and get to work! The best time to organize your garage is in the summer when the weather is dry. You may want to set up a 10'x10' pop-up tent in your driveway to provide some shade and a sorting area. Depending on what you're sorting, you may want to put out tarps so you can spread everything out into different categories. Make sure to dress comfortably, be mindful of tripping hazards, and take care of your back to make sure you don't get hurt.
Step 4: Take Breaks
If you notice yourself getting tired or hungry during any step of the process, make sure to take breaks when needed. Your brain and body will need time to catch up with all the mental and physical processing you're doing. Make sure to stay hydrated and eat lots of healthy snacks.
Step 5: Declutter
Now that you've sorted everything, you can clearly see what you have. Throw out any trash, recycle what you can, and make a pile for HazMat if you have old oil paint or other hazardous materials. If you've got lots of things to donate and you have Facebook, your local "Buy Nothing" group may be a fun way to let go of your unwanted stuff. Since you'll already be outside working on your garage, post things as you find them, prioritize giving them to people who can come pick them up right away. Or make a pile for your favorite local charity. If you have things to sell, post them on Facebook Marketplace, OfferUp, Craigslist, or wherever else you like to post things for sale. If you've got a lot of things to sell, you may want to consider having a yard sale.
Step 6: Create Homes For Everything
This is the part where you need to figure out where everything is going to go. Do you need shelves? Hooks? Containers? You can find what you need at lots of different stores, so check out the following garage organization shopping sites to figure out what shelving systems or containers will work best for you. If you start to feel overwhelmed, remember you don't need to purchase everything at once. Do you think you'll need lots of small containers, or fewer larger containers? Get an idea about the sizing for the types of your containers, and then pick out the shelves that would store those containers most efficiently.
Container Store https://www.containerstore.com/s/garage/1
Lowe's: https://www.lowes.com/c/Garage-organization-Storage-organization
Home Depot: https://www.homedepot.com/b/Storage-Organization-Garage-Storage/N-5yc1vZarmi
Costco: https://www.costco.com/garage-storage-organization.html
Ikea: https://www.ikea.com/us/en/campaigns/areas-of-home-garage-pub9ffac980
Step 7: Purchase Containers/Shelves/Hooks etc. and Containerize!
This is the part you've all been waiting for! Make a list of everything you'll need to purchase. I recommend taking photos of all the spaces you need shelving/bins/hooks for. Take good measurements and write them down with sketches or take photos of your measuring tape as you're measuring the spaces. Either go to the store or order everything online. When purchasing bins, you may want to get extras that you can either return later or keep for extra storage. Sometimes it's hard to determine how many bins you'll need. Plus, sometimes bins get discontinued, so if you're going for uniformity, it's nice to have a back stock.
Step 8: Make Labels
I love using my label maker to print out labels. You can also just use a Sharpie and tape (I like the blue masking tape) or adhesive paper labels. If you're feeling fancy, you can use a Cricut or similar device to make your own vinyl labels. Don't write directly on bins because it's always hard to read, and it will be hard to relabel if you want to use the bin for something else later.
Step 9: Enjoy! Take Photos
Step back and admire all that you've accomplished. Take photos so that you can make a cool "before and after" photo to show off to your friends, and so that you have an easy reference when you need to reset your garage if things get a little chaotic in a few months.
Do you want help organizing your garage? Sign up for my garage organizing class or request a consultation for a personal session with me.
Time: 4pm-5:15pm Pacific Time
Dates: Thursdays, August 4th, 11th, 18th, 25th 2022
Fee: $200
Students will meet once a week for four weeks over Zoom.  The class size is limited to 4 participants. This will be an interactive class.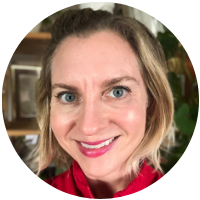 By Jean Prominski, Certified Professional Organizer
Don't forget to sign up for my organizing classes here
Download my free 5 week journal The Seattle Sparkle Method to Get Organized and Stay Organized
Sign up for my free 4 Day Color to Declutter Challenge.
Become part of a like-minded community by joining my Facebook Group, Declutter and Organize with Seattle Sparkle.
Ready to book a consultation? Complete this form.
For artwork to energize your home, order through jeanprominski.com or on Etsy.