Decluttering Energy Vampires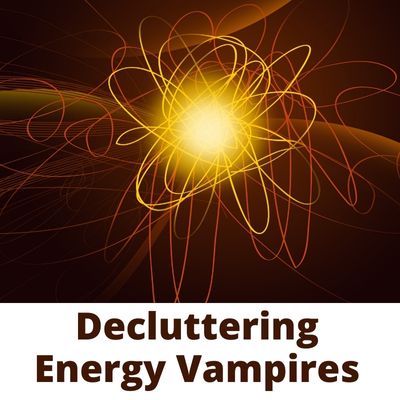 Getting your house organized and keeping it that way requires that you be incredibly discerning about who you spend your time with, what you spend your time doing, and what thoughts you allow to occupy your mind. You may have heard the term "energy vampires". These are people who prey upon kind, heart-centered people. They constantly complain, only want to talk about themselves (or gossip about others). They need non-stop attention and will zap your energy! Energy vampires exist on a spectrum. Some are highly narcissistic who subconsciously love to attract drama. They can also be highly competitive and won't hesitate stabbing you in the back to get ahead. They instill guilt, and always make you feel like you're not giving them enough. They are manipulative and pathologically self-centered. When you have an energy vampire who is stealing your energy, it's impossible to keep your home organized. If there are people in your life who are chronically negative, limit your time with them or discontinue spending any time with them all together. In addition to people who are energy vampires, there are also many other ways that your battery can get drained. Keep reading so that you can identify ways in which you may be giving your energy away and inadvertently attracting more clutter into your home.
Upholding healthy boundaries can be very hard, because many people have never been taught how to say no, or that it's ok to say no. Having good boundaries means you are able to not only respect your own boundaries, but respect other people's boundaries as well. To determine where your boundaries are, and to feel if someone is encroaching on them, it's important to really tune in to how you feel. Many people have been programmed to ignore how they feel. If you are struggling with knowing what your boundaries are, start to notice what body sensations you are feeling throughout the day. When people don't have good boundaries, they use their physical possessions/ stuff to build walls around them to protect them.
Your brain loves to prove you right, so when you fill your mind with fearful thoughts, it's like you're asking the universe for these fearful thoughts to come true. People who live with a lot of fear are usually also addicted to watching the news, which breeds even more fear. The more fear you feel, the more you'll feel like hoarding rolls of toilet paper or other household supplies. This over-abundance of stuff in your house will make for a very cluttered home. If your mind is re-playing fearful thoughts over and over, the amygdala part of your brain will be stuck in overdrive. To feel peaceful, to feel organized, and to feel focused, you need to access your prefrontal cortex. To access your prefrontal cortex, you need to let go of fear.
People Pleasing and Overcommitting
When you subvert your own needs for the needs of others, you are betraying yourself. The more you ignore your own needs for the needs of others, the more cluttered your house will be. To have an organized house, it requires you to care for yourself. If you're someone who's always caring for others, but never makes time to care for yourself, you won't have the time or energy to take care of your own business.
If you're not eating enough healthy food, or eating too much food that's incompatible, you will not be able to get your house organized. Sugar is like an energy vampire for your body. As much as I love eating chocolate, I know that too much sugar will leach nutrients from my body. If you're someone who struggles with diet issues, focus on making sure you are eating enough healthy vegetables, healthy protein, and healthy fat versus trying to limit unhealthy foods.
Clutter attracts more clutter, plain and simple. Clutter will deplete your energy and will make it very hard for you to get your house in order.
Lack of Self-Esteem and Comparison
If you're spending time thinking badly of yourself, being hard on yourself, and comparing yourself to others, you are perpetuating a low sense of self-esteem. Your outer world is a reflection of your inner world, so if you don't have healthy self-esteem, your home will show it. There are many ways to help improve your self-esteem.  One of my favorites is through hypnosis. Check out YouTube or the Apple Store to find a hypnosis track that you can listen to as you fall asleep, or first thing in the morning.
Speaking badly of yourself is bad, and so is speaking badly of others. Negativity breeds more negativity. The more negativity you surround yourself with, the more cluttered your house will be. While toxic positivity can be a real issue, do your best to validate the concerns of others around you while steering the conversation to something more positive. People crave connection, and sometimes gossiping or complaining can make people feel like they are connecting with each other. Unfortunately, relationships based on gossip or other negativity never last. Make a list of things to talk about that are positive and growth oriented instead of letting the conversation be an emotional dumping ground.
What other things drain your energy so that you don't have the bandwidth to get your house organized? Let me know in the comments!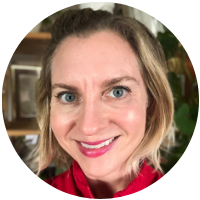 By Jean Prominski, Certified Professional Organizer
Don't forget to sign up for my organizing classes here
Download my free 5 week journal The Seattle Sparkle Method to Get Organized and Stay Organized
Sign up for my free 4 Day Color to Declutter Challenge.
Become part of a like-minded community by joining my Facebook Group, Declutter and Organize with Seattle Sparkle.
Ready to book a consultation? Complete this form.
For artwork to energize your home, order through jeanprominski.com or on Etsy.