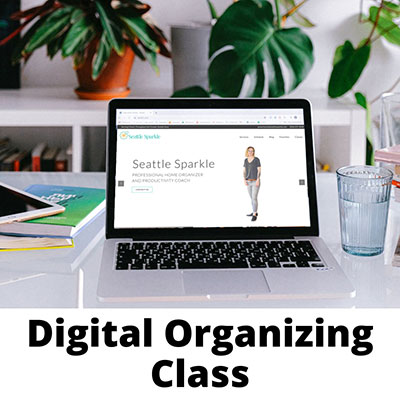 Time: 4pm-5:15pm Pacific Time
Dates: Thursdays, Sept. 8th, 15th, 22nd, 29th, 2022
Fee: $200
Students will meet once a week for four weeks over Zoom. The class size is limited to 4 participants. This will be an interactive class.
_
Digital clutter doesn't take up a lot of old space, but can contribute to a lot of overwhelm. The good news is that it doesn't take a lot of techy skills to organize your digital life. Once you have a reliable system to organize your digital files, you will be able to easily find what you need. You'll also be able to confidently scan and store files digitally. In this class, we will talk about email organization, how to store documents and photos, and will also talk about the benefits of scanning to digitize some of your paper. Do you have an overflowing email in-box? Or do you want to create an easy way to store files on your computer so that you can find them later? If so, this class is for you!
Email Decluttering and Organizing
There are some people who are "inbox zero" people. They make sure to clear ALL of their emails in their inbox every single day. Other people might have over 30,000 unopened emails in their inbox. Then there are people who fall somewhere in-between. No matter where you are on the email spectrum, I can help you create a system so that you aren't overwhelmed by your email anymore. Sometimes it takes a little time, but if you stick with it, I promise you can get your inbox under control. Record how many emails you have when you start, and set aside some time every day to start deleting and categorizing emails so that you can clean your slate. Bulk delete and unsubscribe as much as possible. Make some folders for important emails that you might need to refer to later. Don't over-categorize emails into too many separate folders. Keep your categories fairly broad. Gmail has a great search function, so you can just archive the majority of your emails and you'll be able to find them later. Get rid of the junk and large attachments so you don't have to use more storage space than is necessary.
Storing Documents
Do you have an organized way to store your documents, or do you just keep everything on the desktop? I like to use a combination of Google Drive, Dropbox, Apple Notes, and occasionally Evernote. I use Google Drive when I want to share files with other people or if I know I'm going to want to easily open the documents on different devices. Dropbox is really user friendly and I love how I can use my files traditionally (with Dropbox installed on my computer), or I can access the files via the cloud. Apple Notes is wonderful because the app loads very quickly. I use Apple Notes when I have a quick idea, like something to add to my grocery list, someone recommends a movie or TV show, I have an idea for my blog, or I'm making a list of things to bring on a trip. I used to use Evernote a lot more, but don't have the need for it as much anymore. It does have some features that the others don't have though. One notable thing about Evernote is that you can scan documents (and even handwriting!) and the Evernote search function can recognize the characters. When you're organizing your documents, it will be important to be consistent with how you're naming your files.
Scanning
Once you have your computer files decluttered, and have an idea about how you want to organize the new files, you can start scanning documents to digitize them. Turbo Scan is a great app that you can get for your phone so that you can scan most things. If you have lots of multi-page documents to scan, you may want to invest in a document scanner. If you're going to do this, make sure your document scanner can scan double-sided sheets. If you're going to be scanning photos, you'll probably want to scan those at a higher resolution. Either buy a high resolution scanner or take them to a professional to get scanned. Similarly to when you're naming your documents, you will need to make sure to name each document as you scan it. It will be easier and faster to name them as you scan, rather than scanning everything and naming it later.
Photos
I am an Apple user, and I love the functionality of the Photos app. I keep the majority of my photos and videos in chronological order, but when I want to look at a group of images that are separated chronologically and mixed in with all my other photos, I will create an album. For example, I take drum lessons every Sunday, and at each lesson take a video or two of what I need to practice for the week. During the week, I'll take more photos (my cute dogs, owls, eagles, organizing pics, pretty scenery, loved ones, etc). When I practice, I want to look at all the videos together. I can easily see them all together because I've put them all into an album (and add new videos to the album each week). I have a corresponding note in my Apple Notes app that lists which rhythm has been recorded on which date so that I can easily find what I'm looking for. I've also taken a photo of my Covid vaccine card and stored that in my "favorites" along with other photos that I like (or need) to show people on a regular basis (such as my 1988 cameo on the Today Show with Willard Scott). Sometimes you'll want the photos stored in folders that aren't in the Photos App. I prefer to store these types of photos (usually ones that I've resized and need to access to upload to my website) on Dropbox. There are some instances where it's better for me to store photos on Google Drive, but for the most part, I find Dropbox easier.
Old Electronics
If you have old computers and hard-drives laying around, you are not alone! If you need help accessing these devices, contact Scott at Cascade Computing. If you know you're done with them and just need to have them wiped and recycled, take them to Interconnection (in Seattle) or RE-PC (Seattle or Southcenter). Cell phones can usually be recycled at the store you purchased them at. Check out E-Cycle Washington for other locations to recycle your broken or obsolete electronics.
Even though digital clutter doesn't take up a lot of physical space, it takes up a TON of mental space. By getting your digital world in order, you'll create homes so that you can reduce a lot of physical paper that's taking up space in your home. Think about how nice it will be to store your important paper documents and receipts digitally. If you'd like help with digital organizing, sign up for my Digital Organizing Class!
Time: 4pm-5:15pm Pacific Time
Dates: Thursdays, Sept. 8th, 15th, 22nd, 29th, 2022
Fee: $200
Students will meet once a week for four weeks over Zoom. The class size is limited to 4 participants. This will be an interactive class.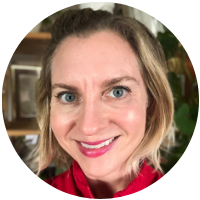 By Jean Prominski, Certified Professional Organizer
Don't forget to sign up for my organizing classes here
Download my free 5 week journal The Seattle Sparkle Method to Get Organized and Stay Organized
Sign up for my free 4 Day Color to Declutter Challenge.
Become part of a like-minded community by joining my Facebook Group, Declutter and Organize with Seattle Sparkle.
Ready to book a consultation? Complete this form.
For artwork to energize your home, order through jeanprominski.com or on Etsy.