Client Spotlight: Morning Routine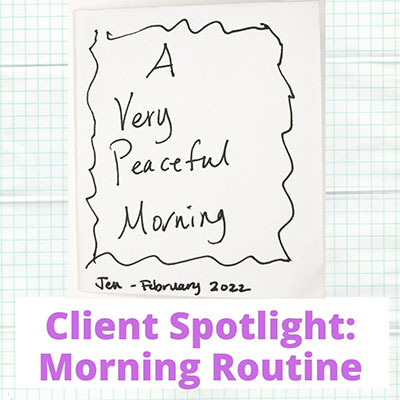 The other day I went to check my mail and was so excited to have received a very sweet and tiny handmade 'zine in the mail from one of my artist clients. We have been doing virtual sessions together and one of the things we've been working on is cultivating a peaceful morning routine. Starting your morning off with the raw vibration of "peace" is the best way to send peace out into the world. If you want others to feel peace, it needs to start with you. Think about what's going on in the Ukraine right now. Sending thoughts of fear, disgust, and anger will only generate more war like behavior. If you want others to feel peace, start with yourself, and I promise that it will be sent out in a ripple effect to the rest of the world. Cultivating a sense of inner peace within yourself is also the best way to create a sense of peace in your home organization systems.

Creating change in your life happens by developing a series of micro habits repeated over and over. It takes frequency and repetition for these habits to form new neural pathways in your brain so that they will become automatic. It's important to not to try and layer too many habits on top of each other too quickly. Think about practicing an instrument. If you're trying to learn to play something complicated really fast, it takes time to build up the coordination so that your muscles can fire accurately. It's important to go slow, and slowly build up speed. If you find that you're making mistakes and you sound sloppy, turn down the speed a few notches and try again. This is exactly how to build a productive morning routine. Start by making one or two changes such as drinking a glass of water before you check the news, or brushing your teeth before you turn on the TV. After a few days or months of doing this, you may find yourself adding in other healthy habits throughout the day.

Why is creating a morning routine important?

Many people are disorganized because they are overly tuned in to others and not able to hear their own intuitive nudges about when to tidy up, or when it's time to let go of things. This is especially hard to do if you have ADHD and/or you've endured narcissistic abuse. You may be programmed from childhood to pay more attention to a caregiver or other significant person in your life who was neglectful or demanded to be the center of attention (either overtly or covertly). This may have morphed into paying close attention to what everyone else around you was doing, but not putting enough attention on yourself. If these relationships haven't been resolved yet, you may find yourself with a romantic partner who generates a lot of attention towards themselves. If you're caught in this cycle of paying too much attention to others and aren't able to identify your own needs and desires, you won't be able to prioritize yourself for long enough so that you can make lasting change in your home environment. Or when you do try to make time to organize your home, you probably won't be able to trust yourself to make good decisions about how to organize.

By developing a morning routine, you're starting your day off with success and achievement that will carry you throughout the day. You'll also be deepening your relationship with yourself which will help build self-trust and self-attunement. It's important to do this first thing in the morning because that's when your brain is in a highly suggestable state. If you wake up and start looking at the news right away, you're probably programming in drama, fear, and anger. If you wake up and generate a sense of peace through a quiet meditation, guided meditation, by reading something that gets your creative energy flowing, or any other activity that helps you generate peace and connection with yourself, you'll be programming in positive energy into your being. You'll also be activating your pre-frontal cortex of your brain which will help you stay out of the fight-flight-freeze-fawn portion of your brain (the amygdala). This will also activate your parasympathetic (rest and digest) nervous system so that you can think more clearly, use your fuel more efficiently, and support your immune system. When you can turn down the volume of your amygdala, you can hear and respond to your intuition. Activating your intuition is the fastest and most efficient way to get your house organized and keep it that way.

Have you been struggling with creating a morning routine? Try drawing it out, even if you do it very abstractly. You could try illustrating color fields to represent what a morning routine might feel like. Or you could make a collage of activities you'd like to do for your morning routine or ways you'd like to feel when you're doing it. Getting your creative energies involved when you're setting goals is a fun and easy way to set them into motion!

What do you like to do for your morning routine?