Client Spotlight: Craft Closet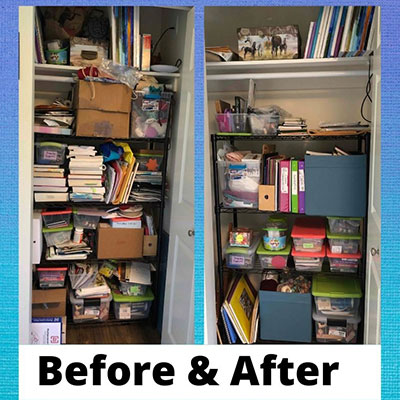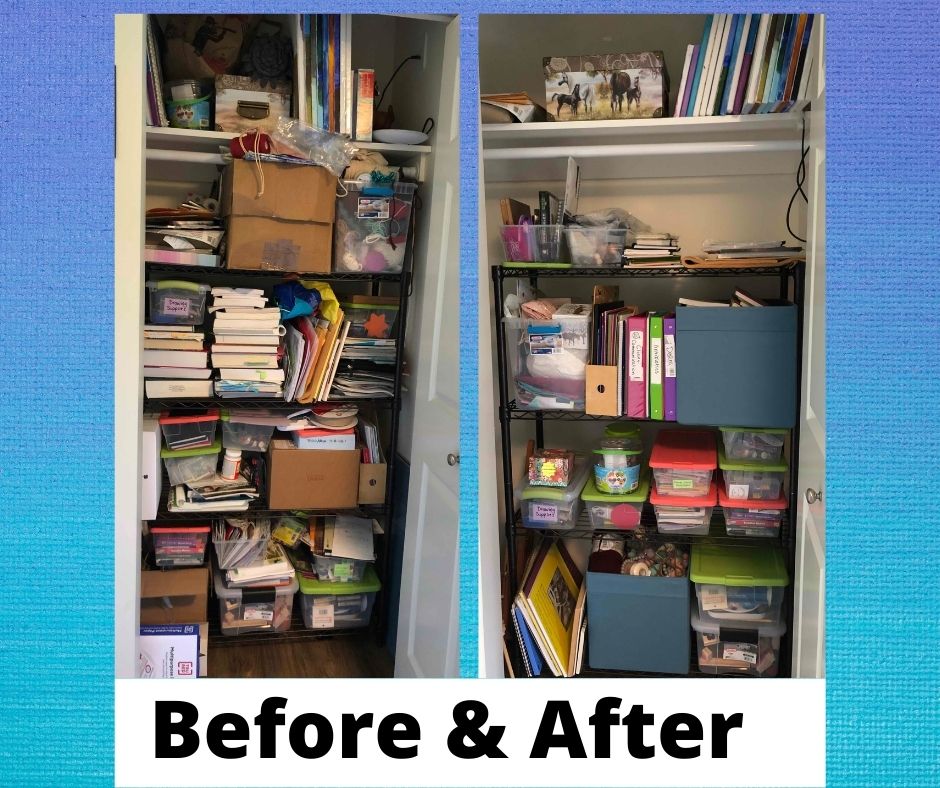 As a fellow artist and craftsperson, I get very excited when I get to help someone else organize their craft supplies! For this client spotlight, I wanted to highlight a recent craft closet that I had the pleasure of helping one of my very sweet clients organize. If you've got a craft closet at home that's in need of a refresh, this post is for you!
Craft closets are notorious for causing some major anxiety. Not only do they usually hold the burden of unfinished projects, craft supplies bought with great intentions, and projects that didn't go as well as intended, they usually also hold some tedious to-dos. Dealing with a craft closet can be overwhelming for many people! The first step? Lighten the mood with some good tunes. Listening to music is a great way to uplift your mood so that you can be more in-tune with your intuition. Raising your vibe also just makes things easier and more fun. Listen to whatever you like! I've been known to listen to Christmas music in the middle of the summer. I also love reggae. Put on whatever type of music helps put a smile on your face and makes you feel like the best version of you.
Start by pulling out some things that you know you'll want to keep. This will help you get excited to organize your closet because you'll be reminded about all the fun supplies you're going to make more accessible. We pulled out a container of yarn and macramé supplies. It was fun to get to see the cute plant hangers that my client likes to make and give away as gifts. This helped set the tone for the types of items that she wants to keep in the closet.
My client is a medical professional, and so has spent many years in school. Now that's she's been out of school and working in the professional world for a significant amount of time, she decided she was ready to let go of most of her school notes. I loved seeing her neat handwriting and beautiful hand drawn illustrations, but also loved helping her lighten her load by taking thousands of sheets of paper to the recycling bin. She was very ready to let go of most of her notes, knowing that she can always look the information up in her professional data base, or ask another colleague if she has a question. She's also required to take continuing education classes, so she will constantly stay up-to-date with the current medical recommendations.
If you've gone through all your paper and realize there are still some things you want to archive, I recommend scanning these papers onto your computer and filing them in a way where you can easily retrieve them in the future. You can also neatly file the paper in binders, in a file box, or in a file cabinet. Make sure to keep your labels very legible. I love using my label maker to make labels for paper filing systems.
After going through all the paper (which my client processed with great focus and efficiency), we started look for other things that didn't belong in the closet. Due to a change of offices, she now needed to store many of the reference books that were once in her office now at home. We went over to the bookcase (not pictured) and started to eliminate any books that were no longer needed. We also found a few bins filled with things that didn't belong on the bookcase, so we were able to make a significant amount of room on the bookcase for the books. Her husband loves to do woodworking projects, so he offered to make her a custom bookcase (or two) for the reference books.
Next we compiled all the gift wrapping supplies in a new bin, and donated a few craft supplies that were no longer needed. My client had already grouped like-items, so it was fairly easy to put away the craft supplies that weren't in a bin yet. We removed some things on the top shelf that didn't belong, and I moved all of the paintings over to one side. I grouped the office supplies together, and found a larger bin for the yarn.
If we had just a little more time, I would have loved to put fresh labels on all the bins. Using a label maker is fun and easy, and really makes it easy to find things and put things back where they belong!
In our hectic world, sometimes it can be hard to find the time to sit down and focus on completing a craft project. If you're not in the habit of crafting, you may forget how rewarding it is! Crafting is a great activity for so many reasons. The throat chakra, associated with self-expression, is the most powerful chakra in the body. Expressing yourself will help you connect with yourself and others. It's great for building self-confidence, and mitigating anxiety and depression. It helps you gain a sense of accomplishment. Learning how to craft new things is great for your brain development because it helps you form new neural pathways. It also is a great way to de-stress. Much like meditation, crafting can help to enhance the parts of your brain that keep you calm, focused, and present. It's well worth the effort!
What do you like to craft? Please let me know in the comments!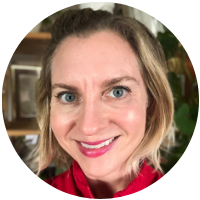 By Jean Prominski, Certified Professional Organizer
Don't forget to sign up for my organizing classes here
Download my free 5 week journal The Seattle Sparkle Method to Get Organized and Stay Organized
Sign up for my free 4 Day Color to Declutter Challenge.
Become part of a like-minded community by joining my Facebook Group, Declutter and Organize with Seattle Sparkle.
Ready to book a consultation? Complete this form.
For artwork to energize your home, order through jeanprominski.com or on Etsy.