What To Do With Your Wedding Dress, Rings and Other Things After a Divorce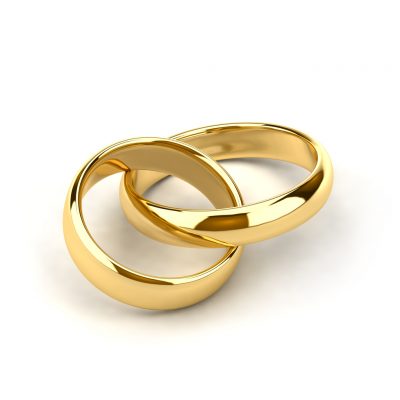 What To Do With Your Wedding Dress, Rings and Other Things After a Divorce
There's a moment after the dust settles on your divorce, when the arguments are over, the papers are signed, and the moving truck has sped off with all of your ex's stuff – it's a moment of eerie quiet – this is when you realize that the home you once shared is now yours and yours alone. Just because his or her possessions are gone – the clothes, movies, sports gear, books, art, junk food, and more – there will still be plenty of reminders about your time together as spouses – your wedding dress, the wedding ring and other bling gifted to you on birthdays and anniversaries, lingerie that was more for their pleasure than yours – and, oh yeah, the bed you shared.
This first moment of silence isn't the time to start purging these items – take a moment to just bear witness to your emotions, let them flow, and release all of that cleansing energy. In the weeks to come, you can start making grounded decisions on what to keep, what to let go, and how to go about it all.
As a professional home organizer, I am often called upon to help divorcees begin the process of reclaiming their homes while opening up their living and emotional spaces to begin this new chapter in their lives. Sometimes I offer tips and advice; sometimes I roll of my sleeves and help sort things into piles like "save", "sell", "donate" and "toss"; sometimes I just sit, listen, and when needed, give a hug.
I've learned a lot along the way, having gone through this journey on my own and with many clients. What you let go of, and how, depends on what you went through while you were married and how you wrapped things up. Some clients are still friends with their exes, they love each other and simply realized they were no longer in love; some are co-parenting little children, others have grown children who have left the nest; some endured abuse, neglect and other trauma; some left their exes, others were left. The worse things were when you were married, the more things need to go now that you're single. But even with the most amiable divorces, letting go of stuff that reminds you of your marriage will allow you to move forward, and if and when you're ready, find new love.
The Wedding Dress
Whether it's preserved in a giant box, or just hanging in your closet, no other item linked to your marriage likely takes up as much space in both your home and heart as your wedding dress. You have many options to pursue, depending on your attachment to the dress.
If your dress is a family heirloom, passed from mother to daughter for generations, you can easily reclaim it with an energetic healing ceremony of your own design, based upon your personal beliefs.
If you have a beautiful, designer dress – why not let someone else enjoy it? Donate it to a suitable charity where it can be given to a woman in need, or sold to raise money for a worthy cause.
A few years ago, "Trash the Dress" ceremonies were all the rage – by wearing the dress into the lake or into the mud, it takes on a new, playful and adventurous space in your heart and memories. Just because the trend has passed doesn't mean it's not a whole lot of fun, plus you get some incredible photos to remember fondly. For this option, safety comes first – avoid fire, be careful around water, and don't slip on muddy rocks.
Most likely, you put a lot of thought into the selection of your dress and shared that experience with your family, friends and bridal party – your ex didn't even see it until you walked down the aisle! If you love your dress, break out the shears or hire a seamstress to transform it into something new.
The Wedding Ring
If your ex actually did spend two months salary (or more) on the wedding ring, it likely has a high resale value – one that can fund that new car, dream vacation, or home improvement project you've been dreaming of.
Resell It – have it appraised by an independent third party before "taking the word"
of the nearest jeweler or pawn shop
Melt It – depending on what it's made of, you can melt it down and make it into something new. If you're in Seattle, contact Silver + Salt in the Pike Place Market to discuss your options.
Toss It – If you're well off financially, or if the ring has more sentimental value than resale value – toss it into a fountain. Eco Note: if you opt to toss your ring into the ocean instead (yes, it's more dramatic), please be environmentally responsible and steer clear of reefs or protected areas – your discarded ring just may soon become some scuba diver's sunken treasure.
 The Bed
Replacing your bed is one of the best ways to move on physically and emotionally from "what was" to "what will be".
The Mattress — You should replace your mattress every 10 years anyway, so there might be some practical reasons to get a new set in addition to the emotional ones. By getting a mattress that is custom built to suit your sleep style, you can get a good night's rest without tossing and turning on all that emotional baggage.
The Bed Frame – getting a new bed frame is another way to dramatically remake the bedroom into something that truly reflects your style – but if you already love your sleigh bed, leather headboard, or pink lace canopy, then keep it and reclaim it as your own.
The Linens – Keep any heirloom quilts, let everything else go – and enjoy some decadently luxurious higher thread counts while you're at it. Crisp new linens can add a splash of fresh color and healing energy to your bedroom.
Everything Else:
Pictures – When your new date visits your house for the first time, the last thing he or she is going to want to see is a giant wedding portrait hanging above sofa where you may or may not want to chill with some Netflix. Keep the frame and change the art – perhaps booking a portrait session with your kids (for Seattle clients, I highly recommend Shannon Garbaccio Photography. or supporting a local artist. For other family photos, it depends on the relationship you have with your ex and the relationship your ex has with your children – keep his or her presence in balance, so that your hallways aren't a shrine to your former marriage.
Junk and Clutter – Most likely, there's still a lot of your exes' junk in the garage, stuffed into drawers, or up in the attic. You can spend a day doing a lap of your home, pulling things down and making it as simple as possible for your ex to pick it up in one stop. Set a realistic deadline, and after that passes, call a junk removal company (I call upon Seattle Moves & More all the time) to let it go, let it go.
Home Décor – Look around your home – there were likely a lot of design decisions that you two made together, or you conceded to appease your ex. If you're not into the mirrored end table, walls painted in your local sports team's colors, or the giant elk head over the fireplace – hit the furniture store, grab some paint swatches, and start fresh. Better yet… hire an amazing interior designer like K&L Interiors.
So, whether you go it alone, or hire a professional home organizer like myself, one of the best ways to say "I Do" to you is to commit to de-cluttering your heart and home after a divorce. The best chapters in your story have yet to be written, let's start with a clean page.