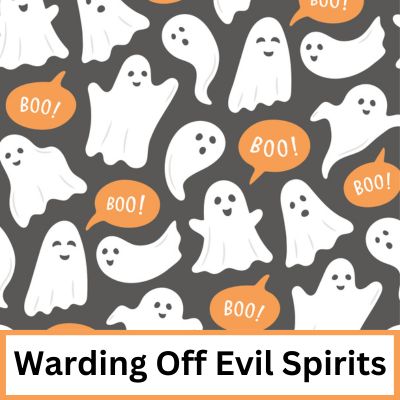 It's no coincidence that I'm a home organizer who was born at Georgetown Hospital, right near where the Exorcist was filmed. I have a strong interest in helping people clear their homes of negative energy- whether that be physical clutter or energetic sludge. Did you know that Halloween decorations have traditionally been used as a way to ward off evil spirits? In this post, I'll talk about both some of the ways you can ward off evil spirits through decluttering, and more traditional methods for warding.
First let's talk about what "evil spirits" really are.
Some people believe that there are non-physical entities such as the devil, demons, vampires, and ghosts, who can attach to humans and mess with their energy. They believe that these types of beings can cause anything from mild mischief to illness and accidents, or can even possess your soul.
It can also be believed that humans who possess highly narcissistic traits, who speak negatively of others, who wish others malevolence, who are highly manipulative, or are energy-vampires (otherwise known as "wet blankets"), can be a form of an evil spirit.
Addictions can be a form of evil spirits. Anything that makes you more susceptible to temptation or easily controllable could be a form of an evil spirit. There is a theory that alcohol contains spirits or demons that intoxicate you and will eventually degrade your body and mind to take you down from the inside out.
Fear-mongering information is another form of evil spirt. Anyone who preys on your fears and anxieties and disguises it as a way to "keep you informed" is something to keep at a real distance.
Negative self-talk can be a vicious evil spirit, otherwise known as an inner demon. Your inner voice probably masks as someone who's "being helpful", when in fact it's holding you back. The words you say to yourself make your reality. Self-criticism, catastrophizing, perfectionism, and being overly pessimistic, can wreak havoc on your life.
How to ward off evil spirits
Start with decluttering. Clutter attracts more clutter. Have you ever heard of the "Broken Windows Theory"? The idea is that visible disorder and neglect (such as broken windows and graffiti) would encourage further crime and signal a lack of law enforcement. It's kind of like "who cares?". Once clutter starts to accumulate, it can be easy to just throw more clutter on top, and it can quickly escalate and become difficult to get ahead of. When you notice that your clutter trajectory is moving in a negative direction, it's important to make some serious changes to your accumulation habits, time and energy management, and possibly make some lifestyle adjustments so that you don't end up feeling drowned by your clutter.
Are you possessed by your possessions? Clutter blocks your path forward. People who are afraid to take up space in the world might have their clutter do it for them. Have you ever noticed that great job opportunities, relationships, and healthy progress seems to open up once you've let go of some of the things that have been holding you back? Objects (and paper!) hold subconscious memories. Let go of negatively charged items, obligatory mementos, and emotional attachments that aren't serving you. Watch the doors open for you.
Remove things that are attracting negativity, or are causing fearful thoughts. Be mindful of what you fill your mind with. Examples of things in this category might be certain TV shows, newspapers, or books that are capitalizing on fear and anger. If you notice that alcohol, refined sugar, or heavily processed foods make you feel badly, either limit your intake or cut them out all together. Cleaning supplies can contain chemicals that are endocrine disruptors, so only use them when you absolutely need to, and protect yourself properly. Dust and mold can also cause health issues, so make sure to clean and remediate properly (or call an expert).
Make space for positive people to enter your life. Are you trying to use your clutter as a protection mechanism to essentially ward off evil spirits? You may think you can use your stuff as a way to keep unwanted intruders from entering your home uninvited, but it's also preventing people you want to have in your home from coming over. Clutter drains your energy and stalls the movement of positive energy.
Repair broken things, or let them go. Broken things attract negative energy. Clutter can be a result of feeling that you don't have enough, or aren't enough. Excess clutter will reinforce "not enough" beliefs by taunting you with a bunch of unfinished projects and things you need to get to.
Are you haunted by your own thoughts? When you learn to speak to yourself kindly and with compassion, you'll not only be a lot happier, you'll feel safer, and you'll find that you'll be surrounded by more and more people who treat you with love and care.
Use traditional methods to help ward of evil spirits. Different cultures use different things, so do what resonates for you. Some examples are: gargoyles or lions outside your front door, religious symbols, cactus, black tourmaline, selenite, rattles, drums, bells, an evil eye, a Hamsa hand, metaphysical techniques such as Reiki, essential oils, incense, or candles. Here's a cool article from the Farmer's Almanac about using herbs to ward off evil spirits. If you want to learn more about using metaphysical techniques to ward off evil spirits, I highly suggest taking a class from Daisy Thompson. I have learned so much from her!
Is your evil spirit coming in the form of an addiction? Please get help when you're ready.
What do you like to do to ward off evil spirits?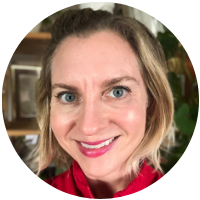 Posted By Jean Prominski, Certified Professional Organizer