Seattle Sparkle Method Wheel of Home & Life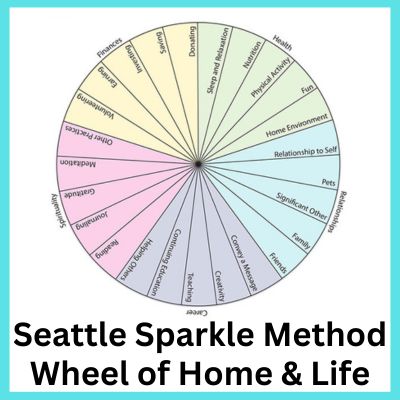 Seattle Sparkle Method Wheel of Home & Life
This post is part of a series that I will be sharing with you over the next couple months, based on the 5 week journal that I've created. If you don't want to wait for each post to come out, you can download the journal here: The Seattle Sparkle Method to Get Organized and Stay Organized
Many books on home organizing provide logical advice. Sometimes it works, but many times, it can reinforce the differences between people that are "organized" and the people who aren't. Many books can leave readers feeling worse than before they read the book. My organizing philosophy is based on the Wheel of Life that I've created. There are five main areas of life: health, relationships, career, finances and spirituality. The more round, balanced and expanded your wheel of life is, the more often you will find yourself in the right place at the right time, and the easier it will be to create and maintain an organized home. I have created a "Wheel of Life" with categories in all of these areas. I have also created a "Home Environment Wheel" to align with activities in the "Wheel of Life". Although I have categorized the different areas of the home into the five areas of life, these categories are very fluid. For example, I've put "kitchen" in the "finances" section, but it could easily fit into any of the others- "health", "relationships", "career", or "spirituality". The reason for this categorization is to simply give you another framework for viewing each area of the home.
Why This Method Works:
As you embark on the activities that I present to you over the next few months, they will change your brain so that you have more access to the parts of your brain that are necessary for organization. The activities are designed to harmonize the mind, by improving blood flow to the prefrontal cortex, the part of your mind responsible for creative thinking, decision making, memory and planning. Organizing your home will become easier, because you are rewiring your brain to a more harmonized state. You will notice a soothing in your amygdala, the fight/flight center of your brain. When highly activated, it's impossible to create a calming environment around you. Because your outer world is a reflection of your inner world, if you are in a state of mental and emotional panic, that will be reflected in your surroundings. When you get the urge to check the news or your email "one more time" (especially before bed), you are likely to trigger your amygdala, and set worry or fear into motion. The more often your amygdala is triggered, or the longer you stay in that state, the stronger the habit is to stay stressed. When you are in a highly stressed state, you will have less access to your prefrontal cortex. This is the brain's reward center. There will also be coloring assignments along the way. Studies have shown that the pleasure and process of creating art delivers a "reward" to the brain in the form of being proud of what you've accomplished, and the entertainment value. You're less likely to seek rewards that may not be in your best interest, including snacking, drinking, shopping or screen time. These activities rarely lend themselves to an organized home. On the contrary, your self-regulation meter will be tuned up. The activities you notice yourself naturally drawn to doing will align with the natural flow of living life- fully expressing yourself, treating yourself with respect and kindness, and then tidying up after yourself before things get too out of control.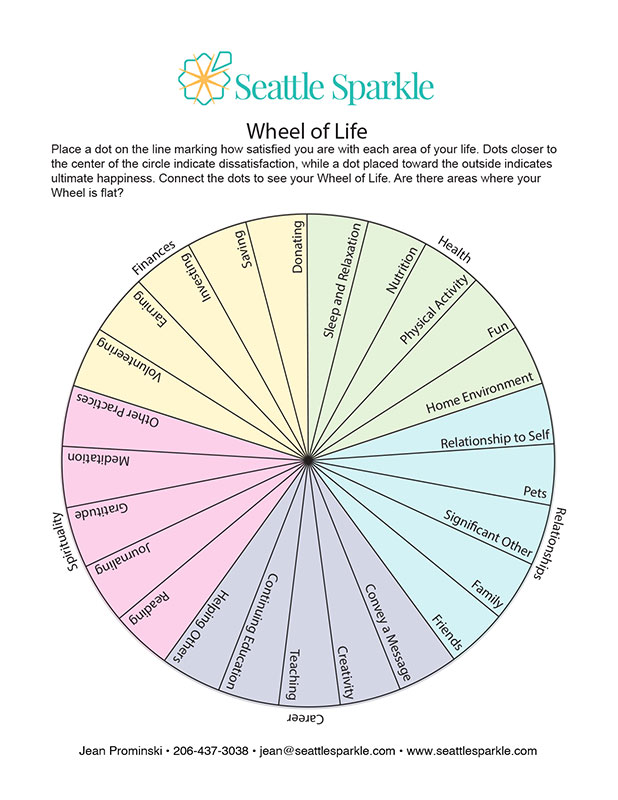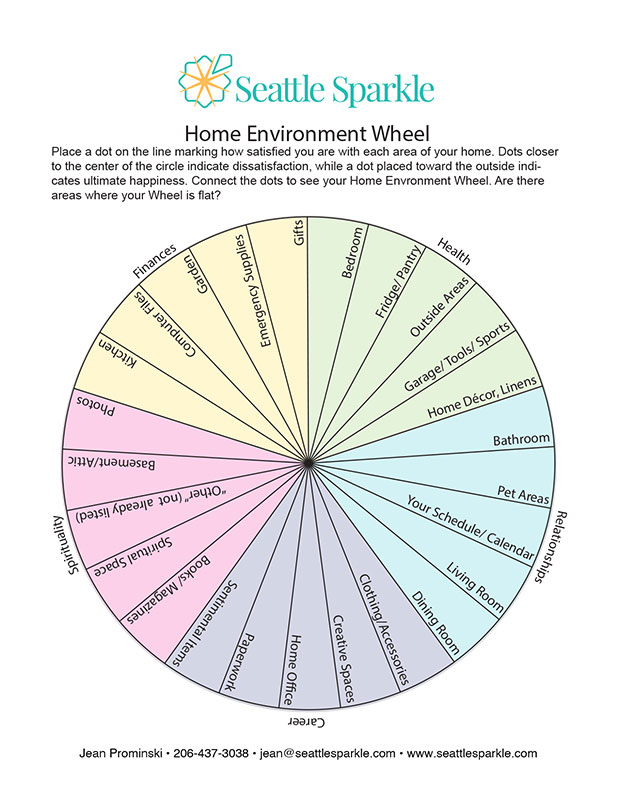 Instructions
Start your day with a Sparkle Morning for Self-Attunement. What you do for your own Sparkle Morning is up to you. Revisit this post for ideas on how to craft your own Sparkle Morning.
Today's Assignment
Either print out (or draw your own) Wheel of Life and Wheel of Home. Place a dot on the line marking how satisfied (how content) you are with each area of your life and home. Dots closer to the center of the circle indicate dissatisfaction, while a dot placed toward the outside indicates ultimate happiness. Connect the dots on each wheel. Are there areas where your wheel is flat?
Download the wheels here:
Here are some examples:
Sleep: If you are oversleeping, or not getting enough sleep, or your sleep schedule is just wonky and affecting your well-being, put a dot closer to the center of the wheel. But if you're feeling really good about the amount of sleep you're getting, and you're able to get out of bed at a "reasonable time" (whatever that means to you) in the morning, your dot would go closer to the outside of the circle.
Physical Activity: If you're spending a lot of time on the couch and you're physically capable of doing more (and you want to do more), mark your dot close to the center. If you're over-exercising and evading your other responsibilities for your exercise pursuits, that's also a problem. Mark your dot close to the center. If you're getting exercise on a regular basis and you're feeling good, mark your dot close to the outside of the circle.
Pets: If you don't have any pets, and you don't want any pets, mark your dot close to the outside of the circle. But if your pets are tearing up the house, or have significant training issues that you're not doing anything about, mark your dot close to the center of the circle.
Convey a Message: The category of "career" can refer to the work that you do for a living, but it can also refer to the work you do as a parent, a hobbyist, your role in your community, or something else. Conveying a message refers to your voice. Are you speaking up through your verbal words, written words, art form, or other actions in a way that supports your inner voice? Or are you suppressing your thoughts and feelings? Everyone has a message they want to convey, but not everyone knows what that message is yet. How satisfied are you with how you've been expressing yourself?
Journaling: Not everyone likes to journal. If you've tried journaling and you know it's really not for you, go ahead and mark your dot closer to the outside of the circle. However, even if you hate journaling, I would still recommend answering the journaling questions that I present over the course of this series. These questions are specific and designed to help you have a more organized home. Are you someone who really benefits from journaling, but you're not doing it? Mark your dot closer to the center. If you're someone who loves journaling and you do it on a regular basis, mark your dot close to the outside.
Volunteering: Are you someone who overcommits and volunteers for everything? If so, I can imagine that you probably don't have much time left over for yourself. If you're someone who overcommits and doesn't have time to organize your home, get a good night's sleep, feed yourself healthy food, exercise on a regular basis, and spend time with your loved ones, mark your dot close to the center of the wheel. If you're able to volunteer and still maintain the balance of other important things in your life, mark your dot closer to the outside. If you want to volunteer, but you're not, mark your dot close to the center.
Home Environment Wheel: If you've got way too much of anything, mark your dot close to the center. Or if any of these areas are really disorganized or cluttered, mark your dot close to the center. If you've got far less than you need (like emergency supplies, home décor, or a well-stocked kitchen), mark your dot close to the center. If you feel satisfied with any of these areas, mark your dot close to the outside of the circle.
Journaling Questions
What is your specific goal around organizing your home?
What will having an organized home do for you?
What is your biggest challenge with organizing your home?
What has worked for you in the past?
What (if anything) might get in your way of achieving your goals? How will you stay on track?
How will you reward yourself when you have achieved your goal?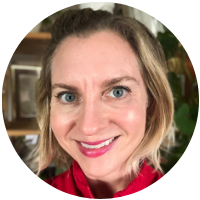 Posted By Jean Prominski, Certified Professional Organizer
• Follow me on Instagram @seattlesparkle
• Join my Facebook Group, Declutter and Organize with Seattle Sparkle.
• Ready to book a consultation? Complete this form.
• Download my free 5 week journal The Seattle Sparkle Method to Get Organized and Stay Organized
• Check out my media exposure: Seattle Sparkle in the Media
• For artwork to energize your home, order through jeanprominski.com.