Recommended Service Providers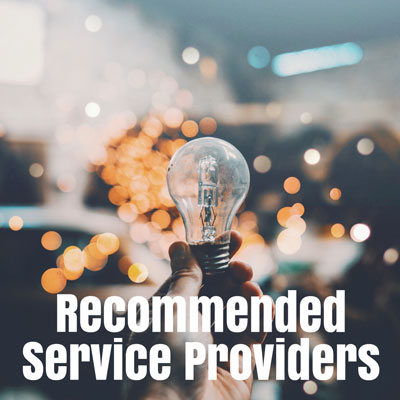 I really believe in the process of referrals, so part of the service I provide is to be sure to refer my clients and associates to other qualified businesspeople in the community.
Below is a list of areas in which I know very credible, ethical and outstanding professionals. If you're looking for a professional in a specific area I've listed, please feel free to contact me. I will be glad to put you in touch with the people I know who provide these services.
If you'd like to be added to my network, or want to be connected with one of these providers, please
contact me
.
Home
Home Organizer, of course!
Housecleaner
Custom Shelving
Window Washer
Architect
Interior Designer
Tile
Electrician
Contractor
Flooring and Carpet Cleaning
Moving Company
Junk Removal
Business
Business Advisor
Bookkeeper
Payment Processing
Business Broker
Business Banker
Commercial Insurance
Graphic Design
Search Engine Optimization
Web Design
IT Professional
Copywriter
Personal Finances
Property Insurance
Life Insurance
Estate Attorney
Financial Planner
Mortgage Broker
Residential Real Estate
Other Personal Services
Personal Stylist
Photographer
Life Coach
Health
Health Insurance
Chiropractor
Massage Therapist
Reiki
Naturopath
Acupuncture
Personal Trainer
Esthetician
Dentist
Animal Communicator
Image Credit: Fachy Marin