Questions To Ask Yourself When Decluttering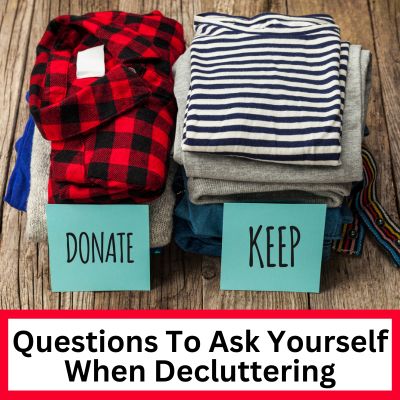 Decluttering can be really hard for many people. Making decisions is mentally taxing because it requires you to trust yourself. Many people have been groomed to trust another authority and to doubt themselves. Some people do really well with having a non-judgmental/ non-biased person like a professional organizer with them while they are decluttering. A professional organizer can ask helpful questions so that their clients feel empowered to make decisions on their own. For this article, I've compiled a list of questions to help you go through the decluttering process on your own.
Questions:
Intuitive yes/no?
The very best way to get accurate information is through your intuition. Your intuition knows if you need to keep an item. But for many people, it takes practice to get back to knowing what is intuitive information, and when your brain trying to play tricks on you. To practice getting used to decoding the intuitive messages you receive, do this:
-Detach from external influences by getting really connected with yourself, source energy, and earth energy.
-Imagine you are surrounded by a ball of white light. Imagine this light extending at least 10' in diameter. The light goes all around you: in front of you, behind you, above you, below you, and to your sides.
-Imagine source energy coming down through the top of your head, down through your body, out your hands, and out your feet.
-Imagine a grounding energy coming up through the earth, up through your body, out through your hands, and out through the top of your head.
When you do this, you are clearing out any energy enmeshments from other people, so you can think more clearly. You are tuning in to how your body feels, rather than getting stuck in your head. You are getting grounded and connecting to your higher self. You are also raising your vibration, rather than being overwhelmed with negative thoughts.
-Once you've created your bubble and visualized the flow of both earth and source energy, practice identifying how your body communicates answers to yes/no questions. Ask yourself if eating kale (or something else that you KNOW is good for you) is in your best interest. See what the answer feels like. It may be a feeling of an upward lift, a tingle, or a sense of openness. Notice what you feel. There are no right answers. This is what your intuitive feeling for "yes" is. Then ask if consuming motor oil is in your best interest. Notice what that feels like. Many people experience a feeling of tightness, constriction, or a headachy feeling with their intuitive "no". Again, there is no particular way you should intuit your yes/no answers. Just practice with it and notice what feels consistent.
-Remember, your intuition does not communicate through fear. So if you're receiving messages that are fear based, reset your bubble and your energy and try again.
If you're still unclear of if you need to keep something after going through the intuitive question asking process, here are some additional questions to ask yourself:
Do I need this thing?
I understand that you may not know if you will need something in the future or not. If you're unsure of whether you will need something or not, take into account how hard it will be to acquire it again (or borrow one from someone else) in the future. If you're not sure if you'll need it, it will be fairly easy to acquire if you let it go, and you're tight on space, let it go.
Do I really want this thing? Or do you even like it?
Many people will answer "yes" to this question right away and then realize that they're only keeping something out of guilt or thinking that they're going to go back to it someday (like class notes). You are under no obligation to keep gifts you don't want. If you've taken a class and haven't memorized all the notes, let them go. You can't possibly absorb everything from a training. If you really need to learn it, you'll feel inspired to take another class in the future. Clothing, books, and even home décor, should get reassessed on a regular basis (at least once a year). It's a good idea to regularly let go of things so that you can make space for new things (and new ideas!) to enter your world. It's fine to keep things that you're just keeping for sentimental reasons, given the things still bring you joy, and that you have enough room for them. For objects that have to do with hobbies, ask yourself if you really want to designate the time for that hobby anymore. For clothes that don't fit, separate them out of your regular wardrobe by size. Label the containers "too small", "too large", "2 sizes too small", "2 sizes too large", etc. Use your own judgement about whether these clothes are ones you'd still want to wear when they fit. And then ask yourself if you're willing to do what it takes to fit into them.
Is this thing in good condition? Will I realistically finish/fix this thing?
It's very common for people to have great intentions to finish projects, repair things, mend clothes, etc. These good intentions are a huge source of clutter in homes. Get honest with yourself about how long it will take to repair something (and usually double that, because things often take longer than we think). Look at your schedule and decide when you are actually going to finish/fix it. What will you have to give up in order to make time to do these tasks? Is it worth it? If not, let it go! You could try giving it away for free via a neighborhood Facebook group or NextDoor, but you may need to make peace with putting it in the trash.
Is this thing valuable?
Often, people want to get rid of something, but they don't because it was either valuable at one time, or it still is valuable. To find the value of something, check eBay to see how much these things have recently sold for (not just what the current asking price is). Make sure to account in how much you would have to pay to ship it to someone, the eBay fees, and how much effort would go into photographing, listing the item, answering questions of potential buyers, packing it for shipping, and dropping it off in the mail. You could also check with local antique stores to see if you could sell something on consignment. But many things that someone once purchased for a lot of money (like China) don't hold their value. If you've got something that was valuable at one time, and isn't anymore, don't just keep it because you (or someone else) made a big investment at one time. Do your best to find someone who would appreciate the item. You could donate it to your favorite local charity, ask your friends/family if anyone you know wants it, of you could give it away on Buy Nothing, either through your local Facebook group or the Buy Nothing app. Sure, it can be painful to give something away for free that you once spent good money on! But if you're done with it, it's doing you no favors to hold onto it and let it take up space in your life. Let it go and move on.
Are there any bad memories associated with this thing?
If you're really undecided about something, you might have bad memories associate with it. Some bad memories you can transform so you can keep the item. Other memories may be so haunting that you're better off letting the item go. I believe that objects can hold memories, but I also believe that objects can be energetically neutralized so that you can keep them if you really want them. This is something I use Reiki for. Even if you're not attuned to Reiki, you may still be able to neutralize the item yourself. Place your hands on the item and use your intentions to clear any negative charge.
Is this thing accurately reflecting who I am or who I want to become?
This question could apply to so many things: clothing, books, décor, video games, food/drinks in the fridge/pantry, paperwork, worn out linens, old makeup, etc. If you're wanting to become a more neat and organized person, you don't have to let go of everything all at once, but gradually audit your inventory of stuff so that you can look, dress, and act the part of being more organized.
Do I have space for this thing?
Finally, if you still really can't decide if you want to keep something or not, decide if you have the space for it. And if you don't, is it really worth renting a storage unit or purchasing an outdoor storage shed? Sometimes people hold themselves back due to their space constraints. But other times, space constraints can help provide limits so that you have the structure to be creative and accomplish more. No one can answer this question but you.
To successfully declutter requires addressing these questions in a nuanced way. There are no right answers. If you answer "no" to any of these questions, it doesn't mean you have to let it go. These questions are designed to help you uncover the "why" behind why you're holding on to so much stuff. You may be someone who has an easy time decluttering when you prioritize it and make the time to do it. But if you're like many people, even with all the time in the world, making decisions about what to keep and what to let go of can be very challenging.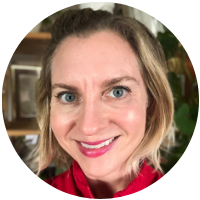 Posted By Jean Prominski, Certified Professional Organizer
• Follow me on Instagram @seattlesparkle
• Join my Facebook Group, Declutter and Organize with Seattle Sparkle.
• Ready to book a consultation? Complete this form.
• Download my free 5 week journal The Seattle Sparkle Method to Get Organized and Stay Organized
• Check out my media exposure: Seattle Sparkle in the Media
• For artwork to energize your home, order through jeanprominski.com.