Organizing Your Day While Working From Home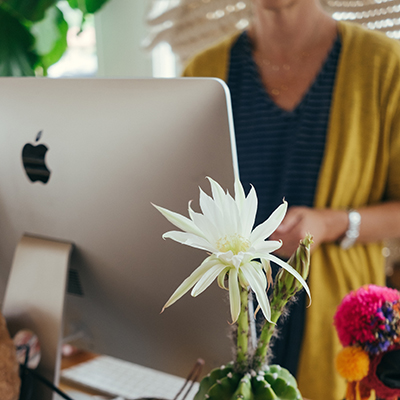 Organizing Your Day While Working From Home
Some of my favorite things to do (in no particular order) are:
• Walking my dog
• Making art -- especially glass sculpture
• Working on home or office organization projects with my clients
• Learning fun new things
• Exercising
• Hanging out with friends
You'll notice that nowhere above do I list "searching under piles of paper for important receipts", or "looking everywhere for my keys or my phone (which always gets lost when the ringer is off)". I also don't relish that feeling of remembering to do something important when it's almost too late to get it done.
While there are plenty of distractions at the office -- the break room, hallway conversations, long lunches, longer meetings -- there are even more distractions when you work from home. Laundry. Vacuuming. Dishes. The DVR. Dog walks. Social Media. Napping. It's as important to put as much thought into organizing your day as you do organizing your workspace.
Step #1: Create a To Do List That Works For You
Your to-do list can be digital or physical (written on a whiteboard or piece of paper). I keep my main to-do list as a digital file on my computer desktop. My list contains both personal and business related short term, long term, and ongoing tasks. Each week I update it, print out the latest version, and clip it on to a clipboard so that it maintains its importance and visibility.
At the end of the week, or first thing Monday, I block time to strategize what I want to do for the week ahead, and break it down into daily tasks on my weekly calendar. Each day, I will pick out the top 3 things I want to get done for the day and write them on a Post It note. If I'm out for the day and want to add something to my to-do list, I will email it to myself to make sure it gets on that list. For me, that's the quickest way to remember to add it to the master list. Text messages, voice memos, and Post-Its are other options. My preference works, just as long as your email inbox isn't too cluttered. (More on that in another blog post).
Step #2: Turn on the Timer
A "Time Timer" is a visualized countdown clock that helps me keep track of how long I've spent doing tasks. The visual cues of this type of timer help build awareness for the passage of time. The waning of the colored disc also adds excitement and adrenaline, as I like deadlines and working with a sense of urgency.
It's also nice to stop the clock for a moment to take a break and recharge the batteries. For me, this involves taking my dog on a quick walk around the block -- the brief burst of cardio calms my dog and boosts my blood circulation which in turn improves my creativity and sharpens my focus!
Step #3: Reward Yourself
As you check things off your to-do list, reward yourself with a quick hit of the things that typically distract you -- check your Facebook, post to Instagram, watch 15 minutes of your favorite Netflix show -- or simply do the dishes. I find minor household chores to be very soothing; I turn off my mind, get it done, and feel both relaxed and accomplished.
Thanks for reading! I hope you found these tips inspiring or helpful. You are welcome to share this newsletter/post with your friends -- I love helping people and every new reader may become or may know a potential new client.
About Jean
When I'm not writing blogs, making art, or walking my dog, I am working with clients in their homes and offices, helping them to organize, improve workflow, increase productivity, and reclaim their spaces. Learn more about my professional organizing and productivity coaching services at SeattleSparkle.com
Image Credit: Paul Hanaoka