Organizing Outdoor Spaces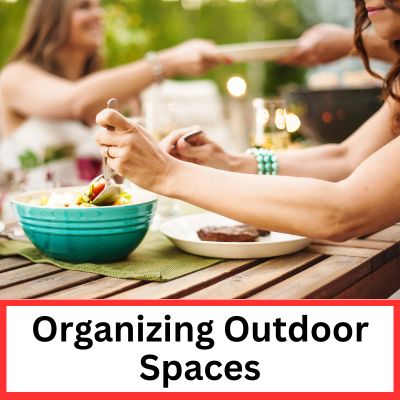 Outdoor areas can often get overlooked when you're thinking about organizing your home. How great is it to have an outdoor space where you can entertain guests, a place to hang out by yourself, or an area to store your tools and supplies? And having a neat and organized front door area can welcome visitors and make you proud to be home. Even if you live in an apartment and don't have much of an "outdoor area", there may be things that you can do to make your entrance more appealing. In this post, I'll give you some tips for maximizing your outdoor organization.
Uplift flowerpots: Soon I'll dedicate another post for gardens and yard maintenance. But for this post, do you have flowerpots/flower boxes that have seen better days? Perhaps the pots themselves are ok, but you need to replant what's in them, or need to do some serious trimming. Spend some time giving love to your potted plants, and watch how that transforms your space!
Sheds and storage: Do you have enough storage space or do you need to add a shed or other outdoor storage cabinet? Or do you need to declutter and reorganize the storage spaces you already have. Spend some time decluttering and organizing your storage spaces. You may want to add shelves if you don't have them already. If you are in the market for a shed or storage cabinet, make sure you have a firm platform our foundation to set the shed on. I recently just put together a Rubbermaid shed from Home Depot and made sure to spend the extra time creating a wooden platform to set the shed on. If we hadn't done that, the shed would not fit together correctly.
Outdoor furniture: Is your outdoor furniture in good condition? Does it need to be cleaned? Do you need outdoor furniture? Spend some time assessing what you have, wiping it down, and possibly investing in some nice new outdoor furniture, or even just a new outdoor tablecloth.
Clutter and Trash: Although you may have not intentionally collected trash around the yard, sometimes it slowly adds up before you can notice it. This could be things that have gotten broken, empty flowerpots that might need to get recycled, or empty bags of mulch that you forgot to throw out. Or you might be collecting a big pile of yard debris or recycling to either haul to the dump yourself, or you were planning on calling a hauling company to take it away. Tune your eyes in to see what doesn't belong, and get rid of it.
Yard tools: Do all your yard tools have a proper storage place? And are your tools where they belong? Is your hose wrapped up on it's holder neatly? If you don't already have racks/hooks/shelves for your tools, this would be a good time to figure out what you need. Spend some time putting things back where they belong.
The grill: If you've been cooking on your grill all summer and haven't cleaned it yet, this would be a good time to do so! Your food will taste so much better, and your grill will last for longer. Be sure to clean the grill grates as well as both the interior and exterior of the grill. Check to make sure you're all stocked up on fuel as well!
Outdoor décor: Do you have a lot of "yard art" or other outdoor décor? Some people like having these kinds of things, and others don't. In addition to decorative items, this might also include outdoor lighting or lanterns, bird feeders, bird baths, and outdoor devices such as thermometers or air quality sensors. Look at what you have, decide if you still want it, and fix it up or clean it if it needs maintenance.
Patio/deck: Do you have a patio or deck? Does it need maintenance or to be repaired? Or if you don't have one, do you want one? This would be a good day to make some decisions and get the ball rolling if you want to make any outdoor changes.
Toy storage: Do you have kid or dog toys scattered about? Depending on the type of play you like to do with your kids or dogs, this might be ok. Ask yourself if an outdoor toy bin might make things look more tidy.
Front door area: Take a photo of your front door. This will help you shift your perspective so you can see what doesn't belong, and will help your eyes adjust to what needs to be added. Tidy up your front door area, or jazz it up a little.
Home Assignment

Today is the day to give some attention to areas outside your home. Do you have a pile of wood that needs to be restacked? Or an old lawnmower that needs to get given away? Or does your outdoor furniture need some sprucing up? If you live in an apartment, do you have a porch or front door area that could use some love? If you live in a place where you really don't have any domain over what happens outside your walls, how do you bring any elements of nature (or even just fresh air) into your home?
Life Assignment

How do you like to get physical activity? Are you someone that gets lots of physical activity? Too much? Not enough? How do you balance physical activity with everything else you've got going on? Sometimes people use physical activity as an unhealthy escape, or a way to feel accomplished when you're actually really just procrastinating. Being too sedentary is also (usually!) not healthy. What can you do today to dial your physical activity level to a place of balance?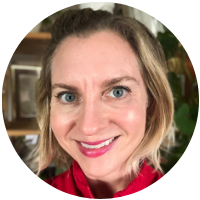 Posted By Jean Prominski, Certified Professional Organizer