Merchandising Your Closet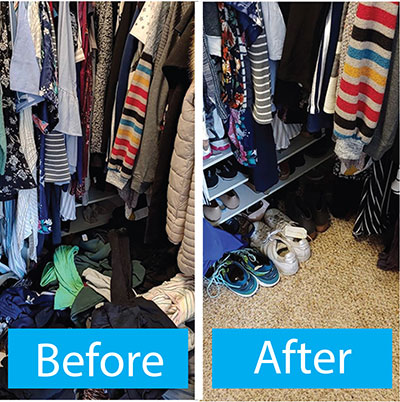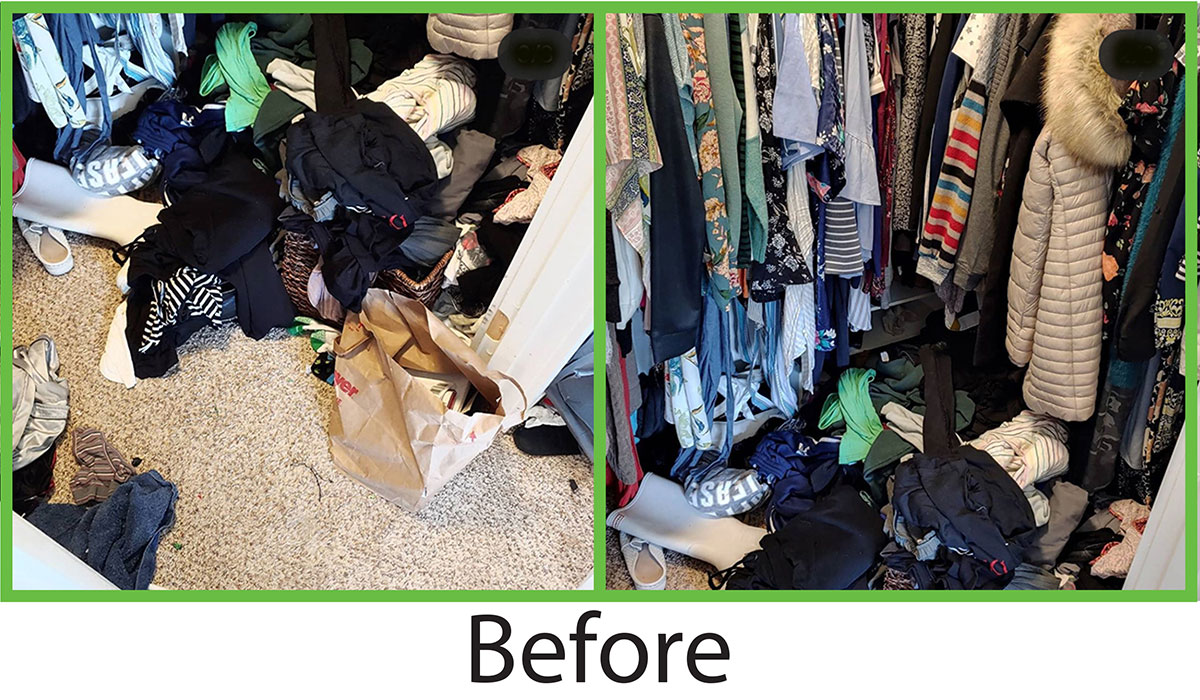 I recently had the pleasure of getting to know a wonderful personal stylist and boutique owner, Lauren Storbeck.  She is the owner of Kick It Boutique, which had been located on Market Street in Ballard for years.  When her lease came up for renewal this spring, she decided to move her shop to be solely online (for now).  That brought on an additional challenge in the equation.
Lauren lives with her family of 6 (2 adults, 4 kids). They have a dog (Louis Vuitton) and a cat (Gucci). Now she is also accommodating merchandise storage and a temporary packing and shipping area… all in one 1200 square foot apartment!
Needless to say, Lauren's own personal closet did not take priority over the past 6 months.  After working in corporate fashion retail for years, and then being the owner of her own boutique, the woman knows how to organize a closet!  In fact, she doesn't call it organizing.  She calls it "merchandising".  I love that!  So, once she caught her breath from all the shifting of gears with the Pandemic,  I asked her if I could have a virtual tour of her process on getting her closet back in shape.
Here Are Her Tips
• Instead of organizing items of clothing by type or sleeve length, like all the short sleeves together, the long sleeves together, etc…), Lauren recommends separating items by color, regardless of the length of sleeves.  This way you can really see what palate of colors you have, and which colors you may want to add.  When helping her clients, she helps them create their palate.  Her color palate is beautiful jewel tones (my personal favorite!)
• Fill your closet with clothes that you'll actually wear, and feel great in! Kick it Boutique specializes in offering buttery, soft clothes. Yes, please!  Many require no ironing and are easy to wear.  She's all about being able to be "on the go", so mobility of apparel is very important.  Style is important too, so she curates her shop with comfortable, functional pieces, but is able to weave in interesting patterns and cute details to spice things up.
• A tip for buying online: know your measurements.  One thing that sets Kick It apart from many other online shops is their sizing.  Pieces are pre-measured, so if you know your measurements, it's easy to purchase the correct size the first time.
• Create a Monday through Friday rotation, so you can cycle through all your clothes.  This helps prevent stagnation in your closet, and with your style.  Separate clothes between Spring/Summer and  Fall/Winter.  Lauren is a self-proclaimed "Denim Junky". Due to the size of her collection, her denim goes on rotation.
• Create a transformation zone, or "Ming Tang", outside your closet to get dressed.  Supply this space with a hanging system so that you can mock up outfits of the day, and a full length mirror.  For an extra pro-tip, hang inspirational quotes on the wall! Here you can pair together tops and bottoms, shoes, accessories, and handbag. When you look your best, you feel your best!
• If it doesn't fit, use Poshmark to sell your clothes.  With Lauren's nicer pieces, she sells her gently used items to designers who love upcycling.  Trash by Tony is her go-to local designer who loves to deconstruct garments and transform them into something new.
• Make your living space a place you love! Lauren and her husband's bedroom is like a sanctuary.  It's filled with beautiful plants (which provide high quality Sheng Chi).  Her husband JC has a green thumb.  They have over 30 house plants (although she'd be ok with getting rid of half of them!). Her living space is decorated with paintings and photographs of Hawaiian beaches and waterfalls.  These are strategically placed to act as vision boards. When this Pandemic is over, she plans to take a Tropical vacation.  Lauren and her husband are big book people.  Her husband is also working on learning a foreign language.
• Even though Lauren and her family are happy where they  live now, in the future, they plan to move into a slightly larger home.  She described her aspiration closet(s) to me.  She'd have an accessories closet, an apparel closet (with an island in middle to lay everything out).  Everything will have it's place.  She prefers Closetmaid systems to some of their competitors, because they offer more flexibility.  She would love to have "his" and "her's" closets (she confessed she can be the messy one!).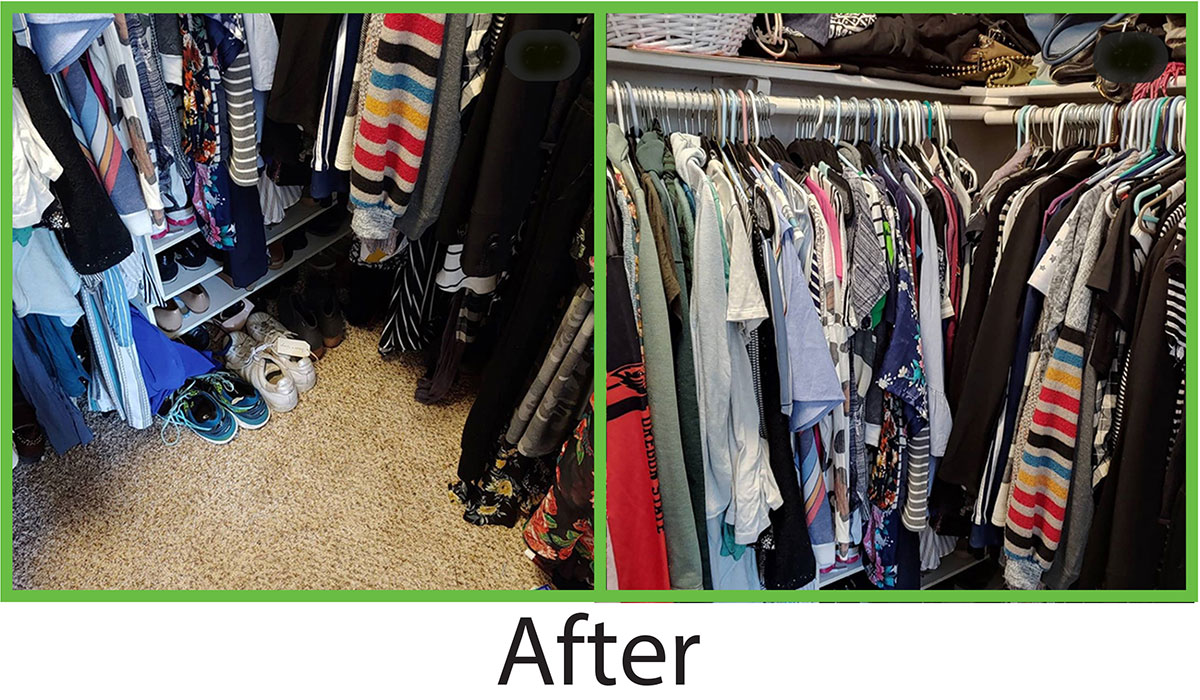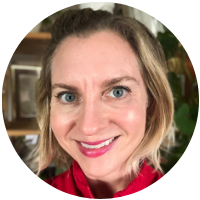 Posted By Jean Prominski, Certified Professional Organizer