Mastering Personal Routine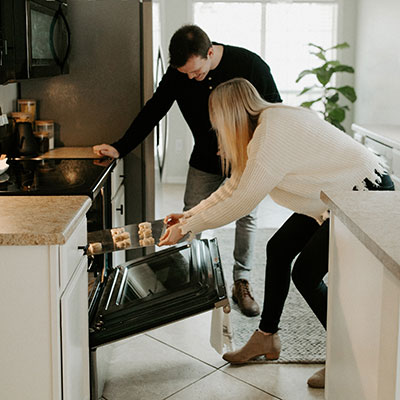 By Erica Rodgers
"What are you up to this weekend?" is the normal Friday question from a friend, co-worker, husband, wife, or a friendly/nosy salesperson. "Oh, I have lots to do this weekend. Grocery store, shopping for new running shoes and I am going to tackle the attic on Sunday!" you proclaim excitedly, ready for the weekend accomplishments. This is a normal response from many of us. What is also normal is getting a third of those things done and begrudgingly eyeing the task list on Sunday evening with defeat in your eyes.
Personal routine is a struggle. Even for the "Type A" personalities. Routine takes dedication, constant review and most importantly, confidence. Let's break this down so that you can hopefully get to your dreamworld version of you.
Dedication: What I mean by dedication is partly dedication to fulfill said tasks, but also dedication to making your life YOURS. If it is constantly on your list to pull weeds or call back clients you haven't seen in a year, but you are just not a fan of being out in the weather working and spending hours leaving voicemails, then you aren't really living YOUR life. You are living a life the way someone else does it, someone, who is not you. Committing to realizing your own likes and dislikes is a great start in being able to get stuff done on time, all the time. Fill your schedule with tasks you like to do! For instance, if you despise putting a toe on the tile of a grocery store (or even a wheel on the parking lot) then a great option would be a food delivery service. There are plenty of options through third parties or even through the store itself. You might even find that you spend less because you are not grabbing items, not on your shopping list. You may not give a 10 out of 10 on all the tasks in your schedule, but personalizing every moment will help. Another example is doing the dishes. This is a time old abhorred chore. I am pretty sure even cavemen disliked washing dishes. The trick is to customize it to as much your personality as possible. AKA try to make it fun. Which is easier said than done, but here are some ideas for washing tableware in style:
Listen to your favorite podcast ONLY when you are washing dishes.
Use your favorite sponges and soap (remember when you kinda liked doing homework as a kid when you got a new pen or pencil??? Oh wait, is that just me??).
Wash dishes WITH someone! Not only is it fun to chat but it is a bonding time for a spouse or a child or a friend or maybe decide to chat with your cat while scrubbing away.
The moral of "Dedication" to routine is to be willing to add a splash of you in every single moment and to fight every day for the life you want. Do you want a nice clean house? Fight for it! If you love it, you will fight for it!
Constant Review: How fun is looking at your calendar or writing what you need to do all the time? For some, it gives a sense of accomplishment, but others it is just another task that is not as fun as watching The Office on Netflix. I get it, we are all privy to the delight of binge-watching TV. No shaming here. The good thing is that evaluating your chores/tasks/routines can be seen as just another way to make your life yours. Whether you use an online calendar, paper calendar, use sticky notes, or nothing at all, the beauty is that if you realize that the dishes have been piling up, you get to decide how to make that task more realistic. You are not stuck just doing dishes the boring way, you get to merge a 1 out of 10 task with a 10 out of 10 task. Here is the podcast example again: There are no more forks in the drawer (both big or little) and you are using teacups to drink out of instead of your normal glasses because… well if you think real hard about it, you have lost interest in your favorite podcast. You have been dying to listen to the Harry Potter series again though. So switch it up and get into the Wizarding World of Harry Potter! What about those client calls that have you leaving the office early to avoid the droning of the ringing in your ear? Take a look at the list, break it down into smaller time frames and give yourself a manicure while you are on the phone. Get those cuticles in tip-top shape and the nails whatever color your heart desires. You might get more done than you think because your nails haven't dried. 
Here are a few other ideas on how to review and merge tasks again.
Data entry merged with a few snacks and some Billy Idol. You will be done in no time. Review it because you are tired of Billy, head over to Cindy Lauper!
Paying bills merged with lighting a candle and use your FAVORITE pen. Review it when you get a second notice and go get yourself a new pen and fresh candle.
Bath time for the dog is wet and tricky because Spot is always trying to run away, but if you merge it with spending time with your best friend who loves dogs then voila! A perfect way to spend time with some of your favorites. If your friend can't come then go call Uncle Bob who is older and is always looking for some company, but you have a hard time finding time to go visit him. Hitting two birds with one stone and your heart might just explode because of all the love in one room.
The key is to see when you are declining on a chore and to merge it with something you love and when you get bored of that, get creative. Involve your senses it everything you do because if your senses are not relaxed then you will not like these tasks. 
Confidence: This comes last because in your journey of mastering personal routine it will probably show up last too. Just being honest here. Most of the time we are on time and enjoy the routines or tasks that we have confidence in. Such as maybe you are great at paperwork so your bills are always paid and documented. You have confidence in this arena. On the flip side, you really loathe taking out the trash, which equals to the garbage truck passing right by your house since there is no trash bin on the curb. Another week of trying to stuff too much in the can. You clearly don't like trash (many don't, but some do). So first step is to dedicate yourself to finding the way to personalize taking the trash out. How do I personalize taking out the trash you ask? I like to go through the fridge and toss out any old food and then take the trash out. I really like a nice neat fridge and I do not like a smelly house. Out goes the trash and in goes the clean fridge. Once you have found your style of trash tossing, then review it once you start to decline. I used to always take the trash out in the morning in the summers because I love the summer mornings here, but of course, when fall hit it wasn't as enjoyable, so I switched it up to the fridge cleanout. Once I have done this a good amount of times, my confidence is steadfast because I know what to do and when to do this gross chore. No matter what season, I have garbage, recycle and compost covered!
Overall mastering personal routine is less about scheduling the routines/chores/etc and more about making your life what you want and with the things you enjoy in every single crevice.
What is a chore/task you despise? Post it on our Facebook Group Declutter and Organize with Seattle Sparkle so we can help you!
Thanks for reading!
Erica Rodgers
Digital Organizer, Virtual Assistant, Motivational Coach
Photo Credit: Hannah Busing