Keep Dollars Circulating, But Not The Virus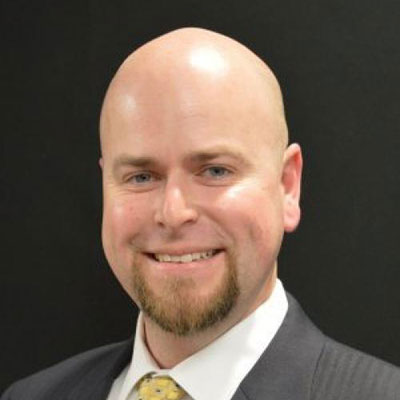 By Jean Prominski and Marc Warren
Seattle has been very quiet lately, without all of the normal traffic and socialization. Yet, with everyone working from home and not wanting to leave the house, I've felt a real sense of camaraderie. There have been more conversations between strangers and neighbors, and there have been more group discussions.  At my neighborhood Magnolia Bartell's and Ace Hardware, what would have once been occasions for small talk are now opportunities for deep and meaningful discussion about matters that really matter.
Earlier this week, I saw this post by Mark Fei on NextDoor about how our decisions about the Coronavirus are impacting the economy.
Be mindful about how your Coronavirus decisions might have economic impact on others
The Coronavirus and its spread is having obvious health impacts and I hope people and organizations are taking all reasonable precautions to protect themselves and others. These precautions, however, are also having significant financial impact on the largest to the smallest companies, as well as to individuals and families. I wanted to take a moment to express a thought about how we can avoid contributing to the economic pain of others. This was brought to mind specifically in my case by our wonderful Belltown dog walking service. Generally, my wife and I are both gone from home all day, so we engage the services of a dog walker to come take care of ours while we're away. As a result of the Coronavirus, many companies are asking their employees to work from home. This week I was supposed to travel for work, as I do most weeks, but this week's engagement was cancelled by my customer for health safety reasons. Thus, I could have walked my own dog this week, but I am not. I, personally, am not losing any income this week. My employer is, but they're bearing that burden and not passing it on to me. I have budgeted for our dog walking service and that is not changed by the Coronavirus, so it would be unnecessary for me to create a burden for my dog walker. If I worked in an hourly wage capacity and were, in fact, losing income this week, the situation would obviously be different. People and organizations of all sizes are doing what they can to provide relief at this difficult time. Delta Airlines waived my cancellation fee, despite my cancelling just hours before departure. Amazon is giving all small retailers who are tenants in their owned buildings here in Seattle a month's free rent to help, since they've lost a huge fraction of their normal retail foot traffic. We can, and should, all be mindful of our decisions and their impacts on others.
-Mark Fei, Seattle Resident 
I then saw an infographic posted by the Magnolia Chamber of Commerce on Instagram.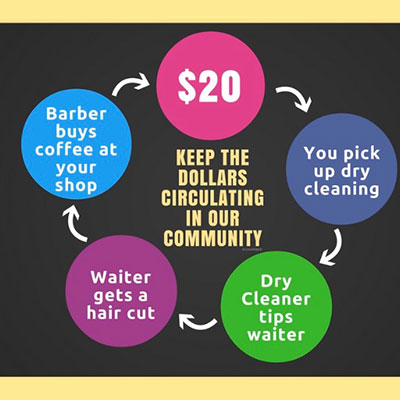 We have seen so many posts about doing the things we need to do to stay physically healthy…
Washing our hands
Using hand sanitizer
Staying hydrated
Staying home if we feel sick
What about the health of the economy??
As a Professional Organizer and Health Coach, I believe that when our "Wheel of Life" (pictured below) is in alignment, we can live an organized, happy and healthy life. The more balanced and expanded we can allow our Wheel to be, the more often we will find ourselves at the right place at the right time.  What are simple (almost obvious) actions that we can all take to continue to keep dollars circulating in our economy?
I asked Marc Warren, Fiduciary Financial Planner at Securian Advisors Northwest, what his recommendations were.  Here is his response:
Clearly, the markets are still nervous about the Coronavirus.  To compound the pressure on the markets, The Organization of the Petroleum Exporting Countries (OPEC) nations were trying to reduce production of oil due to the potential slow-down in consumption from consumers' desire to avoid the virus. However, OPEC was hoping for Russia to join the reduction strategy.  When Russia refused to participate, OPEC threatened to increase production which sent the price of oil down in a panic. To top it all off, the travel ban announced yesterday has sent the markets even lower today.
The result was a decline of the markets early morning on March 9th and again March 12th. Shortly after each opening, the S&P 500 then went down 7% which caused a "circuit breaker" to close the market for 15 minutes, allowing investors to catch their breath. While rare, the next "circuit breaker" occurs at 13% and a 20% drop in one day would cause the market to close.
So how do you protect your money with everything that is going on? One of the first steps is to have a plan and to get organized. Organization is the key to Financial Planning. Create a budget to track what's coming in, what's going out, and what is left over. Have a plan for each account. Whether it's checking, savings (emergency fund/opportunity fund), vacation fund, college savings account, retirement accounts. Make sure that you are taking the proper amount of risk within each account. The amount of risk often depends on the timeframe in which the funds are needed.  If you are planning to access the funds in three years or less, it is not a good idea to invest heavily in stocks because you just won't have the time to bounce back after a correction in the market. If you are 20-30 years from retirement, it is a good idea to have a higher percentage of your retirement investments in stocks to give you greater growth opportunity even with an occasional market downturn.
I continue to suggest focusing on your long-term goals and not making huge changes based on what appears to be emotional market actions. Keep to your plan.
This is a difficult time for our local economy as well. With the virus scare, many local businesses are struggling to earn a living. They are being forced to reduce their staff to cut down on expenses. It is important to try to support our local restaurants and shops. If your income hasn't been affected by this and you are staying healthy, I encourage you find ways to continue to support your local businesses.
You can:
Order food for delivery. Try out the delicious Koku Cafe in Queen Anne.
Purchase a gift (for yourself or for someone else) from a local business. Many are now offering delivery, such as Vixen, a cute boutique in Magnolia.
Purchase a gift card from a local business to use at a later date, such as one from Pratt Fine Arts Center.
Update 3/16/20: Governor Inslee just ordered a mandatory shut down (minimum of 2 weeks as of today) on a multitude of businesses.  Please consider purchasing gift cards from your favorite businesses to use at a later date.
If you're still feeling healthy, invest in preventative measures.  Here is a small handful of my favorite practitioners:
Dandelion Botanical in Ballard also offers a variety of effective remedies
If you are a business owner, this may also be a great time to invest in advertising and marketing.  Steve Ruttner has been in the graphic design business for over 20 years.  He's the one that designed the Seattle Sparkle logo, several print ads, and other marketing materials. Contact him at steveruttner@comcast.net.
Continue to hire your dog walker, house cleaner, hair dresser, etc. (unless you're sick, of course!)
The stock market will bounce back eventually, it always does. I hate to see so many small businesses and restaurants in our area struggling. Let's do what we can.
If you have questions regarding Financial Planning or are looking for a portfolio review, please reach out via email or my cell phone. There will be ups and downs in the market, but with a properly allocated portfolio you will have the confidence of knowing you are taking on the correct amount of risk to meet your long-term goals.
Marc Warren
Fiduciary Financial Planner
626-786-1946
What are you doing to preserve the health of the economy?  Join the discussion in our Facebook Group, Declutter and Organize with Seattle Sparkle.
Download the PDF here: Seattle Sparkle Wheel of Life.