Joyous Expansion Podcast Interview with Brett Dupree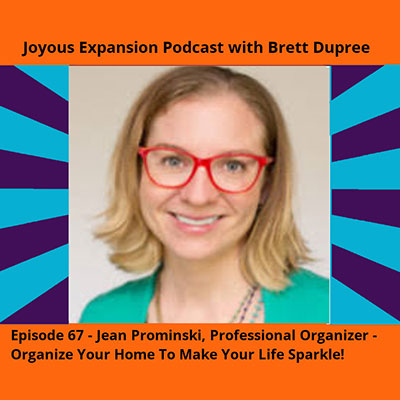 During this Pandemic, I have felt so incredibly supported by my Toastmasters community. As a small business owner, this has been a pretty challenging time for me. When I look at everyone who has engaged with my social media posts, promoted me on their pages, purchased my face masks and coloring books on my
Etsy site, SeattleSparkleHome
, and have called me to have a conversation to see how I was doing, the friends and acquaintances I have met through Toastmasters have been BY FAR my biggest source of support. I am so grateful! Brett Dupree, Distinguished Toastmaster and founder of Lightworkers Toastmasters even interviewed me for my first podcast interview, and I think I did pretty well! Thank you Brett! Brett is a fellow
Life Coach
,
author
, and host of the
Joyous Expansion Podcast
. Subscribe to the Joyous Expansion Podcast and get 20% off your next purchase on my Etsy site. (We're on the honor system, use the discount "EXPANDJOY" at checkout). Here is a summary of the interview. (For listeners, my interview starts at 9:30).
How did you get into home organizing?
I've always loved organizing stuff and cleaning, yet I haven't always been completely organized myself. I like to pride myself in being prepared for things, yet I've definitely had to teach myself some of the organizing things. I have ADHD and so it's kind of part of the wiring of my brain to potentially be a little disorganized, but I've found ways to cope with it pretty early on. Let's see… the question was, how did I get into it. I'm thinking about when I was a little kid, I loved horses and cleaning horse stuff, grooming them etc. I think that's one of the very early places for when I got really into organizing. Then I went to college for architecture, and I wanted to create healing homes for people. I knew I wanted to do something with homes, and I thought it was building them from the ground up. I remember going to my grandmother's house, and loving the feeling of it. I was also very into art, and I found glassblowing when I was about 19 or 20. I ended up switching my major and graduated with a BFA in Crafts. I did a lot of glassblowing and moved to Seattle (from Philadelphia) in 2004 to work as a glassblower. I did a lot of organizing at the jobs I worked at, and then got my graduate degree in Glass (in Providence). After that, I moved to California, and worked at an art school there, and did a lot of organizing. I really wanted to work more with people and have my own business. I knew I wanted to move back to Seattle, and it was within that process of moving from California to Seattle was a major part of why I wanted to become an organizer. Since I've lived in a few different states, I have moved around the country a bit.
So working at different jobs organizing things got you to wanting to become an organizer?
There's a magic in it. That's kind of a Marie Kondo thing to say- The Magic Art of Tidying Up. I really found there was a huge impact on a person's health when they could organize their home or when they lived in an organized home. I like the reciprocal effect of when you're in an organized space. Actually, when I was in Providence, going to grad school, I thought a lot about Seattle and how much I loved the Pacific Northwest, especially going to places like the Locks, and feeling the energy of the space, the negative ions, and being in a place where the atmosphere effected my senses. That influenced a lot of my art. For my whole life, I've been very interested in how our surroundings, the temperature, the light, the humidity, the visual qualities, everything influenced our physical and mental health.
In response to people being stuck in quarantine with plenty of time, yet not organizing
There are a lot emotional things that get wrapped up in our stuff. There are reasons why we leave a pile of paper where we do, for as long as we do.
What are some of the struggles that come with starting an organization business?
When I was researching becoming a Professional Organizer, I called as many organizers that I could find in the Sonoma, CA area (where I was living at the time). All of the good ones pointed me towards NAPO (National Association of Productivity and Organizing Professionals). This is a longtime organization of Professional Organizers with the mission to educate people about organizing, and running a business. There are lots of classes about mental health and understanding some of the reasons that lead people to disorganization. Right when I joined NAPO, they were having a regional conference in San Francisco, which I was able to attend. I went to that conference and right when I got there I was like, "these are my people!!". I got so inspired about how to start a business, and got lots of tips. I haven't gone to business school, but I've had lots of business training through NAPO and through the coaching trainings that I've done. The community that I've been able to surround myself with through the people I've met in NAPO has been so supportive! Especially since this Covid-19 thing has happened, I don't want to go into people's homes. I want to keep my clients safe, I don't want to pass germs around, and I just want to respect the stay-at-home order. I haven't been going to my client's homes. Whether or not my business is "essential" is kind of a gray area. [Moving is considered an essential business, and I often have jobs helping people pack and prep for moves, or unpack after a move]. It's very much a health issue if your home is disorganized. It can also be a mental health issue. But I've chosen not to go into people's homes right now. I'm just offering virtual organizing right now, meeting with clients over the internet. Especially through this difficult time for my business, having that group of Professional Organizers that I can talk to has meant SO MUCH! We all have our own businesses and are essentially competitors, yet it has felt so supportive. It has been very helpful.
Looking at the information you sent to me, one thing that really stood out to me was that you help people work on the Wheel of Life as well as decluttering. It's a "whole person" approach to decluttering a home. What's the benefit of that and how does that work?
My Wheel of Life is broken up into 5 categories: career, health, finances, relationships and spirituality. Within each of those there are 5 more segments. My belief is that when your Wheel of Life is balanced and round, you'll be more likely to find yourself in the right place at the right time. If it's not round and fluffy (if it has flat spots and is lumpy), you will be much more likely to experience more challenges, and these could show up in your home. Your home is a reflection of what's going on inside of you. I like to weave in elements of the Wheel of Life as we are working on organizing. For example, if there is trouble in your relationships, it will show up in the home.
It says here you are a Reiki IV Practitioner. How does energy healing help you help people declutter?
Sometimes I bring it up, and sometimes I don't. It depends on what their interests are. It can be very clearing to a home. I have also been trained in doing House Clearings, and lots of other ways of working with spiritual elements to blow out the stuck, heavy, [negative] energy (at one time was helpful but is no longer helpful). I can help clear that and bring in energy that is more supportive for them.
What's your apprehension with bringing it up with other customers?
I think there are some people that are very scientific, and they don't like to talk about any of the spiritual stuff. I want to support my clients beliefs. Spirituality can be kind of complicated for people. Some people have grown up having a very difficult time with it, or they have very specific beliefs, and may not think the way I think about spirituality would be helpful for them.
Congratulations on publishing a book for kids called "Color to Declutter".
Thank you! Well it's actually for adults (or kids). I've colored all of them. One of my friends just texted me and he got a whole set of Prismacolors and has been coloring and is really excited about it. The coloring book is about helping people color to declutter. So instead of tackling the clutter issue head on, I am proposing the idea that by coloring, you are essentially rewiring your brain to make it easier to organize. It just comes more naturally. Your brain becomes more organized because you're coloring. This will automatically become reflected in your surroundings. Because your brain is more organized, your body will naturally want to organize things around you. Do you want me to talk about the different ways that it does that? Sure! Coloring: -Brings confidence to the decision making process -Harmonizes the mind -Is rewarding -Delivers internal balance -Strengthens your boundaries and identity -Promotes self-contentment -And it's relaxing! All of those things will help your brain be primed to declutter easier. It provides more quiet time away from screens, you'll get better sleep, and promotes a sense of self-attunement. (Self-attunement is a big topic for another podcast!) Another cool thing about this book that I was really excited about was, have you ever heard of Dr. Emoto? Masaru Emoto? He did lots of studies on water crystals. To quickly summarize, he'd fill up a jar of water, freeze it, and look at it under a microscope. If it had the word "love" on the outside, the crystal structure was very intricate and symmetrical, and if it had the word "hate", the ice crystals would look all lumpy, malformed, or have broken. I love this idea, and with all the ice crystals (or "snowflakes" as I call them) in my coloring book, I've put words with them to represent different emotions or adjectives. There's "good", and "paradise" and "bright", and "happy" and "radiant". I'm asking the readers to meditate on that word as they are coloring. But I also like to think about it as our clutter, the object around us. What words are those saying, and how is that imprinting on our body? Because our body is made up of a large percentage of water, if there is a pile of papers from some angry person on the desk, that is sending messages of anger towards you. Or books about war or violent pictures. It's not that violent pictures are necessarily bad, but it may be resonating with you in a helpful way, or it may not. One of the other things Emoto did a study on was classical music, and I don't know what the other kind of music was. Death metal maybe? And I like music that- I don't necessary like classical music. I don't know if the music I like to listen to would make the ice crystals that would have the most brilliant symmetrical patterns. I had a graphic designer (Steve Ruttner) design the cover and the layout for the text in the book. He suggested putting a photo of Dr. Emoto in the book. At first I said "no way, how am I going to get the rights to put this photo in my book? He's not alive anymore, he's Japanese, no, that's going to be way too hard. I want to get this book published soon, not in like 10 years." So, I told him no. Then I thought about it. I Googled it, found a phone number, looked at my watch to see what time it was in Tokyo, and I just got on Skype, and called this number. I asked them if they spoke English, and I explained what I wanted to do. The woman who answered the phone understood me, I didn't have to repeat myself at all (which I normally have to do with most native English speakers). She said "Hiro's here, let me transfer you." I explained the whole thing to him, and again didn't have to repeat myself. (With many Americans, I always have to repeat myself). So I was very impressed, even though I've been in Toastmasters for a long time. He said "send me your text, let me see what you're doing". He looked at the text, approved it, and allowed me the rights to the photos I wanted to use. Later, when he signed the email, I found out I had been talking to Dr. Emoto's son! I just thought that was so cool! It was so easy just to CALL JAPAN from my living room and talk to Dr. Emoto's son!
You talk about working with people virtually, and you mentioned something about Body Doubling. Can you explain that?
Yes. Because we are in the Covid-19 Pandemic, and not supposed to go out, I have started offering virtual organizing. I've always done coaching, but I recently started doing virtual organizing. This is where I'm at home, talking to someone through my computer. They are at their house. I can see what's going on at their house. They have Zoom on, so I can see. I can either talk to them about their space, give them recommendations, give them assignments, suggestions, AND sometimes people like to start organizing when we are on the phone together. One of the major things that comes up (and it comes up when I'm organizing in person too) is the concept of Body Doubling. This is something that people with Chronic Disorganization can really benefit from. Chronic Disorganization is signified by people who have had issues with organization for a long time, despite self-help efforts. It can be really helpful to have someone sitting with them while they are doing the organizing. We were talking about empathy earlier, and this is something where I can really just sit with my clients. At first sometimes they may feel weird about it, like they are wasting my time, like we should both be doing something. But a lot of times when we get our friends or family to help us organize, they want to always be actively doing something. They want to be productive, they want to be helpful. Or they might have some type of agenda- shaming or blaming. There could be other passive aggressive things going on. With the body doubling, it's a very neutral state where I would be attentive to what they were doing, but not like "here, give me something to do, give me something else to do", because that can be really annoying! And it can also be really stressful for the client, like a burden where they would have to delegate something, and pay attention to me, rather than me paying attention to them. This is a way where I can really pay attention to my client in a very gentle and supportive way. There are great benefits to this, but one of the major benefits is how it effects their neuroplasticity. They might not be so used to having someone pay attention to them. The more experience and repetition they have with experiencing someone else paying close attuned attention to them, they start to recognize it an appreciate it, and allow it in more often.
During all your times of organizing and helping people, what has been some of your favorite success stories?
We have so much fun! I love my job so much! I'm pretty physical, I like to work out so I stay pretty strong. I think because of that, I'm more willing to do some stuff that maybe some other organizers might not do. One of the things about being a Professional Organizer is that everything is confidential. It's part of our code of ethics. So that's why when you look at my Facebook page, website or Instagram, I very rarely will post pictures of someone else's space. I only do it when they ask me to, or I might ask them if there is a really picture, if it's ok if I post it. I would never post something without asking. I rarely even do ask for photos. I'm going to have to skew a few of the details for the sake of confidentiality. I got over to a client's house, and she lost something very important to her. It was a "brooch". Our session was three hours, and she said her goal for the day was to find her "brooch". She said, "I think it's somewhere over here, but I'm not totally sure." That area had a lot of mail and craft supplies, and some collections of things. We were looking there and still couldn't find it. It was almost the end of the session. We had almost spent three hours looking for this "brooch". She said, "I think it fell under the couch cushions." We pulled the couch cushions off, and we still couldn't find it. We got a flashlight, and we could see that it was under the couch. We turned the couch over, and it was all fabric underneath. So this "brooch" fell INTO the couch. We had to use scissors to cut it to get it out. I have a Jack Russell and she is kind of my spirit animal. When she sees or smells something, rabbits or rodents or a chicken bone or whatever, she can be very tenacious. Like, "I gotta get that!". And I can be like that too. So if someone has lost something, I'm like, "I can find that for you." I love to find things. That's one of my successes is helping people find things, long lost items.
We're coming to the end of our time together, and the one thing I like to ask my guests is for 1 minute of motivation for your younger self.
"You're doing good. You're doing great!" This is something that I got from one of the dog training courses I did. At Ahimisa (in Ballard), they teach positive reinforcement for dogs. They praise the dogs for the good things they are doing. So I will catch myself saying "good job" to my dog all the time, for things that a normal person would probably just be like, "that's a normal thing for a dog to do. Why are you praising it?" I think that's what happens with us as humans is we do a good job with things, and we don't notice it. The more I say "good job" to my dog, or the people around me, it has changed the way I talk to myself, and I will recognize when I've done a good job more often. If you'd like to be considered to be interviewed on Brett's show,
send me a message
and I will connect you. He is one of the easiest people to talk to! Quite a delight! This is also a great time to check out a Toastmasters meeting. I know I have mentioned how joining Toastmasters is one of my top tips for helping someone get organized. My Toastmasters membership has brought me immeasurable benefits! And since we're all meeting on Zoom now, it's a fun way to check out clubs in other areas. My friend in San Diego just came to our Ballard Sunset meeting this week!
Send me a message
for more info.