Intention Setting for 2018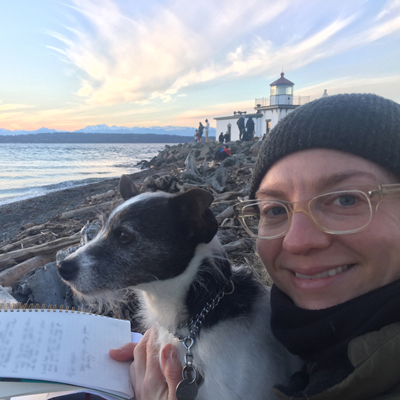 January Seattle Sparkle Update:
Happy 2018!!
How did you spend your New Year's Day?  I took a walk at Discovery Park with my good friend Megan, and my dog, Maisy (aka, Olive).  We sat on a log on the beach and did a Reiki-charged intention ceremony.  I like to set intentions in the "Big 5" areas of life: Relationships, Finance, Career, Health and Connection to Something Greater.  Although I am continually setting intentions throughout the year, I like to think of New Year's as the "holiday" for goal setting.  My big goal for this year is to focus on healing my Thyroid.  I was diagnosed with hypothyroidism over 10 years ago, and have been using medication to control my levels.  Through my training, I have learned how to take more responsibility for my thyroid health through diet, exercise, stress management, clear communication and creative expression. I am currently working with my own Health Coach, Julia, and doing a Thyroid Healing Protocol with her.As a coach, because of my artistic background, I often attract clients who are interested in growing their art businesses, who want help focusing on finishing projects, and who want to refine their purpose in life.  Sometimes I coach over the phone, and other times I'm working in someone's home as a Professional Organizer, physically helping them create room for their creative endeavors.  I love this, because this is all the stuff I'm working on too! I am so grateful to have a career that encourages me to grow as I help others.  In addition to creativity coaching, I am trained on a variety of specific protocols:
Adrenal Health
Autoimmune Conditions
Brain and Mood Health
Diabetes
Digestion
Emotional Eating
Heart Health
Hormone Imbalance for Women & Men
Infertility
Thyroid Health
Weight Loss
Do you experience any of these health imbalances?  I'm happy to offer you a free strategy session to help you figure out a game plan to start the year off right!  If you would like to learn more about coaching, or you want to share your goals and intention setting ways with me, please contact me, or respond to this email.  I would love to hear from you!