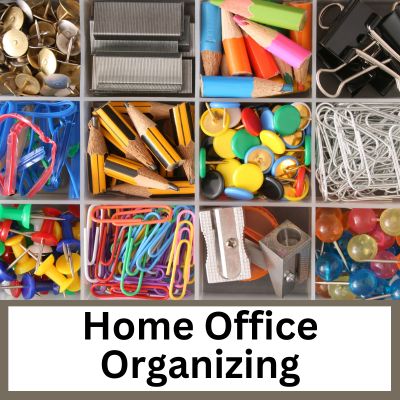 People who work from home (at their desk) may give their home office greater weight than people who don't officially "work" from home, yet everyone needs some sort of office space to call their own. An office space is a great "home base" for personal to-do's and other personal projects. It's an important place that can help you stay on track with your goals. You'll be able to find the supplies you need when you need them. Having an organized space will help you feel like you've got your thoughts together, and that you're on top of what you set out to do. If you are interested in organizing your home office, keep reading for tips!
Step 1: Start with the basics. Remove anything out of your office that doesn't belong there. Keep things simple and fresh. Don't harbor a lot of stale old energy in your office.
Step 2: Sort like with like. Are you finding pens, notepads, and jump drives scattered between several drawers? Group like items together so you can see how much you have of each type. Use ziplock bags or temporary containers you already have on hand to help contain groupings.
Step 3: Purge! Recycle, trash, or donate anything that can go. If you have "old tech", get what you need off of it, and take it to a place that will wipe the data and recycle the materials. Interconnection in Fremont is a great place in Seattle to take this type of thing. It can take some people years and years to get this e-recycling step done. If you need help, call my friend Scott Schweiger of Tech Hero Support.
Another point that can hang people up are old notes and business cards. I will make another post about paper organizing soon, but if you find paper that you can easily make a decision on, go ahead and recycle or shred it. Notebooks filled with handwritten notes can also be hard to process. Declutter as much as you can. You will thank yourself later!
Step 4: Now that you've looked at all the supplies you have, ask yourself if you have the basics: stamps, paper, envelopes, pens/pencils, erasers, a stapler/staples, pencil sharpener, tape, scissors, a calculator, and whatever else you like to have in your office. Make a list of anything you need to save space for when you're organizing.
Step 5: Decide where you're going to keep everything. Do you need drawers or shelves to store your office supplies? I'm a huge fan of the Ikea Alex drawers for storing office supplies. The drawers work well and are a great size for storing things you need in an office.
Step 6: Once you've got the furniture you need to store your supplies, decide if you need to containerize items within the drawers. You can stick with plastic ziplock bags, or you can get drawer dividers, or small compartments that fit inside the drawers. It's easier to know what kind of containers you'll need after you've got everything sorted. Create designated homes for your items, and pledge to put things back where you got them. I LOVE labels, especially on office drawers!
Step 7: Maintain! Don't forget that life gets busy, and you will undoubtedly need to clean off your desk and refresh the drawers periodically. Just like you need to upgrade your computer software and clear the cache once in a while, keep your office supplies and storage systems current. Remember: you don't have to have a clear and empty desktop to feel organized. Many people I work with will forget about things if they are put away. I personally am the same way too. I like to have visual reminders. It's just important that it's clear enough so that you can find what you need when you need it. If your desk is too cluttered on a regular basis, make sure you're not overcommitting yourself.
A few other tips:
Does your office space inspire you? Make sure the colors, images, and decor you choose motivates you. Have something visual that helps tether you to reaching your goals.
Do you need better lighting? Proper lighting will improve your mood and productivity. Being well lit will also make you appear more engaged on video calls.
If you do a lot of Zoom meetings, what is your background like? I like to use patterned fabric behind me instead of a blank white wall. It makes an interesting backdrop, and doesn't produce glare like framed photographs do. Is your camera at a good angle? Upgrade your decor or get a monitor stand or monitor arm so that you can center your face in the camera.
How are the ergonomics at your desk? If you're consistently uncomfortable in your office, make some adjustments, or contact a physical therapist, chiropractor, or occupational therapist to see if they can make any recommendations for you.
Crystals can help calm and organize the energy in your office. I love to use black tourmaline, amethyst, and amber around my computer. What works for you?
Home Assignment
Organize something in your office today, other than paperwork. I'll do another post on organizing paperwork soon!
Life Assignment
The best way to really learn something is to teach it to others. Whether or not you are a formal "teacher", we all transfer skills in one way or another. Are you patient? How do you like things explained to you? Is there anything you'd like to teach? Would you want to create an instructional video, blog post, or join a Toastmasters club and teach through your speeches? Teach something to someone else today. Or if you already teach often, learn something new about how you could transfer skills even more effectively.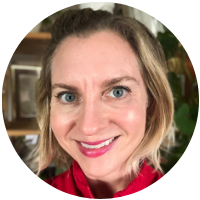 Posted By Jean Prominski, Certified Professional Organizer