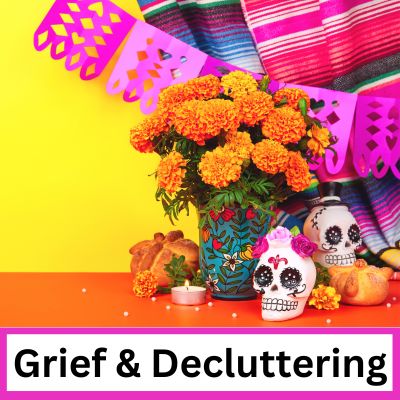 I have been hearing about so many beings (both human and our 4-legged friends) crossing over recently that I wanted to write a post about grief. This post is also inspired by one of my very dear long-time clients who recently lost her mother. Decluttering after someone has passed can be a complicated and emotional process. Decluttering, organizing, selling, and giving away the physical things that have been left behind can be an important step in processing grief. In this post, I'll write about what grief is, ways it shows up, and I'll give you some tips on processing your grief so that you can move forward.
When someone passes, their loved ones might either get a major wave of inspiration to declutter (either their own belongings or the belongings of whoever passed), or their loved ones may feel frozen, unable to make any progress decluttering. This may be out of an effort to try to hold on to what's left, or their emotions might be so full that it's hard to make decisions. There's no way to predict how you will react with the passing of a loved one. The only thing that is certain is that there is no escaping grief. If you don't deal with it, it will show up in ways that you cannot ignore. It doesn't just take time to process grief. You need to be an active participant in working through your grief.
What is Grief?
The most simple and profound definition I've ever heard to explain grief is that it's "wishing things were different." Grief can be a very strong and powerful emotion. It's coping with a loss. The loss may be a death, but it could also be from anything that disrupts our sense of normalcy such as a divorce, a friendship breakup, moving, a medical diagnosis, losing/letting go of material belongings or finances, a change in career, losing hope, letting go of a dream or a goal, getting older, or many other reasons.
This is the classic stages of grief model, developed by Elisabeth Kübler-Ross:
Denial: This can't be happening.
Anger: Why did this happen? Who is to blame?
Bargaining: Make this not happen and I will…
Depression: I can't bear this; I'm too sad to do anything.
Acceptance: I acknowledge that this has happened, and I cannot change it.
Processing grief is not a linear process. You may feel depression one day, anger the next, and then denial. You may feel a sense of acceptance, but then go back to anger. Your feelings could be anticipatory, delayed, or inhibited. You can experience cumulative grief (grieving multiple losses). There's also collective grief, that's often experienced with major events such as wars or natural disasters. I certainly felt huge amounts of collective grief during the Spring of 2020! Everyone's response to grief is unique
Finding Meaning/Gratitude: David Kessler, grief and loss expert, has added this 6th stage to the grief process. This is when you can remember the person (or animal) who you've lost, with more love than pain. You have learned to move forward.
Ways Grief Shows Up
Grief can affect you in so many different and surprising ways. Obvious ways grief will show up are sadness, lethargy, depression, irritability, impatience, anger, or anxiety. You may have sleep issues or develop more challenges at work or with your relationships. You may feel a heightened desire to numb your emotions through substance use, over- shopping, over/under-eating, extra TV watching or excessive phone scrolling, over-working, or other types of behavior that helps you escape or avoid dealing with your emotions. You may experience an oversensitivity to noise or light, and a difficulty concentrating. You may also feel super productive and energetic, which comes from a desire to not waste any time on this beautiful earth. Grief can also affect your body in physical ways such as headaches, dry mouth, pain in the body, nausea, or shortness of breath. Make sure to call your doctor or 911 if any of these symptoms warrant medical attention.
How to Process Grief
Don't rush the process. Processing grief can be complicated and challenging. You may feel a mix of emotions, or feel like you're happy one minute and sad the next. That's all ok. It's important to be able to feel your emotions so that you can move through them rather than ignoring them and suppressing them. Be patient and gentle with yourself. Sometimes we can get swept away by emotions that we think we should have, rather than the emotions we are truly experiencing. Make sure to take time to get grounded and check in to see what you're really feeling. Feel your feet on the ground and rub your hands together. Rest your hands on your lower abdomen to bring attention to your center rather than being stuck in your head. Ask yourself what you're really feeling. Notice how the emotion you're feeling also has a sense of calmness to it. You may feel a sense of sadness (or joy) but it will also feel calm.
-Conscious Decluttering: Decluttering after the passing of a loved one may be a huge job, or it might just be a few very challenging items. Go at the pace that is right for you. If you need to work with someone, find someone who is emotionally aware and doesn't pressure you to move faster than you're able to. I love helping people declutter and organize after the loss of a loved one because I love hearing the stories about the person/animal. I'm also very sensitive to how hard it can be to deal with their stuff. If needed, move things into a storage unit so you can process them when you can think more clearly. Decluttering can provide a major energy shift. It can allow you to let go of past hurts, interpersonal entanglements, and trauma. It can clear blockages so you can feel more open to new relationships, career opportunities, or other good things that want to come your way. Don't haphazardly throw stuff out, but definitely use this opportunity to let go of things that are just taking up precious space in your life. Notice when you feel guilty for wanting to let go of something. Use that as a sign that it's ok to let it go!
-Essential Oil Blends: I'm a huge fan of two particular essential oil blends to help process grief. They are made by doTERRA: Forgive and Console. They don't smell particularly amazing or anything, but I have noticed profound healing benefits for myself and for my clients. These blends can be used at any time (not just when decluttering). I like to use them at night. They can be diffused or used diluted on the skin. (Side note- IMO, I wish they would rename the "Forgive" one, since that word is so loaded. You won't forget about past wrongdoings and become a doormat or naïve, but you will less of a desire to try to change a person or an outcome). This blend will help you feel more at peace with the situation so that you can move forward.
-Jade is a stone that is particularly helpful at helping people process grief. I love the stones they carry at Earthlight Gems. In the past I have purchased Jade Hearts from them. If they don't have them in stock on their Etsy store, you can send them a message to special order them.
-Move your body. Stretching, walking in nature, working on your balance, improving your cardiovascular health, and strengthening your body are all ways to help your mind mirror the cells in your body. This also helps you move stuck energy out of your body.
-Support your body's detoxification systems by drinking sufficient amounts of water and eating nourishing foods. Sugary foods and drinks will deplete your body which will accentuate your feelings of loss.
-Make a memorial or do something meaningful. If you've never celebrated Dia de los Muertos, this is a great opportunity. Or even if you miss celebrating on the holiday (Nov. 1-2), you can still make an altar for your loved one. Or you may want to do something else meaningful to honor your loved one.
-Journal or use a workbook to help you process your thoughts and emotions.
-Work with a therapist or energy worker who is gifted at helping people move through their grief. My top two referrals for people who are going through grief are Michelle Woodward and Matthew Flesch.
-Read a book about grief. There are lots of them out there that can help you identify what you're feeling and why. This can be very helpful in finding closure.
What other ways have you found helpful in processing your grief?
Posted By Jean Prominski, Certified Professional Organizer