Decluttering Before A Move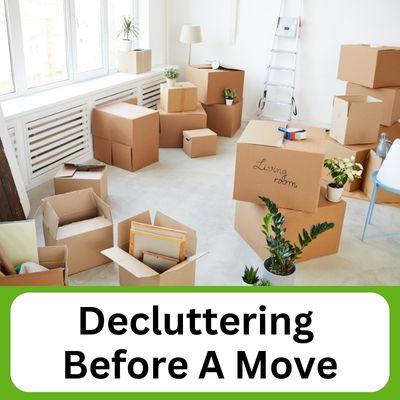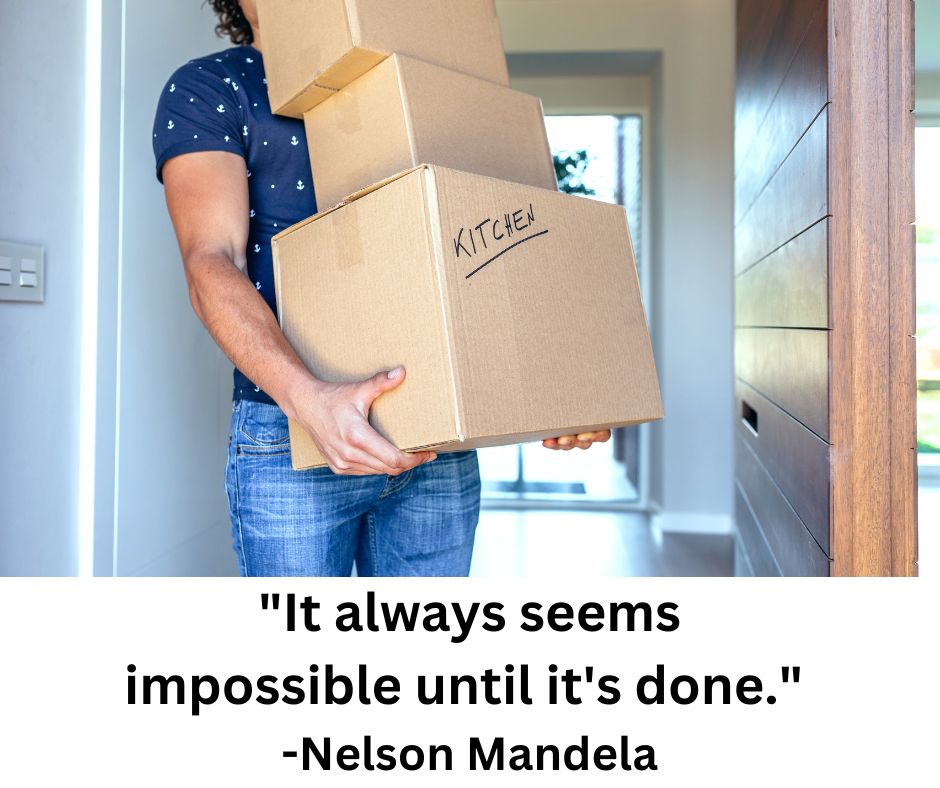 If you've lived in your house for a long time, you know how much clutter can accumulate! But even if you're fairly good at decluttering, moving is a great motivating factor for doing a deep declutter. It's a great time to let go of any extra baggage! You may find things that you might keep if you weren't moving, but a move is a great excuse to let them go. Don't move things that don't have value to you. Decluttering before a move will save you time, energy, money, and will help break your clutter patterns. You'll have less stuff to pack up, less stuff to unpack, and you'll spend less on moving expenses. Moving can be really overwhelming though, so where do you start? In this post I'll talk about some key areas to declutter so you can have a fresh start in your new home rather than bringing your clutter with you.
Food, Emergency Supplies, Consumables
Assess this area first so that you can work through these items rather than accidentally buying more than you need. Purge anything that is expired or you don't like. Make a plan to use all your food and other consumables (household cleaners, laundry detergent, cosmetics, etc…) as much as possible so you don't have to transport extra bulk. Go through your emergency supplies and toss anything that is out of date. Check on your paper products like toilet paper and paper towels and make sure you're using what you have rather than over-buying these bulky items right before you move.
Clothes
Each piece of clothing doesn't take up a ton of space, but the sheer volume of clothes most people have can take up significant square footage. Get rid of clothes that you don't wear, you don't like, that don't fit, or you don't need. Simplifying your wardrobe is a careful balance between letting go of things that are too far into your comfort zone (worn out pajamas, an abundance of cozy sweatshirts, etc..) and letting go of things that are way too far outside your comfort zone (aspirational outfits that are totally not you). It's a great time to let go of the "old you". If you're really into fashion, you're probably going to want to devote more real estate to clothes than the average person, but use this opportunity to really assess if your wardrobe is representing the best version of you.
Old Furniture
Furniture is big, heavy, and expensive to move. Many thrift stores don't accept furniture donations anymore, so be sure to check ahead of time before donating furniture. Selling furniture is possible, but be sure you allot enough time for the posting to reach potential buyers before you have to move out. Posting on Facebook Marketplace, Craigslist, and Offer Up seem to be the most popular places to sell local furniture, but be wary of scams. I just tried selling a couch via these platforms and dodged 3 scammers before I just decided to post it for free. If you don't want to deal with coordinating a sale, contact a consignment store to see if you can bring your item by. Most consignment stores require photos to be emailed for approval before bringing anything in. Let go of furniture that is worn out or out-of-style so you can fill your new home up in a way that helps support your upgraded identity. The majority of the time, mattresses have to just go to the dump, although I have known of people who have actually sold their used mattress on Craigslist or the like. Buy Nothing (either through their app or the Facebook groups) is usually the easiest place to give away your mattress for free so it doesn't end up in the landfill. Occasionally you can find a charity to donate furniture to, but many thrift stores aren't accepting furniture anymore.
Unfinished Projects
Moving is the best excuse to abandon unfinished projects once and for all! Sure, if you stayed where you are, you "might" finish that art project you haven't touched in over 3 years, although it's pretty unlikely. I get that you may want to keep it around for inspiration for your next project, but if it's too big and bulky, take a photo, and call it good. You could try posting on Buy Nothing to see if anyone wants to pick up where you left off, but many of these unfinished projects are probably doomed for the landfill. Let them go and move on. Don't move things that need to be repaired. Either repair them before the move, or let them go.
Books
The weight of items really matters when you're moving. While an individual book doesn't weigh that much, a box of books can get pretty heavy! Pare down your book collection as much as you can. Let go of books that don't inspire you are you don't need. Books can also collect a ton of dust, so I personally like to keep my book collection as minimal as possible. I have lots of clients that LOVE their book collection though, so I totally get that many people prefer to keep a large collection of books. Let go of books that make you feel guilty or "not good enough". No one has time for that. Only keep books that make you smile or light you up when you see them.  Lots of people love donating their books to Little Free Libraries so that they can go directly to people in the local community. If you want to resell your books, contact your local reseller to see if they have a limit of how many books you can bring in at a given time.
Other Tips:
Start early!
Most people underestimate how long it will take to declutter their home. The more time you give yourself to declutter, the more thorough of a job you can do. Sure, some people need to have a tight deadline to get anything done, but do your best at spacing out your decluttering so you don't have to be rushed (or have to move a bunch of junk!).
Put a Pause on Buying New Things
Use up what you have and wait to add new things to your home before you move. Otherwise, this new inventory will just be extra things to pack.  Make do with what you already own instead of going on a shopping spree before you move.
Think About the Size and Vibe of Your New Home
Ask yourself if you have enough room in your new house for any given item. Think about where will it go. Are you moving from a larger home into a smaller one? Perhaps you won't need quite as much bedding or décor as before. And instead of thinking about the things that you NEED in your home, think about the things that you WANT in your home. This is a major opportunity to upgrade your style, big time! Assess your current style and your current stage in life. What goals do you have? What kind of vibe are you going for? Use this move as an excuse to only hold onto things you absolutely love and that support you in reaching your goals.
Put Like With Like
If you haven't already sorted your belongings into like categories, this would be a great time to do so! Round up all your books together, your paperwork together, your pony-tail holders together, etc. This will make it so much easier to put things away in an organized fashion once you move.
Donate Items Frequently
Moving takes up a lot of floorspace since you'll be pulling things out of closets and cabinets to pack things into boxes. Don't wait till the very end to drop off a full load at the thrift store. Make frequent donation drop offs so you're not using up your valuable space with things you don't need. This will also help prevent your good stuff from getting mixed up with donations, and will help limit how many things you pull out of the donation bag to keep.
Don't Forget to Spackle and Paint
Take artwork and shelves off the wall early so that you can get the holes repaired and painted rather than waiting until the last minute. Pro tip- when you move in, if possible, save some of the paint that was used on the walls so that you can easily restore the walls when you move out.
Do you need help? I love helping my clients declutter and prep for moves! I also love helping clients unpack and put their stuff away in an organized way. If you want help prepping for a move or unpacking after a move, I'd love to help you!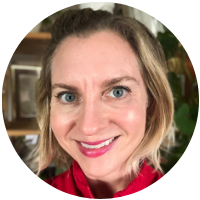 By Jean Prominski, Certified Professional Organizer
Check out my media exposure: Seattle Sparkle in the Media
Download my free 5 week journal The Seattle Sparkle Method to Get Organized and Stay Organized
Sign up for my free 4 Day Color to Declutter Challenge.
Become part of a like-minded community by joining my Facebook Group, Declutter and Organize with Seattle Sparkle.
Ready to book a consultation? Complete this form.
For artwork to energize your home, order through jeanprominski.com.