Closet Organizing Classes Coming Soon!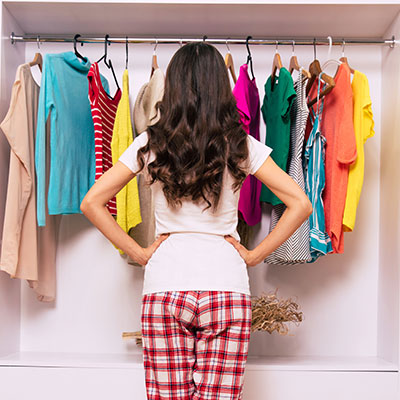 You may have started 2022 off with a resolution to get your home organized, once and for all. You probably started off with great intentions, but you may be starting to feel your motivation fizzle. How about signing up for my closet organizing class? During this class, we will meet on Zoom from 4-5:15pm Pacific each Thursday in February. Not only will you learn how to organize your closet, but you'll get the time, space, and inspiration to get the job done! Since no two closets are alike, and everyone has different needs for what they'd like to store in their closets, I will customize the class to suit the individual needs of the students.
The class will be limited to 8 participants, and you're welcome to keep your camera on or off depending on your comfort level. During each class, I will teach a lesson about organizing, you will share with the group about your goals and accomplishments, and you will have time to organize your space. To get the most out of the class, you'll need to be at home (or wherever you'd like to organize), so I can help answer your organizing questions in real time.
Here are some of the benefits you'll receive:
-Guidance about how to organize your closet.
-Space and time to get the job done!
-Support from myself and your compassionate classmates. You'll see that you're not alone.
-A feeling of freshness as you let go of old and unflattering clothing.
-A feeling of relief when you don't have to continue carrying the burdens of the memories that are held by old clothes.
-An up leveling of your style when your closet is filled with only items that make you feel your best. Your self-esteem will rise.
-A feeling of accomplishment and sparkle when you look at your closet every day.
I will teach you how to sort everything in your closet so it's not an overwhelming mess. I'll give you some pointers for what to look for when you're deciding what to purge and what to keep. You'll learn how to assess your closet to figure out where the best homes for things will be. If you need extra furniture, shelves, or other organizational accessories or bins, I'll make suggestions of some of my favorite products. Finally, we'll talk about closet maintenance- how to make sure your new system stays organized. Systems often fall apart because they're too complicated to maintain. I'll help you come up with efficient solutions so that you'll be able to spend more time doing the things you love rather than feeling guilty for not putting more time into closet maintenance.
Group classes are really powerful because not only will you get my expertise of being a Certified Professional Organizer who has spent thousands of hours helping hundreds of clients get organized, you'll also get great ideas and support from your other classmates.
Details:
Time: 4pm-5:15pm Pacific Time
Dates: Thursdays, February 3rd, 10th, 17th, and 24th, 2022
Fee: $200
Students will meet once a week for four weeks over Zoom. The class size is limited to 8 participants. This will be an interactive class.