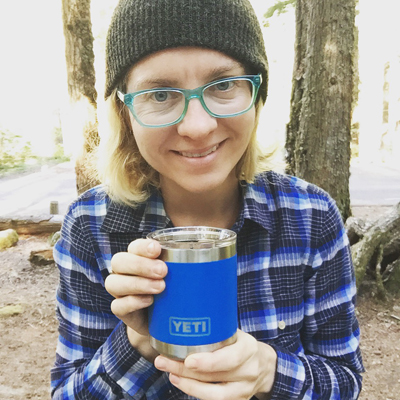 August is prime camping season here in Seattle! I recently returned home after a solo camping trip (with Olive of course!) to Mount Rainier's beautiful Ohanapecosh Campground.  I have gone camping by myself a handful of times and, as an introvert, absolutely cherish the alone time.
I've loved camping since I was little- pitching a tent in the back yard with my friends in middle school, back in Arlington, VA.  Then in high school, my friends and I would go to Prince William Forest Park in Triangle, VA.  We'd throw a tent and some sleeping bags in the car and we were all good.  In college, I drove across country a few times with friends, camping all over the place- I've been to 49 of the 50 states! Alaska- I'm coming for you! One of my favorite trips was back country camping at Yellowstone National Park with two guy friends I had met via Pilchuck Glass School.  We broke the golden rule of back country camping- hiking after dark.  Needless to say, I still have "Yo, Bear!" ringing in my head every time I'm in bear country.  Luckily we didn't encounter a bear on that trip, thanks to the "Yo, Bear" chant.  After college, I did some amazing back country camping on the Olympic Coast and at Kalalau Beach in Kauai. That was a really challenging hike for me- amazing it see locals doing it barefoot. Hawaii is absolutely magical!
Here are a few tips I've picked up along the way to help make camping a little smoother.
1) Bring 2 tennis balls or Yoga Tune Up Balls. They are great for laying on to roll out the muscles in your back.
2) Leave time to set up the tent.  I've arrived at campsites after dark too many times to know that it's worth the extra effort to get there during daylight hours.
3) Bring fire starters.  Many campgrounds won't allow you to harvest kindling, and even if you can, it's often too wet to ignite.
4) As your preparing your things to camp, create an Evernote file on your phone, so you can add items to bring as you remember them.
5) If the campground allows reservations, make them, especially if you live in an area where camping is really popular. There have been a few times where I've been on a road trip, hoping to camp in a certain location, and there are no empty campsites for hours.
6) To keep your food cool, put ice in plastic pitchers in your cooler.  That way, when the ice melts, your food doesn't get soggy.
7) Bring 2 dish washing tubs (one soapy and one to rinse), plus a 5 gallon bucket to bring water to your campsite- and to put out the campfire at night.  Use soap that is biodegradable and non sudsy like Wilderness Wash.
Before the summer is over, try to make some space for a camping trip! Even if it's just one night in your backyard, changing up your routine can make a world of difference for reseting your intentions, instilling gratitude and getting grounded.  Whether you go solo or with friends or family, unplug, get some fresh air, and relax beneath the stars.  Post your photos so I can see some happy campers!  What are your favorite camping tips?  Contact me and let me know.