Wheel of Life Vision Board Class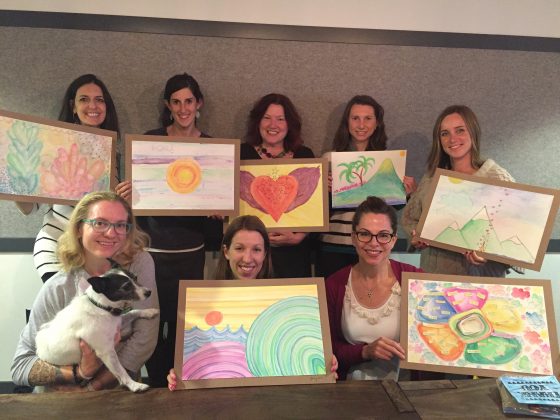 Last night I hosted my first Vision Board class and it was a smashing success!  We had 7 lovely ladies (+ myself and Olive) gather on a cozy fall night in one of the spaces at WeWork.  I first asked participants in the class to complete a wheel-of-life worksheet to find out which areas of their life could use a little more nourishment.  After more contemplation and some sharing, class members used paint, colored pencils, and other art supplies to create a board which symbolized the attributes they want to nourish in their lives.  One of the really amazing things about art is that it taps into your self conscious.  So what we started to notice happening was that although our conscious minds were saying we wanted one thing, what was revealed through the art making process may have been a more accurate representation of what really is important to us.
I feel utterly grateful to have had such wonderfully amazing, supportive, curious and deep thinking souls in this class.  The conversation could not have been what it was without you all there.  Thank you for helping to propel thought and thank you for joining the class- it meant so much to me for you to have been there!
To see a few more pics from the evening, click here.
To sign up for Gratitude Card Making on Nov. 11th, click here.
For a free Health Coaching Session, click here.