Sleepless in Seattle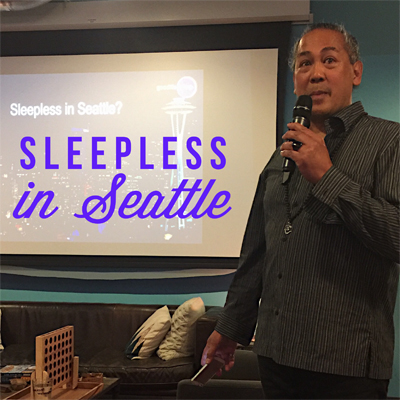 Do you get enough sleep? If not, contact the Sleep Coach, Mag Secretartio through his website or through Facebook.  Yesterday I attended Mag's "Sleepless in Seattle" workshop at WeWork in South Lake Union. Mag has a dynamic and soothing presence to him- you'll know what I mean when you interact with him. When I spoke with him, he gave me his undivided attention and listened patiently.  (This guy is very cool!) During his presentation, he spoke about how he became a Sleep Coach, some challenges people have with sleep, and gave some out-of-the-box, drug-free solutions to help the audience get more consistent and restful sleep.
Mag has spent extended lengths of time in both London and Bali. While living in London, he had what looked to be an amazing job. He worked as a designer for interiors in a poshy city, got to travel the world and meet some of the most innovative people on the planet. But his job was so stressful and unfulfilling that he could not sleep. (Sound familiar to anyone??) This sleep deprivation led him to feeling depressed and he eventually landed in the emergency room. Once he was able to take some time off of work, he started to make healthier lifestyle changes. He started exercising and investing in personal development. During this time, he did a lot of reading, including "Thrive" by Adrianna Huffington, and "The Millionaire Master Plan" by Roger James Hamilton. These two books changed his life.
As a result of Mag's years of sleep deprivation, he sought out to become a Sleep Coach, to help people become the best they can be, using sleep as the catalyst.
Some of the challenges people encounter with not getting enough sleep are:
1) No time- "I'll sleep when I'm dead!" Mag chuckled about how he had often been jealous of his wife (who is Spanish), who, thanks to her culture, had built time into her daily schedule for her afternoon "siesta".
2) When someone has problems in other areas of their life, those things often keep you up all night.
3) It's sometimes easier to eat, drink/ do drugs or overwork, rather than allowing your body to nourish itself through rest.
Why is getting sleep so important? People who get adequate amounts of sleep are happier, have an easier time maintaining a healthy weight, feel better, make better decisions, save time and money, have improved learning and memory as well as better sex.  New research has even linked healthy amount of sleep as a way to prevent Alzheimer's, obesity, diabetes and mental illness.
Here are Mag's 7 tips on getting a better night sleep:
Mind the gap. When you have a 5-minute gap in your day, practice mindfulness. Carve out some time to sitting still and calm.
Count chemicals, not calories.
Get physical- take a walk, practice yoga, do some other type of exercise- it all counts!
Create a calm and restful room. The bed is only for two things: sleep, and the other thing is not work 😉
Do the math. Get a device that tracks sleep (like a Fitbit) and pay attention to how you feel when you get certain amounts of sleep. Add accordingly.
Make small tweaks… small changes swing big doors. If you are regularly getting 5 hours of sleep, and that's not enough, tweak it to 5 ½ hours and work your way up to something that feels restful and sustainable.
Get curious- make yourself a priority. Ask yourself why you're making the choices you're currently making.
Mag also discussed some products (like alarm clocks and sleep monitors) that are on the market to help with sleep, plus some herbs and supplements that help too. Contact him through his site for a free session to find out how you can get more restful sleep.  Join Mag and become a Sleepclub Member! #goodlifesleep
What's your challenge with getting enough sleep?  Leave a comment below.