Seattle Area NAPO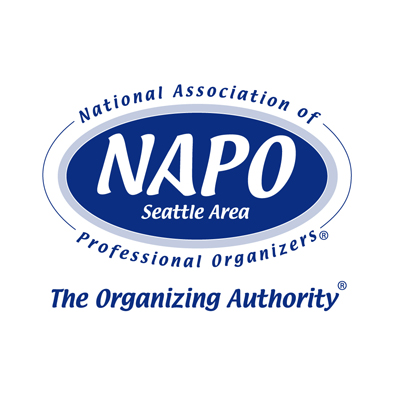 I help people organize their physical and mental clutter so that they can reclaim their creative space. I am a Creativity Advocate. I am an artist, an organizer, a health coach and an energy worker.  My services include 1:1 private health coaching sessions (over the phone or in person), in-home professional organizing, 1:1 Reiki sessions, custom artwork or a combination of all of these.
As a Member of the Seattle Area National Association of Professional Organizer's Chapter, I have created a new website for our chapter. Please check it out here to see all the awesome organizers in our group!
If you are local, please come by for our Organizer's Resource Fair.
A Must Attend Event!
April 4th, 2017, 6-8:30pm
Bellevue Coast Hotel
625 116th Ave NE, Bellevue, WA 98004
If you are interested in ANYTHING organizing or productivity, you will build your resource list of branding options, products & tools, computer support, headshots, closet companies, shredding companies.  We have done the homework for you for the professional organizing industry.  Amazing networking with great appetizers!

$15 at the door for the public or $10 if you preregister here.

Mark this on your calendar in pen; we look forward to you joining the Seattle NAPO Chapter for our Vendor Fair!

Participating Vendors

If you have a product or service that aligns well with the professional organizing industry, please register today by clicking here. Registration is $250 (or $100 for corporate members).

Should you have further questions, please contact Pam Doxsie, Seattle NAPO Organizing Resource Fair Chair.

Marketing@seattlenapo.com

425-417-0740