One Day to Greatness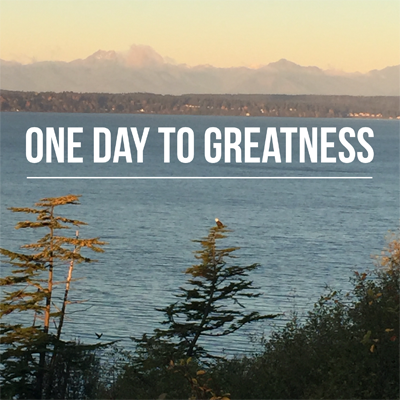 On October 3rd, 2017, I had the pleasure of attending one of Jack Canfield's "One Day to Greatness" event. Jack Canfield is one of the world's leading motivational speakers, and Co-Creator for the Chicken Soup for the Soul books. My friend Julia had invited me, and got there early so she could save me a seat. Funny thing- the seat she saved me was right next to a woman who I had just met the week before at a Women's Business Owners event! Small world.
Over the course of the day, Jack guided us towards setting a Breakthrough Goal, and gave us some tools for realizing that goal. The first step is to getting your beliefs in place, because if you don't really believe you can achieve it, no amount time management or discipline will get you to where you want to go. Your beliefs will lead you to inspired action, and the action will produce results. The action proves to the universe that you are serious about what you want.  Jack is a big proponent of the Law of Attraction. If you don't know what this is, watch The Secret, and see Jack being interviewed. The basis for the Law of Attraction is about focusing on what you WANT, rather than what you DON'T WANT.
I came home from the event with a huge stack of books and CDs, so I could continue learning about his success principles. It was a great way to reboot my Miracle Morning practice and to create a fresh new Vision Board.  A Vision Board can be focused on a particular area of life, or it can be created to attend to all areas of your life.  A good place to start would be to think about the main areas of your life. Jack breaks them down as follows:
Personal
Relationships
Health/ Body
Career/ Education
Recreation
Financial
Contribution
Step 1: Brainstorm a list of all the things you want. Sometimes it's easier to write down the things you DON'T want, to get clear on what you DO want. That's fine to do, but make sure you don't get stuck in a flood of catastrophe. Once you're clear on what you DO want, narrow it down to 3 bullet points for each area. Be sure to include feelings and emotions.
Step 2: Get crafty! Use photos or draw pictures of what you want. Jack talks about the power of using imagery to help our brain visualize these elements in our mind. Arrange the images neatly on a board. Remember, a cluttered board may lead to visualizing more clutter! Keep it simple and focused.
Step 3: Visualize. The best time to use your vision board is in the morning and before bed. First, raise your vibration by getting calm and centered. Meditate for at least 5 minutes to help prepare your mind. As you look at each of the elements, see them with happiness and gratitude, knowing that you're already on track for achieving your desires.
Want help creating a Vision Board? Contact me for a free session.