Marathon Reflections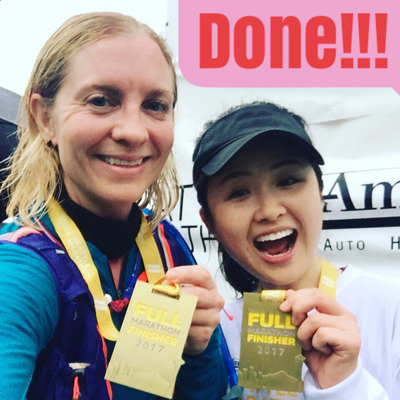 December Seattle Sparkle Update:
Anyone who I've seen over the past 3 months knows that I have either been training for, or completed, my first marathon! A lot went in to achieving this goal, and I'd like to share how I did it!
1) Blue Snakeskin Leggings.  Two years ago, I was at Lululemon, shopping with a gift card from my stepfather, Tom.  As I was browsing the leggings, a pair of blue snakeskin printed running pants practically fell in my lap.  As I tried them on, I knew something great would happen while I was wearing them, but little did I know it would be sprinting across the finish line for my first marathon!  Have you ever had a piece of clothing jump out at you? What happened?
2) Toastmasters Mentor Program.  As a member of the Ballard Sunset Toastmasters (which I've just been elected President!), I asked one of the new members, Yumi, if I could be her mentor. We set out to the Ballard Farmer's Market for our first meeting, and she told me she had just run 20 miles the day before!  I had never even considered running a marathon before, but right then, I decided to sign up.  What have you taken action on, after being inspired by someone else?
3) Sign Up Before You're Ready.  Since I only had three months to train, I downloaded this guide and stuck to it like glue.  I purposely told everyone I knew that I was training for a marathon, because I wanted the accountability.  I was absolutely NOT going to back out.  How do you create accountability in your life?
4) I Ate Really, Really Well! Since I'm a big fan of making homemade stock, I decided to try making beef stock with chicken feet.  When I went to the PCC to pick up the chicken feet, I gasped, and told the lady next to me that I didn't think I could do it.  (Have you ever seen chicken feet??)  She replied with an enthusiastic, "You can do it!", and I carried that mantra throughout my soup making process, and even told the story to Yumi as we were approaching a huge hill at the end of our race.  What are your favorite power foods?
5) Certified Therapeutic Grade doTERRA Essential Oils.  The morning of the race, I slathered on doTERRA Breathe essential oil all over my upper body, and Deep Blue all over my lower body.  These essential oils have been integral throughout my whole training process.  What do you like to use essential oils for?
6) Pacers and Rainbows.  For the race, Yumi encouraged us to run with the 4:40 pace group.  Although that was faster than my practice runs, I decided to give it a shot.  4:40 is fast!!  We ran the whole time, and the pacers didn't even slow down at the water breaks.  Luckily, Yumi is exceptionally driven, so after a quick drink, she inspired me to run faster to catch up, so we could stick with the group.  We both ended up being able to conserve our energy enough to sprint at the end and finish even faster than the pace group!  The morning of the run, it was POURING down rain, but it held off for the start.  We had scattered showers over the course of the morning, but the best part was a HUGE rainbow over Lake Washington.  Where have you seen your most memorable rainbow?
7) Bodywork.  Throughout my training, I had regular chiropractic and medical massage visits at Graham Rehab and Wellness, in downtown Seattle.  Although the visits were sometimes very intense (medical massage therapists can be really mean!!), I managed to keep my injuries at a minimum.  I am a loyal patient, and will continue to recommend their great services.  What sort of bodywork do you find most effective?
THANK YOU to everyone who has supported me and taught me tips as part of my training!  I have learned so much about GOAL SETTING, DISCIPLINE and FRIENDSHIP over the course of this training season. Do you want to run the Rock and Roll Marathon with me in June 2018??  Or do you have another big goal that you'd like to accomplish?  Send me a message and let me know!!