HMBA Retreat in San Diego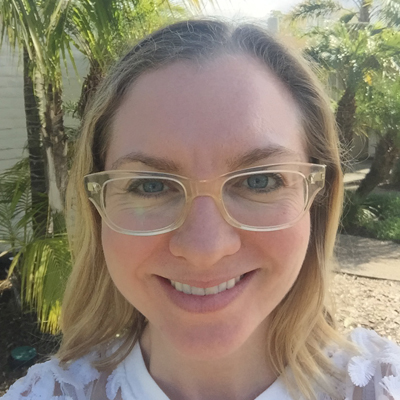 Lessons from HMBA Retreat
As some of you may know, I am a certified health coach, but because I LOVE to continue to grow and learn, am now enrolled in the Health Coach Institute's year-long Holistic MBA program. Taught by Carey Peters and Stacey Morgenstern, the two leaders of HCI, this program takes us deeper into coaching and the business of coaching. Joining HMBA has been such a wonderful decision. Included in the program are two 3-day training retreats, and I just got back from the first one, which was in sunny San Diego!
The retreat opened with a Master Class, hosted by another HMBA student, Michael Brandt, who holds a Ph.D in biomedical engineering, was a medical school professor, brain-behavior researcher and spiritual teacher, amongst many other credentials. (Yeah, there are some really amazing people in this group!) Way to kick it off right, Michael! During this class, he taught us about the blending of spirituality and science, similarities between several spiritual traditions and guided us through a powerful group meditation. Something I've been thinking about a lot lately is how two seemingly opposing thoughts can both be true, and Michael's class helped me articulate that to myself in terms of thinking about different levels.  Contact Michael through Facebook or email him drmebrandt@gmail.com.
During the main part of the retreat, Carey and Stacey wove together coaching sequence exercises, hot seat coaching (where we watch Carey and Stacey coach a fellow tribe-mate) and business coaching.
Coaching Exercise
Here's something you can try at home, and can even be done over the phone. Ask a friend to read these questions to you, but when you respond, only think and feel your answers, allow your body to speak, but don't answer out loud. When you are done with each answer, indicate to your partner that you're ready for the next question. GO SLOW.
What's something you would like to be experiencing that you're not currently experiencing?
What's important to you about that?
How will you know when you have it? What will you see, hear or feel?
In contrast, how has it been up until now?
So what you want is..?
What has previously stopped you or slowed you down from having this?
When you are able to move forward, what is it that you do differently?
Tell me more.
What might you have to let go of in order to go forward?
Based on these new insights, what action is worth taking and what support do you need?
Hot Seat
Over the course of the event, a handful of lucky participants got to sit in the "hot seat" and share their experience with the group. I'm fairly sure all audience members had tears in their eyes watching this powerful moment on stage watching Daniel receive support from fellow tribe-mates.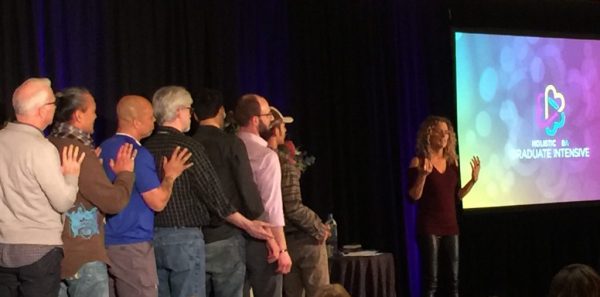 Business Coaching
Carey and Stacey are knowledgeable and effective business coaches, and in addition to teaching us what they know, they also brought in guest expert Bret Gregory to teach us about how to increase our reach on Facebook. Bret is a wealth of information! He taught us how to build a free gift for subscribing to our newsletter. Subscribe to my newsletter and I'll send you my free "Fill-In-The-Blank Template for Creating Something Meaningful to You, Without Quitting Your Job" & Free Coloring Page. If you're not already, please follow me on Facebook. Soon I'll also be starting my free challenge group back up, this time with an emphasis on Creativity and Mindfulness. Join the group here.
Nuggets of Wisdom
The event was packed full of nuggets of wisdom, but one that has really stuck with me was presented by Tracey. She shared with the group a question that she uses in her coaching is, "Are you operating "above" or "below" the line?" Above the line: Ownership, Accountability and Responsibility. Below the line: Blame, Denial and Excuses. Where are you operating?
The event was packed with positivity and growth.  To the rest of you who I worked with at the retreat, thank you for being so wonderful! I am so grateful for everyone who I've met through this awesome journey!
Save
Save