Book Recommendation: Miracle Morning by Hal Elrod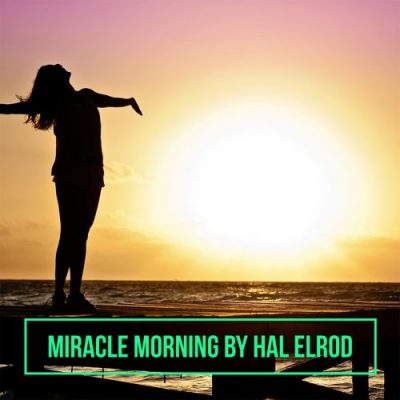 Book Recommendation: Miracle Morning by Hal Elrod
"You've got to wake up every morning with determination if you're going to go to bed with satisfaction." –George Lorimer.
I help creative people form healthy habits so that they can be more productive and confident with their self-expression. I'm here to talk to you about Hal Elrod's Miracle Morning. I want to share the morning ritual that helped me transform my life, and I hope it will help you transform yours.  Hal Elrod has survived a few major crises in his life. He had been working as a successful sales person but in 2000, he suffered from a horrific car accident where he almost died. He was told he would never walk again. Hal made a miraculous recovery. After that, he wrote a book about his recovery and gave motivational talks.
Then, in 2007 when the economy crashed, he had a devastating financial struggle. He said he hit rock bottom physically, mentally, emotionally and financially. Then, in 2008 his life finally turned around when he started jogging every morning. It helped him think clearer and gave him the inspiration to create a healthy personal development routine. His life got progressively better and his coaching business was thriving. He wrote this book in 2012 about how to transform your life before 8am. I'm going to tell you how to do it.
So this is what to do: Set your alarm an hour earlier than normal. Put your alarm clock across the room and set your intention that you will get up to do your Miracle Morning. Shoot to do it in an hour, but you can do it in as quickly as 6 minutes, or take your time going through each of the steps. When you wake up, immediately brush your teeth, drink a full glass of water and put on your workout clothes. You can do the steps in any order but the acronym "SAVERS" is a cute way to remember what to do.
S- Silence
(5 minutes)
Begin your day with a sense of quiet calm. In our noisy, fast paced lives, this can be hard to come by. This can be done in the form of mindful breathing, prayer, scanning your body, guided meditation, reflection, gratitude or however else you understand "silence" to be.
A- Affirmations
(5 minutes)
Affirmations are a way to remind yourself of your powerful potential. You can do this by reading an inspiring book aloud, reading inspirational quotes, or writing your own empowering thoughts. It is important to pair these words with a corresponding supportive emotion. It is important to do this because if we don't actively change our programming, our potential will be held back by the fears from our past. So figure out what it is you want, and why you want it.
V- Visualization
(5 minutes)
Visualization can be done through looking at a vision board or mentally rehearsing something you'd like to achieve. It is important that the perspective be from your own point of view (looking out) rather than looking at yourself. If your goal is to be a successful motivational speaker, you may want to visualize yourself taking the actions you'd need to do to prepare for the speech. So you could visualize gathering information, writing your speech, practicing aloud and then finally visualize yourself giving your speech to an audience.
E- Exercise
(20 Minutes)
"Motion creates emotion". Even if it's just for a few minutes, exercise significantly boosts your energy, enhances your health, improves self-confidence and emotional well-being. It also helps us mentally concentrate and think more clearly. It's important to oxygenate your body to fuel your system.   You don't have to get up and go for a run. You can go for a walk, do some simple stretches, do pushups, do an exercise video- whatever feels fun and inspiring. Just do it.
R- Read
(20 Minutes)
You can learn from the experts, from those who have already done what you want to do. That way, you can model successful people. There is an unlimited supply of knowledge out there. Whether you'd like to improve your relationships, increase your wealth, communicate more effectively, or improve another area of your life, there are tons of books out there for you. One important thing to do before you read is to ask yourself WHY you're reading it and what you want to gain. Keeping that outcome in mind will help you absorb the information more efficiently.
S- Scribe
(5 minutes)
Scribing is just another word for writing. By getting your thoughts out of your head and onto paper, you will be giving yourself a valuable new perspective on your situation. To do this, decide what you want to write. It could be a gratitude journal, dream journal, food journal, workout journal etc. You can write about your goals, lessons learned, and your accomplishments. 82% of Americans say they want to write a book, they just don't have time. This would be a great time to work on your book too!
So why the morning??
Dedicating time in the morning kickstarts your day in a positive way.   Focused and productive mornings equal successful days. Mediocre mornings produce lackluster days. He says, in order to stop settling for less, and to create success personally, professionally and financially, you must dedicate time each day to becoming the person you need to be. He also says how you wake up each day determines the level of success of your day
The benefits to this routine are vast. A healthy morning routine will:
help you wake up feeling empowered
lower your stress
gain clarity on what you want
improve overall health
experience more gratitude
increase your ability to earn more money.
I'd like to challenge you to do a Miracle Morning every day for the next 30 days. The first 10 days will probably be the hardest, the next 10 will be a little easier, and when you go from days 20-30, you'll start to notice that you crave your mornings!  If you'd like more support and accountability with your morning routine, sign up for a free session with me here.