Are You Drowning In Paperwork?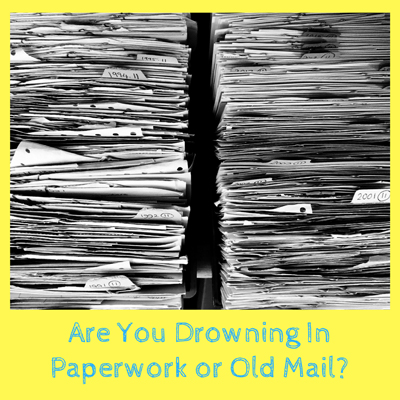 I find strange pleasure in going through old piles of paperwork and mail with my clients.  Going at it alone can be a burdensome task, but I help my clients break it down, so it's not so overwhelming.  This is a great time of year to do it too!  Now that we are moving past tax season, having an organized home office is a priority for many of my clients.

One of the best things I've done for my own home office was to hire another organizer, Todd Allan of Structured Space, to come over and teach me how to use Evernote.  Evernote is an app that I use on my desktop computer, iPad and iPhone, so that I can keep track of my files, to-do lists, business cards, and where I keep a running list of movies, music and books that have been recommended to me. It even has an easy way to scan important documents, so when mail comes in that you want to save digitally, it's a snap.  While I'm still not 100% digital (I keep paper copies of certain documents), Evernote has helped me stay streamlined.

At our next NAPO event, Todd will be giving an educational workshop called "Conquering Information with Evernote" that I'm looking forward to attending. Please join me!

Date: May 1st, 2018
Time: 6pm
Location: Hotel 116 (formerly known as Bellevue Coast Hotel): 625 116th Ave NE, Bellevue, WA 98004
Register Here: https://seattlenapo.com/event-2861261
Cost: Free for members, $25 cash/check or $26 via Paypal

If you want help processing old paperwork and mail, or if you have another area of your home you'd like help getting organized, please contact me, or respond to this email.  I would love to hear from you!